BMW Motorcycle Vs. Bugatti Veyron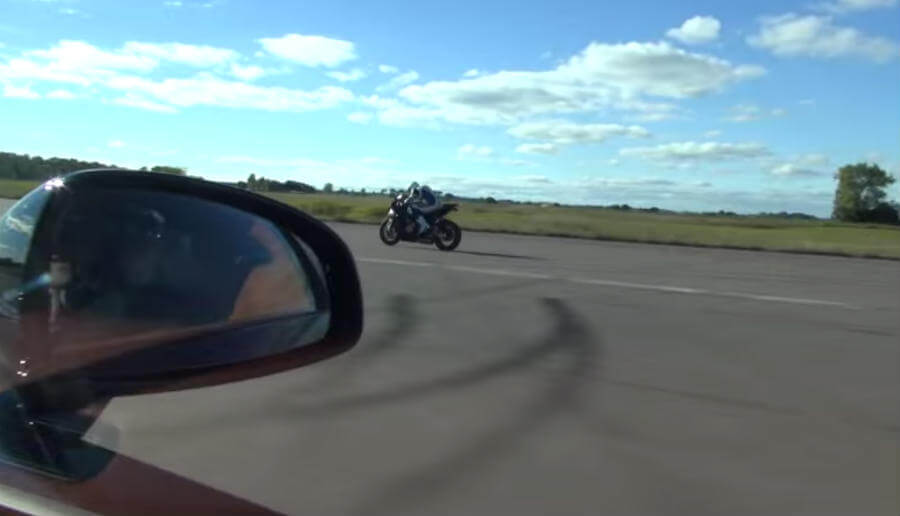 This shows a race between a BMW motorcycle and a Bugatti Veyron. Actually, it shows two out of three uncut races, and it is pretty spectacular stuff. BMW and Bugatti are known for their craftsmanship and quality. Though their price tags differ drastically, they are both considered to be high performance machines. The BMW motorcycle brand is known for hugging the road and delivering massive amounts of power. They are used in many countries as police issue, standard motorcycles because of their dependability and performance. When these things get moving down the road, you will probably never catch up. They are lightweight, and easy to maneuver.
A pure motorcycle driver's dream. Bugatti, on the other hand, is a high-performance luxury sports car. With a price tag of a cool $1 million, there are certainly plenty of bells and whistles. It's all leather interior features some of the most exquisite colors you can find in a vehicle, and of course, it is always as soft as butter. As for technology, Veyron features an electronic stability program that ensures "necessary flexibility and maneuverability at any speed," to quote their website. The Veyron can literally reach speeds that could lift the car off the ground. Thanks to its aerodynamics, and electronic stability program, it is kept firmly planted on the road, even at full throttle.
So how did the racers fair? Well, that depends on who you ask. You will notice the guys in the car talking back-and-forth as they talk with the motorcycle driver. The passenger asks the motorcyclist if he has any modifications on his bike and his reply is that the muffler has been modified. The modification drastically reduces road noise. It does not affect the performance of the motorcycle at all. The passenger quips to the motorcyclist that the modification is fine, they are going to beat him anyway and then both vehicles take off.
(more…)
(Read More)
As they round the turn onto the straightaway, the motorcycle literally leaves the Veyron in the dust. That's right, this million dollar, high-performance, world-class, luxury ma