When a Nissan GT-R Races a Track Star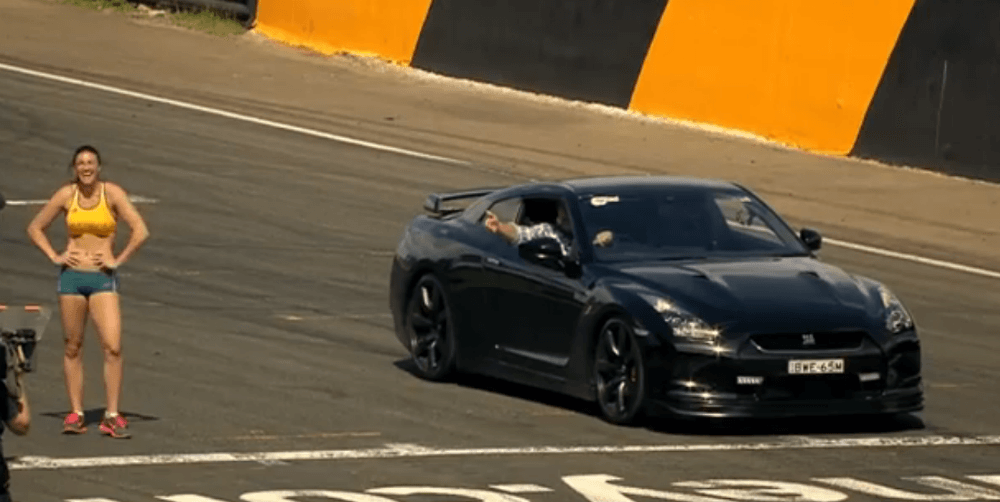 The Nissan GT-R supercar was born on a race track and created by the Nismo crew before being brought to market. Nissan prides itself on the creation of one of the only super cars built to be driven in real world conditions, with monstrous horsepower to get you off the line fast. Really fast. It also comes with a re-calibrated suspension to keep your tires tight on the road for a smoother ride. To jokingly test the stats of the Nissan GT-R, the car was put to the test in a race against the beautiful Australian Olympic hurdler and model, Michelle Jenneke.
Both the GT-R and Jenneke are champions in their respective sports. The GT-R holds the title of fastest car in the world in a 16 meter drag race, while Jenneke's completed a 100 meter sprint in just over 12 seconds. The car has 485 horsepower and 4 wheel drive, but the 2015 GT-R blows that stat with an impressive 545 horsepower engine. The Nissan GT-R, which was first released in Japan in 2007 followed by releases in USA, Canada, and Europe, features a 3.8-liter twin-turbo V6 engine. It has a dual clutch 6-speed transmission, ATTESA E-TS all-wheel drive, and a Nissan/Brembo braking system.
Couple that with the 20" Rays wheels, and you've got a car that leaves you trembling just as much as Michelle's warm-up routine. The new GT-R engine, a V6 VR38DETT, meets California Air Resources Board Ultra Low Emission Vehicle standards and, in addition to that, it comes with better valve timing, new mapping and exhaust system, larger inlets, improved power and torque. The new Godzilla has a curb weight of 1740kilograms, wheelbase of 2780millimetres, length of 4671millimetres, width of 1895 millimetres and a height of 1369mm, as of recent dimensions.
(more…)
(Read More)
Some design features include: