Dirty Car Window Art – Home-Made Masterpieces
There's only time when your car windows are allowed to be so insanely dusty and dirty that you can't even see out of them…and that's when you're accumulating that dirt in order to produce a masterpiece with your own hands! These pieces of art are not only hilarious, but really well done. Most of them were created by a man named Scott Wade, in Texas (of course). Check them out for yourself!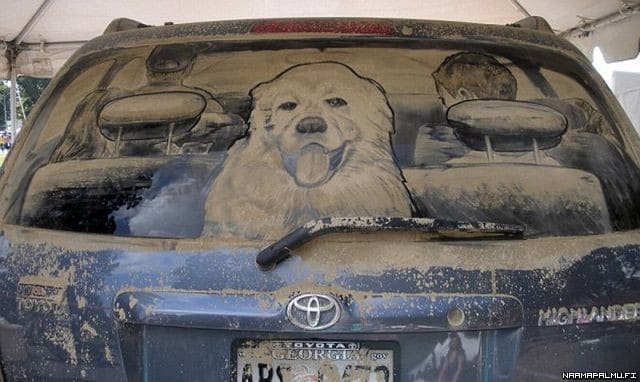 Dirty cars are rarely causes for great joy, but . . . Oh my goodness look at the face! That pup is so happy to be in a car with his people going somewhere. Where are they off to? Well, the whole family is there, so we may assume that we're on the Great American Road Trip, or at least the Great American Family Vacation. Off to see the grandparents? Heading to the beach. This pupper cares not; he's just happy to be along for the ride. We'd like to think the kids in the back seat are equally thrilled, but we've met kids before, so . . .