Top 10 List of The Best Female Actors From The Star Trek Series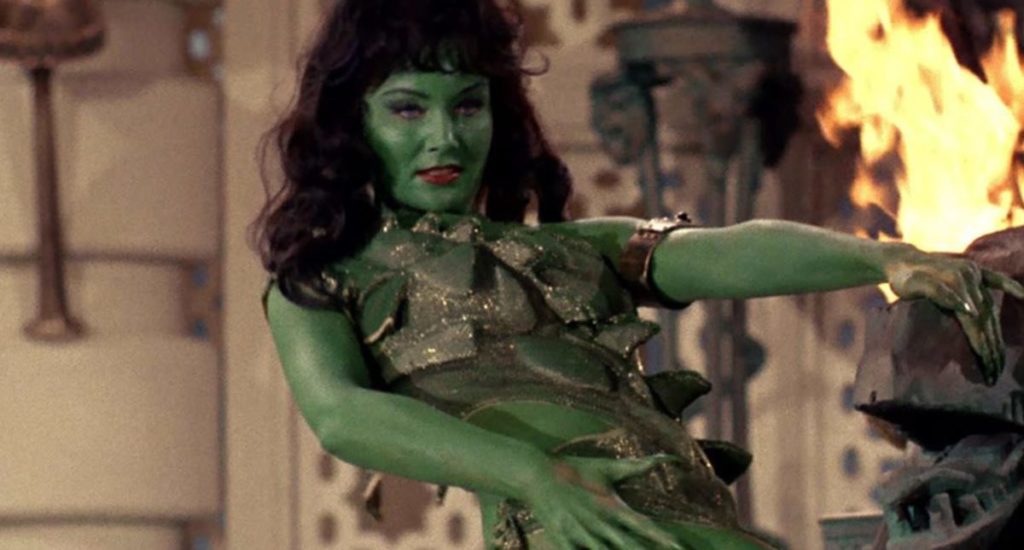 10/10
Barbara Bouchet
From Star Trek: The Original Series, the movies to The Next Generation, Voyager, and Discovery, this is a list of the top 10 best female actors from the Star Trek series.
Barbara's most famous role is probably that of Miss Moneypenny in the 1967 Casino Royale film, but that's far from the hardworking actress's only role. In 1968 she appeared in the Star Trek episode "By Any Other Name" as Kelinda, one of a group of humanoid aliens from the Andromeda galaxy who attempt to commandeer the Enterprise after their own ship is destroyed.
Quick Fact: As of 2020, she still gets frequent work and has even had parts in some major productions, including Martin Scorsese's Gangs of New York (2002).
9/10
Alice Eve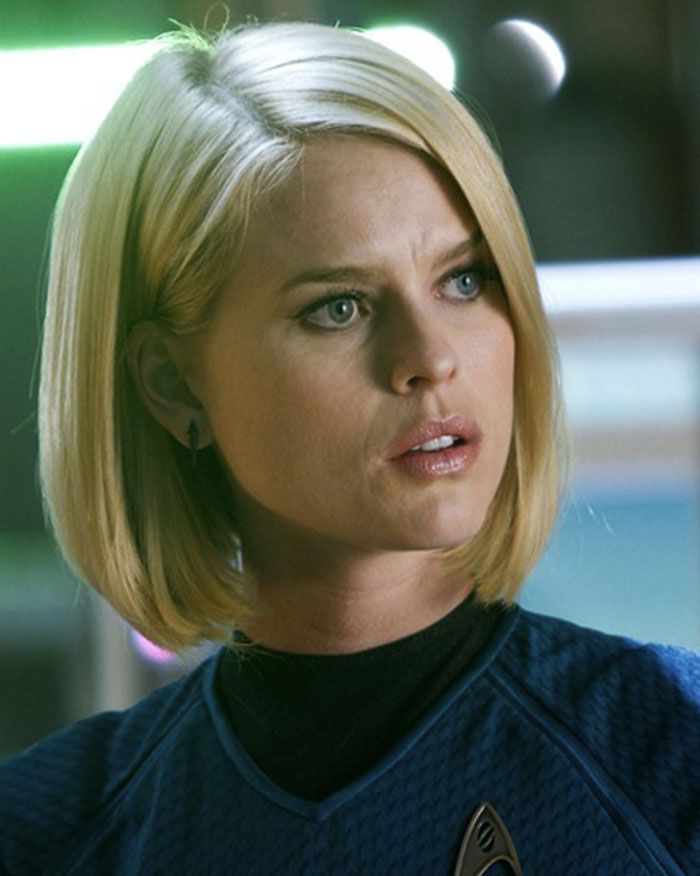 Alive Eve plays Science Office Dr. Carol Marcus in Star Trek: Into Darkness. Carol is the daughter of Admiral Marcus, a factor which later saves the Enterprise and Captain Kirk from destruction at the hands of the treacherous Admiral. Alice's career includes dozens of TV and stage appearances in addition to her long list of film appearances.
Quick Fact: For some reason, a couple of groups online heavily criticized a particular scene involving Dr. Marcus and Captain Kirk in Star Trek Into Darkness (2013). In 2021, while promoting her new film "Warning," Alive Eve defended herself. She said, "I'm proud of that scene and all the work I did."
8/10
Sherry Jackson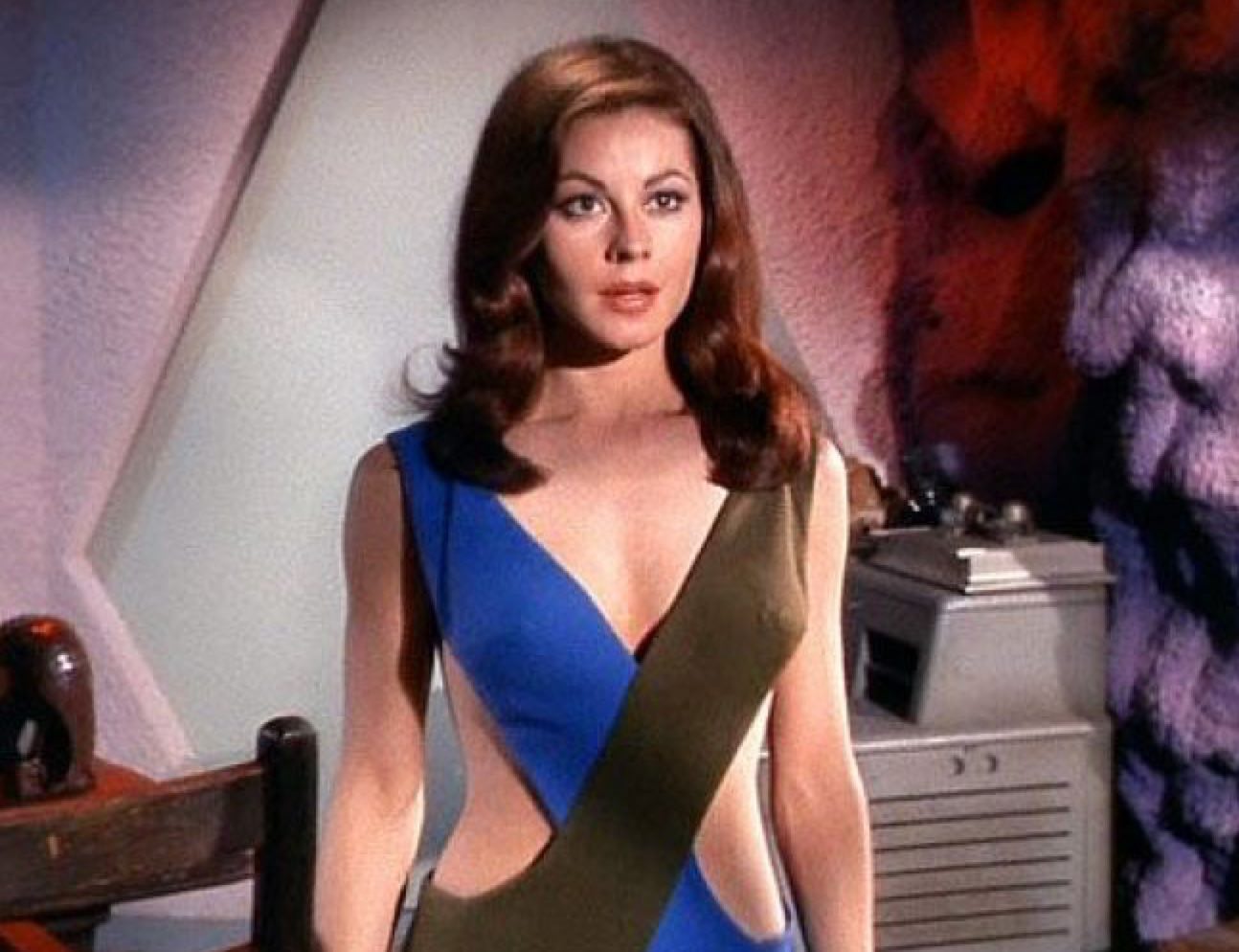 Sherry Jackson began her acting career at a young age, appearing in Fireside Theater at the age of seven. She first gained notoriety for her role in the Danny Thomas Show. Jackson appearred in 133 episodes before leaving. At the age of 24, she appears in the Star Trek episode "What Are Little Girls Made Of?" (Season 1, Episode 7). She played Andrea, an android women created as part of a plot to replace key members of the Federation with android duplicates.
Quick Fact: According to IMDB, her last acting role was in 1992 on the television soap opera "Guiding Light."
7/10
Susan Oliver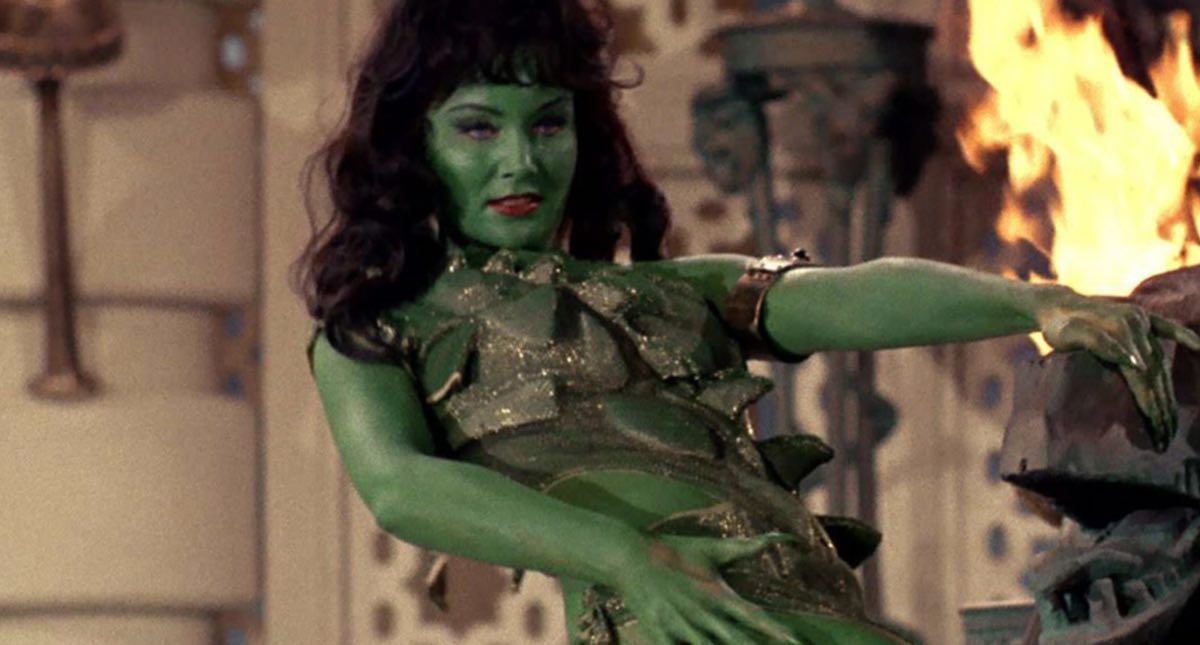 Susan Oliver's role in Star Trek is in The Cage, the original pilot episode of the series (although parts of it are reused in the episode The Menagerie). Oliver plays a young woman named Vina, a survivor of a scientific expedition that had been missing for eighteen years. A race of aliens with strange powers intend to use Vina and Captain Pike as breed stock to create a race of slaves to repopulate their planet, and they attempt, via their powers of illusion.
She would go on to appear in numerous other TV shows and films, but her appearance as an Orion slave girl (one of the illusions used on Pike) became one of the most iconic images associated with Star Trek, and therefore, one of her most iconic roles.
Quick Fact: Susan Oliver is an accomplished aviator. To get over her fear of flying, Oliver decided to get a pilot certificate. She soon became the fourth woman to pilot a single-engine aircraft across the Atlantic Ocean alone.  She even co-piloted in a 2760-mile transcontinental race called Powder Puff Derby and won, helping her gain the title of "Pilot of the Year" in 1972. 
6/10
Denise Crosby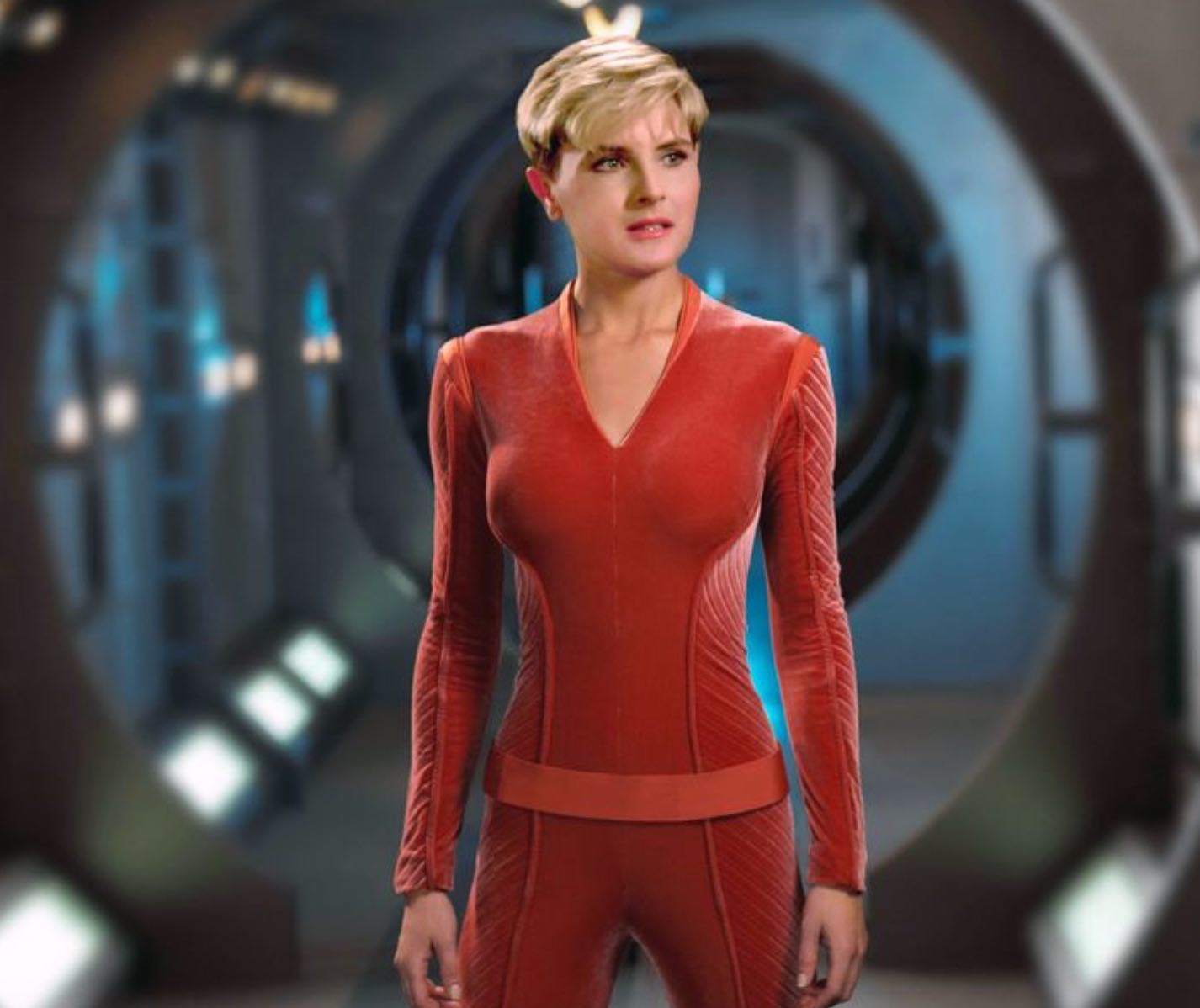 Denise Crosby was originally cast to play the role of Counsellor Deeana Troi in Star Trek: The Next Generation. However, Gene Roddenberry decided to have her and Marina Sirtis switch roles. Crosby ended up playing Tasha Yar, the ship's security officer, for 22 episodes before leaving the show. Despite many rumors to the contrary, it was Denise's decision to leave the show, as she wasn't happy with her character's relegation to a supporting role. But seriously, despite her leaving, uniforms like these would make the perfect high quality cosplay costumes.
Quick Fact: Denise Crosby is the granddaughter of Bing Crosby.
5/10
Chase Masterson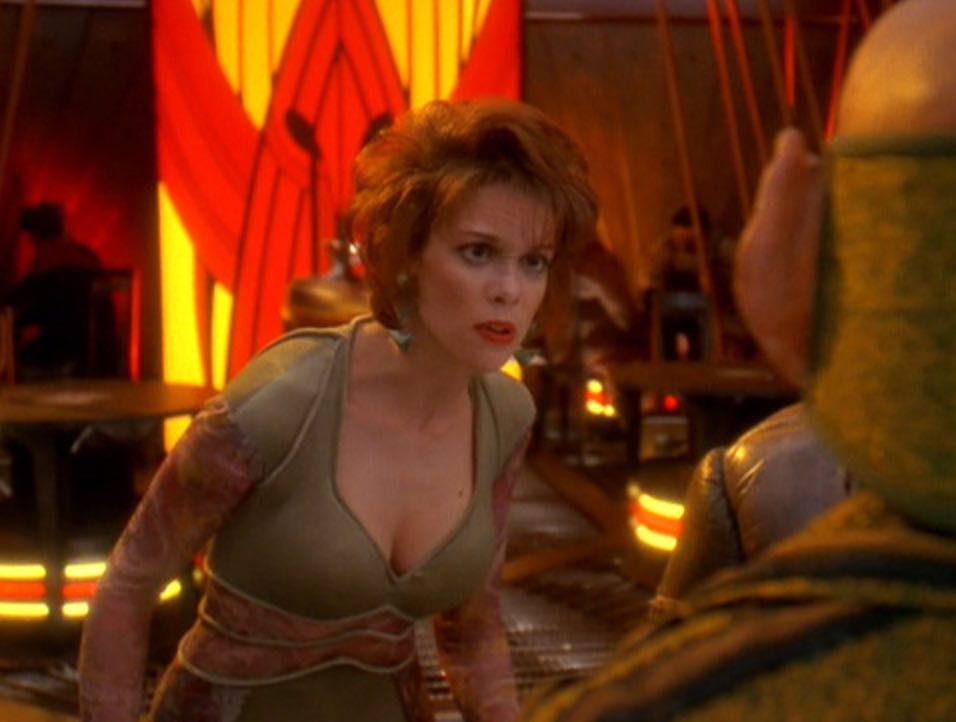 Best known as the recurring character Leeta on Deep Space Nine, Chase Masterson is also a singer with two jazz albums to her name. Leeta works as a Dabo girl in Quark's bar, meaning she's responsible for running the games and attracting customers. Initially seeming to be an airhead, it becomes apparent later one that Leeta is intelligent and strong, only putting on a carefree attitude to help lure in customers.
Quick Fact: In 2004, a TV Guide reader's poll listed Chase Masterson as the "Favorite Science Fiction Actress on Television." At Star Trek conventions, people frequently vote for her as the most popular guest.
4/10
Gates McFadden
Gates McFadden played Dr. Beverly Crusher in Star Trek: The Next Generation. Her character was a fan favorite, and she appears in every season except season 2. At the end of the first season, the show's head writer demanded for her to leave the show. Apparently he didn't like working with McFadden and replaced the character in season 2. The new character never developed much chemistry with the other crew. As a result, McFadden was asked to rejoin the cast for the third season.
Dr. Crusher is close with Captain Picard, with some hints at a romantic interest between the two that never fully develops. She's a widow and a mother, and these traits both feature prominently in her character arc.
Quick Fact: Gates McFadden used to work as a Muppeteer at The Jim Henson Company. She directed the puppets choreography on Labyrinth and The Muppets Take Manhattan.
3/10
Jeri Ryan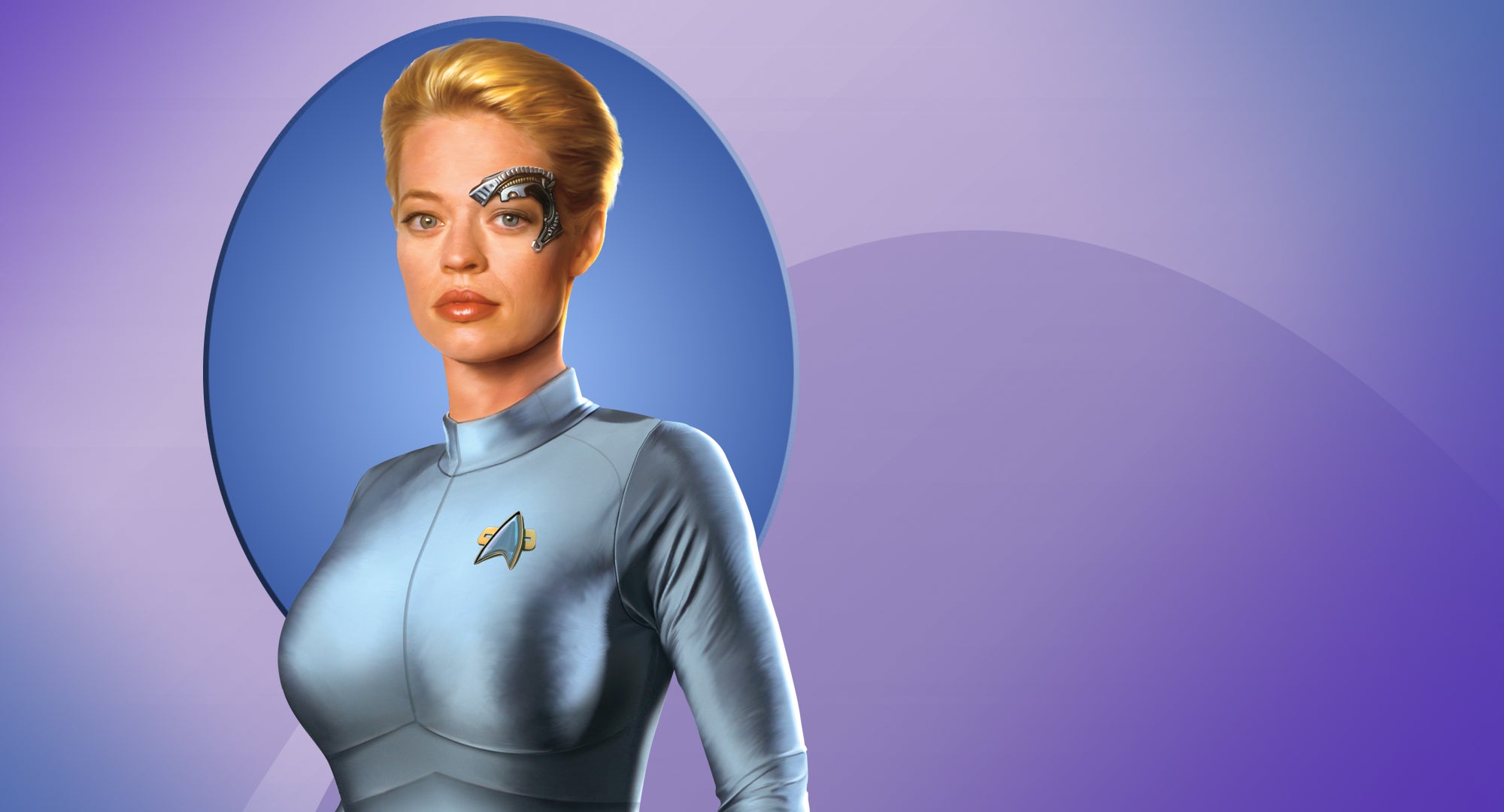 Jeri Ryan's performance as Seven-of-Nine on Voyager won her multiple Saturn awards. The character was an instant fan-favorite. Viewers enjoyed seeing a former Borg drone slowly regaining her humanity and liked how Ryan played the character. Seven-of-Nine quickly became one of the most interesting characters in the history of Star Trek, with storylines exploring her past life, her assimilation into the Borg, and her struggles to live as a human again. Ryan reprises the role as Seven-of-Nine in Star Trek: Picard.
Quick Fact: Jeri Ryan Miss Illinois beauty pageant in 1989 and got third runner-up in Miss America 1990.
2/10
Marina Sirtis
Although the show originally cast Marina Sirtis as the ship's security officer, she ended up portraying Deeana Troi, the ship's counselor. She remained in the role for the entirety of Next Generation's run. Troi has empathic abilities that allow her to read and feel the emotions of others, which makes her remarkably effective as a couselor and valuable as an advisor to Captain Picard. The accent Troi speaks with is Sirtis' creation- she describes it as a mix of Eastern European and Israeli. Her natural accent is Cockney. If you pay close attention, you'll notice that the accent slowly fades as the show goes on.
Quick Fact: Marina Sirtis is a huge soccer fan and even has a tattoo of the English football team Tottenham Hotspur.
1/10
Nichelle Nichols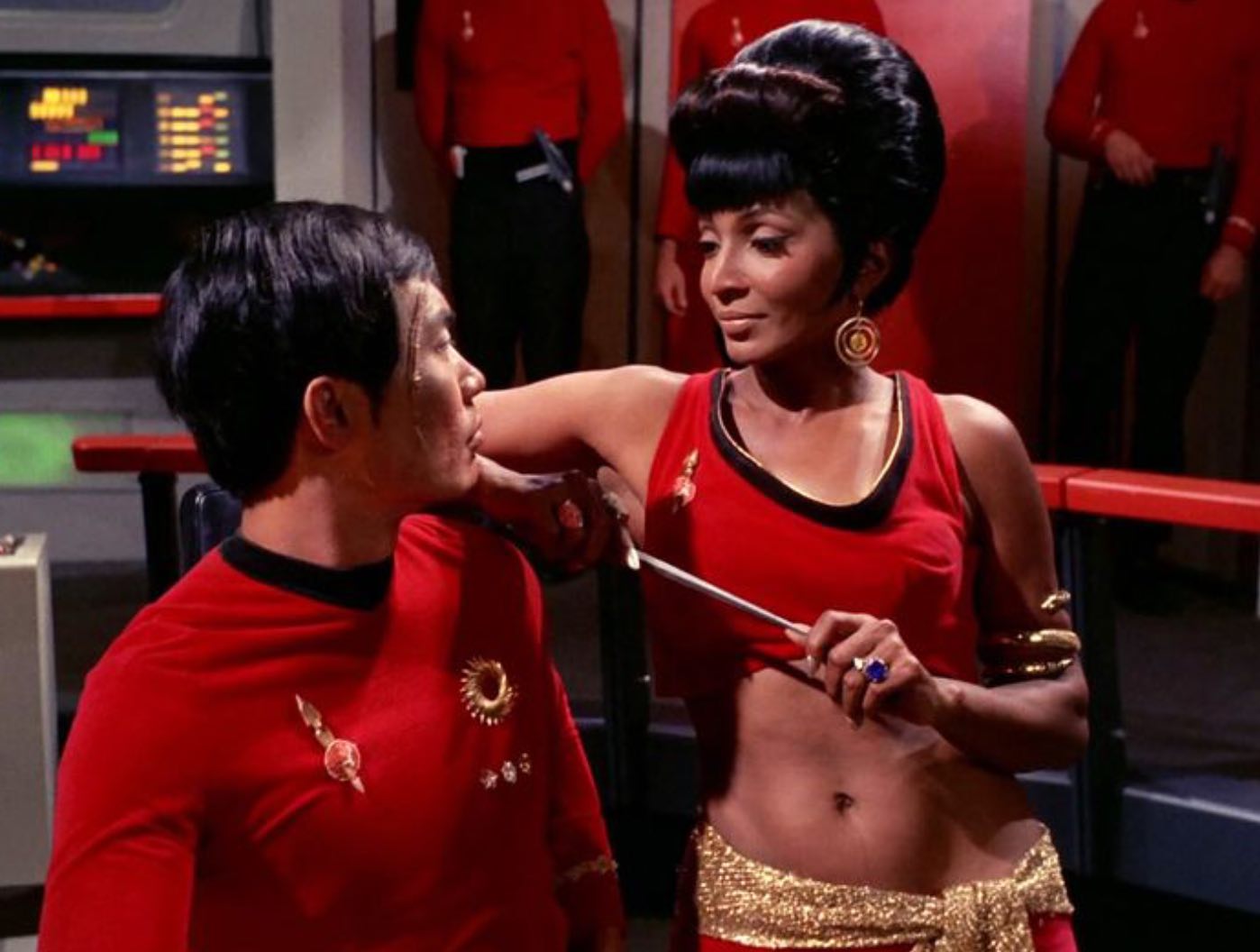 Nichelle Nichols will be forever known (and beloved) for her role as Nyota Uhura in Star Trek: The Original Series. Her role as one of the most prominent supporting actors in a major TV production was groundbreaking for black women. At one point, she wanted to leave the show and pursue a Broadway career, but Martin Luther King Jr, apparently quite the Star Trek fan, encouraged her to stay and continue to be a role model for black women and children.
Nichols inspired Mae Jemison to pursue a career as an astronaut. Jemison worked for NASA as an astronaut and became the first black woman to go to space.
Quick Fact: In the episode "Platos Stepchildren," Lt Uhura and Captain Kirk kiss. This was the first interracial kiss on a scripted US television show.
Check out more  iconic female characters of 'Star Trek'!