Brave! This Guy Escapes The Devil's Highway Using Only An UTV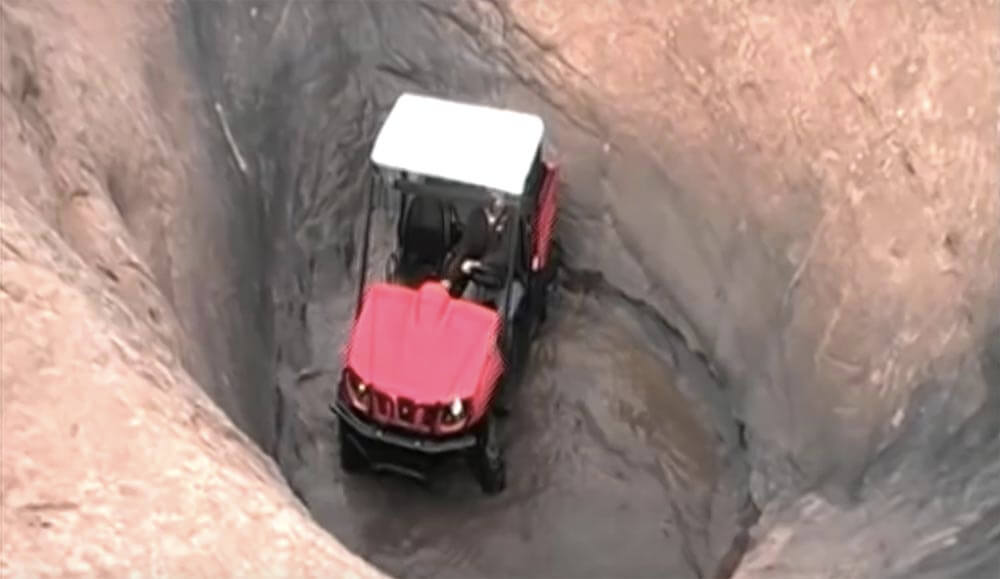 Utility All-Terrain Vehicles, or UTVs for short, aren't typically the first choice for taking on a challenging Moab 4×4 course like the Devil's Highway in Utah. This particularly nasty course has a similar obstacle as Mickey's Hot Tub, which is also located in Moab, only this one is deep for even super modified 4×4 trucks and SUVs to attempt. Well, the people riding the UTVs decided to go a day after it rained. That means there's going to be water in that there pit. Worse than just water, there's also probably a decent amount of oil, grease, and other lubricants left over from other all-terrain vehicles which have tried.
Who Brings Their UTV To A Mud Pit?
Based on this, we're guessing this is a Polaris Ranger 570 or similar that's attempting this straight pit of doom. Reasonably priced at less than $10k new, the Polaris Ranger 570 has a decently powerful 44 HP ProStar EGI engine. That's big enough to out compete a similarly priced Honda Pioneer. Polaris has it rough but always manages to stay on top by continually building great all terrain vehicles that perform well under a variety of conditions. The Devil's Highway, in this post, was captured just after a rain storm and it was around 50 degrees outside. That's great riding weather except for the fact that the water forming in a pool below is anything but inviting.
That water won't be evaporating out any time soon like you'd expect in mid-summer or similar. That means all that oil and grease and nastiness is acting as an insipid whole 'nother layer that those all terrain tires have to grab hold of. That's ugly. So, it's all the better when that Polaris Ranger actually makes it out of there in one piece. That's a sure-fire way to make the next owner of that UTV ask some serious questions about what that transmission's gone through – but it's all worth it because they have an incredible story with proof.
(more…)
(Read More)
UTVs are usually NOT designed for the Devil's Highway. In fact, when you get a bunch of mechanical engineers from Honda Motorsports, Polaris, Can-Am, and others into a room and