Caterpillar Dozer vs 20 Toyotas in Tug O' War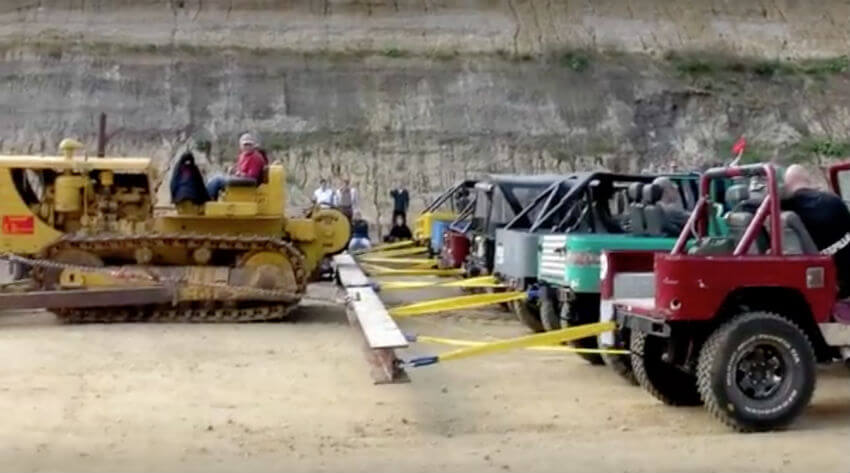 Not all fights are fair. So when we see twenty – count twenty – Toyota J30s and J40s lined up along an I-beam against a single Caterpillar D8 bulldozer from the same generation – we know the odds are stacked heavily. And just like in 480 BCE when a few Spartans held off the Persians, the Caterpillar D8 bulldozer does an admirable job of keeping twenty Landcruisers at bay. It's been pointed out that they had the Cat D8 bulldozer simply dropped its front shovel, this race may have had a chance of going a bit differently. And indeed, the biggest surprise of all isn't who won the race – it was the steel I-beam that managed to remain straight throughout the fight. But I-beams don't get credit. Toyota J40s do. And just like both the Spartans and Xerxes army – both had been relegated to the annuls of history prior to this reenactment.
The classic J40 Landcruiser was produced by Toyota between 1960 and ending in the early 1980s. Hearty, good looking and rugged, it's a wonder why Toyota ever got away from this reliable four cylinder off-road truck. The first series of J40s produced in 1960 had a 3.9 liter F engine which generated 125 hp. It was the upgrade to the J20s and 30s Toyota produced before then and it served a very good role for both civilian and government needs. A fuel efficient four cylinder design enabled this vehicle to make grand off-roading excursions.
Not powerful enough to pull trucks out of ditches or push through too many obstacles, it was still ideal for coasting through muddy slopes and bad terrain.
(more…)
(Read More)
Caterpillar is an industry leader in heavy duty equipment. And this is shown in no better place than their bulldozers. Tough, reliable and capable of moving massive piles of eart