DIY Vehicle Transport – Unloading A Car The Wrong Way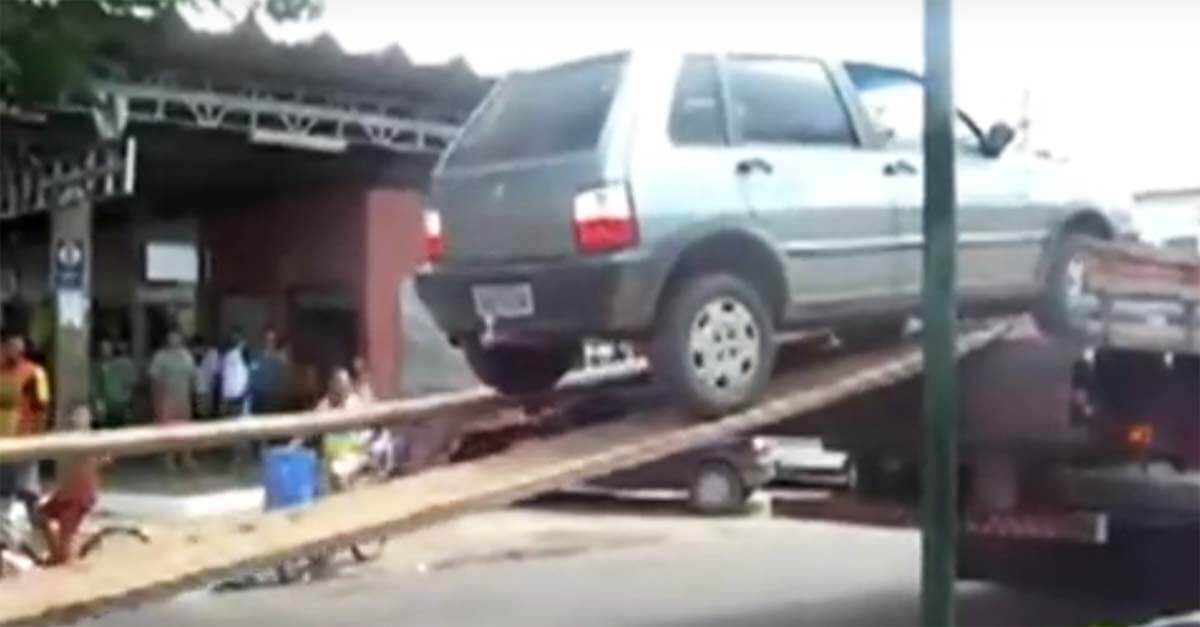 We can safely say that we've seen it all when it comes to crazy vehicle transport antics, but apparently, some fine folks wanted to show us there's always just one more way to do it. Car shipping companies certainly don't pull this type of stunt, but you may run into it with people trying "do it yourself" auto shipping. DIY auto shipping isn't a bad way if you know what you're doing – and while we'd love to chide these guys for taking some serious chances, we have to admire the fact they pulled it off.
Generally speaking, when you do DIY vehicle transport, you're going to want to get the car backed onto a flat bed or even inside a box truck. We'll include some examples of good vehicles to transport your average sized sedan or small pick-up truck.
• Flat bed 20′ trailer
• Enclosed 8-10′ box truck
• Specialized car trailer
Each of them can be a good choice depending on what you're looking for protection and coverage. For your average sedan or coupe, a flat bed trailer or even U-Haul car trailer is fine. They're light and so long as you have a heavier, stronger truck to pull them – each is a decent option. The only downside to this is reduced gas mileage and a bit of an issue with maneuverability. But don't let that scare you. Auto transport companies offer a range of options if the idea of trying to wind through busy city streets with a 20′ trailer attached is not up your alley.
(more…)
(Read More)
In an effort to make the DIY process as smooth as possible for vehicle transport, we're going to outline five easy steps to help it along.