Forest Fires Meet Their Match With The Bulldog Fire Truck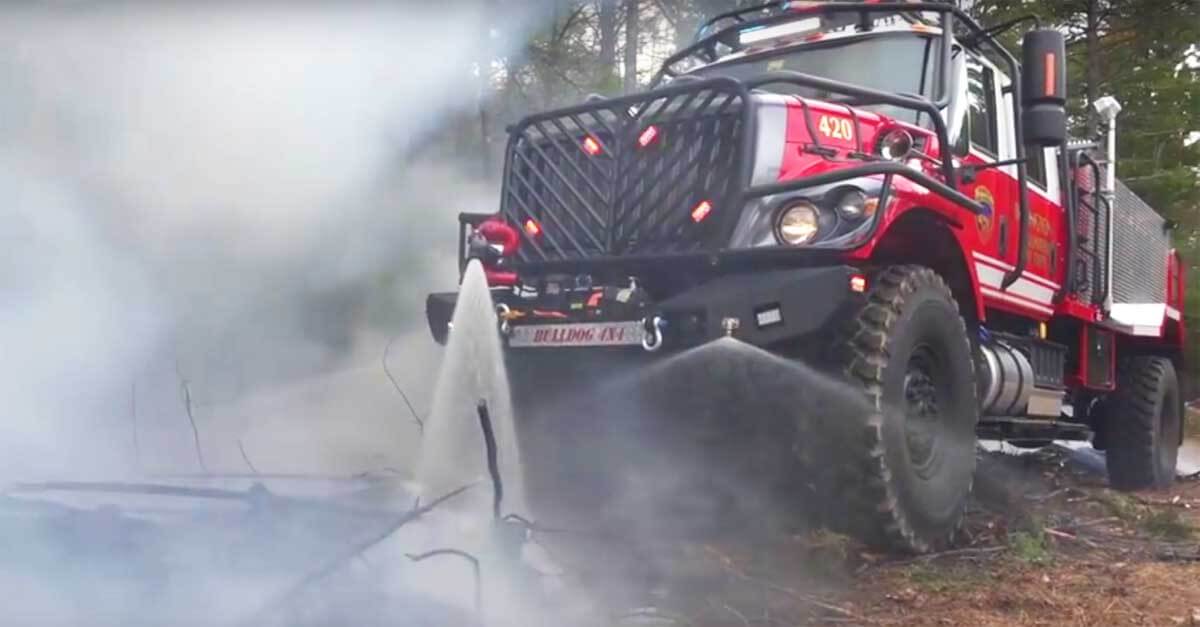 It's something straight out of a special mission in Grand Theft Auto – a fire truck on an International MaxxForce chassis, fighting forest fires with a staggering array of water turrets. If it seems like something out a sci-fi movie, you'd be right! This Bulldog 4×4 Fire Truck was designed to crawl through deep, mountainous forest and utterly destroy a wildfire. But don't take our word for it – the Bulldog Fire Truck can speak for itself!
If you've never heard of a Bulldog Fire Truck or the International chassis it's built from, look no further than the military who's used this same chassis to create armored transports immune to terrain and hazards. It's no light thing – a Bulldog Fire Truck can weigh as much as 26,000 pounds and carry upwards of 2,000 gallons of water. This is a long range wildfire truck intended to fight the blaze and keep its crew safe. This is precisely what the doctor ordered.
Bulldog Fire Trucks – Cavalry To The Rescue For Uncontrolled Fires
The Bulldog 4×4 Fire Truck goes all out with an 80 gallon tank great for the long hauls and 54" military Hemmit tires which laugh at sharp rocks and debris. With a ground clearance of 25 inches, the Bulldog is more than up for crawling over piles of fallen brush that other trucks would have to go around. And with a winch capable of pulling up to 30,000 lbs, it just might be the Bulldog Fire Truck coming to the rescue.

(more…)
(Read More)
From top to bottom, the Bulldog Fire Truck was designed to be the most hard working, effective fire truck for places where fire trucks simply can't go. In most wildfires, you h