Four Chevy Silverados Pull Down a Building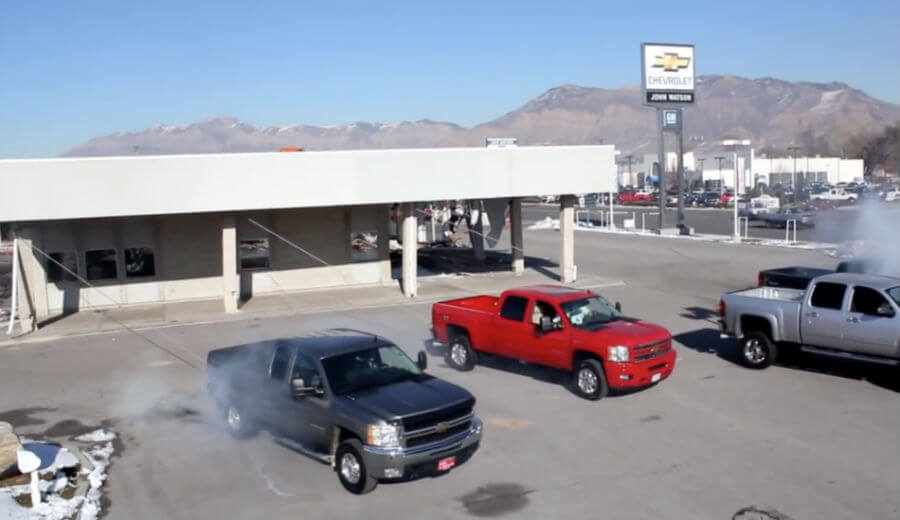 Ah, the joys of owning a car dealership. We see four medium duty Chevy Silverados pulling down the front facade of an old auto lot to make way for the new. It's one of the great advantages of having a number of these trucks on hand. And who can blame them? Chevy builds one of the best trucks in the industry and we'll see why. It's no secret – Chevrolet and GMC share a lot in common. They're both American car manufacturers with a propensity for building great pick-ups and heavy duty trucks. They share many of the same engines – Cummins, Vortec and Duramax. And they share a great record of NHTSA safety ratings for crashes and roll overs. What's not to love?
Chevrolet's Vortec Engine – Premium Unleaded Power
Commonly found in the 2500 series, the Vortec comes in two basic varieties – 6.0 L Vortec 6000 and the 6.2 L Vortec 6200. Both have eight cylinders. And in 2013, Chevrolet said enoughs enough – Vortec 6200 will now be standardly equipped in Silverado 2500HDs and 3500HDs. It's also featured on higher end Silverado 1500HDs as optional but that doesn't stop it from delivering some unparalleled unleaded performance. In the Silverado 2500HD, it can kick up to 360 hp and 380 lb-ft of torque. Versatile, dynamic, and now offered in the Silverado hybrid because it plays extremely well with other power sources.
In 2014 models and later, however, the 6.0 L Vortec would be reintroduced due to its fuel economy and efficiency. For the 1500HDs out there, Chevy switched to the smaller, less powerful LV3 and L86 GM EcoTec engine line. Surprisingly, performance wasn't too adversely affected. According to the 2015 Detroit North American International Auto Show (NAIAS), Chevy has plans to make all their standard engines run from a similar EcoTec engine line. Does this spell the end for Vortec?
(more…)
(Read More)
What's not to love about a turbocharged eight cylinder diesel engine? The most recent edition of the Duramax is the LMM. It features 260 hp and 525 lb-ft of torque making it a