The 30 Most Powerful Trucks on the Road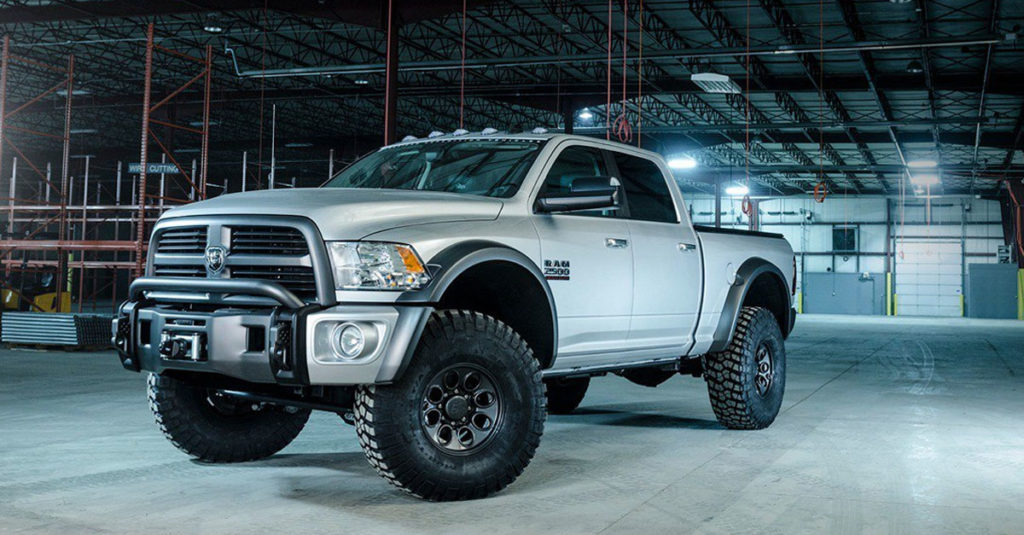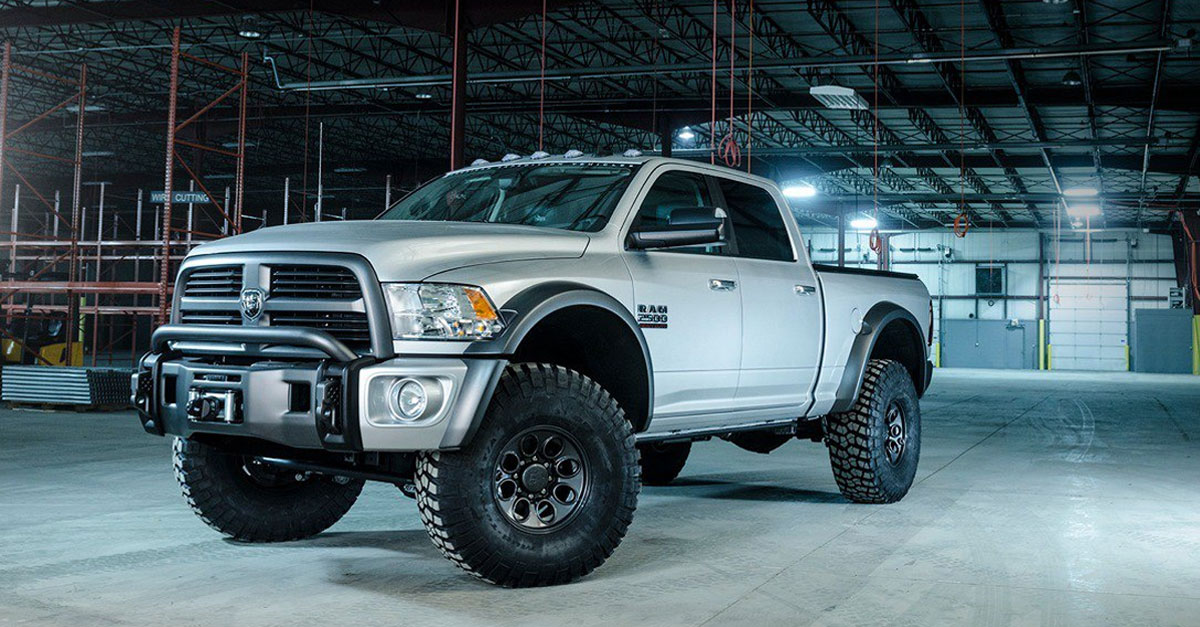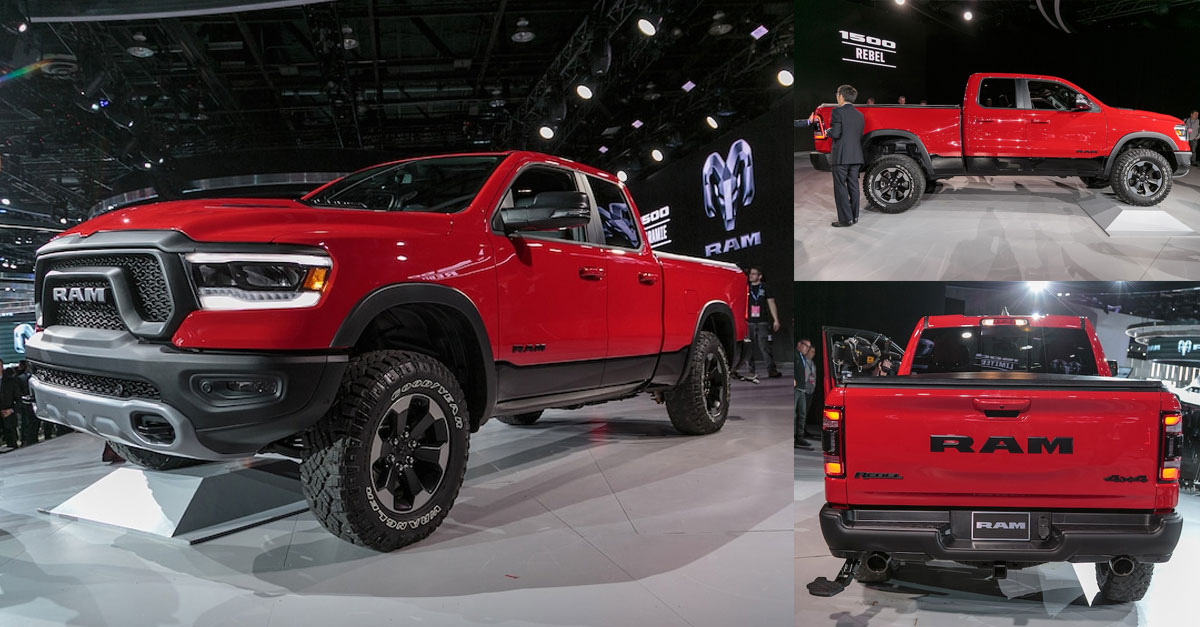 2019 RAM 1500 – 410 lb.-ft.
The RAM 1500 was recently designed and delivers strong capabilities along with 410 pound-feet of torque. For the most torque, upgrade to the 5.7-liter V8 engine with 395 horsepower and the previously mentioned torque figure. Compared to the previous RAM, the 2019 version has a boost of about 20 percent to both hauling and towing. You can configure it to handle a payload of up to 2,300 pounds and to tow as much as 12,750 pounds. The truck is also very well-rounded, especially if you opt for one of the more luxurious trims.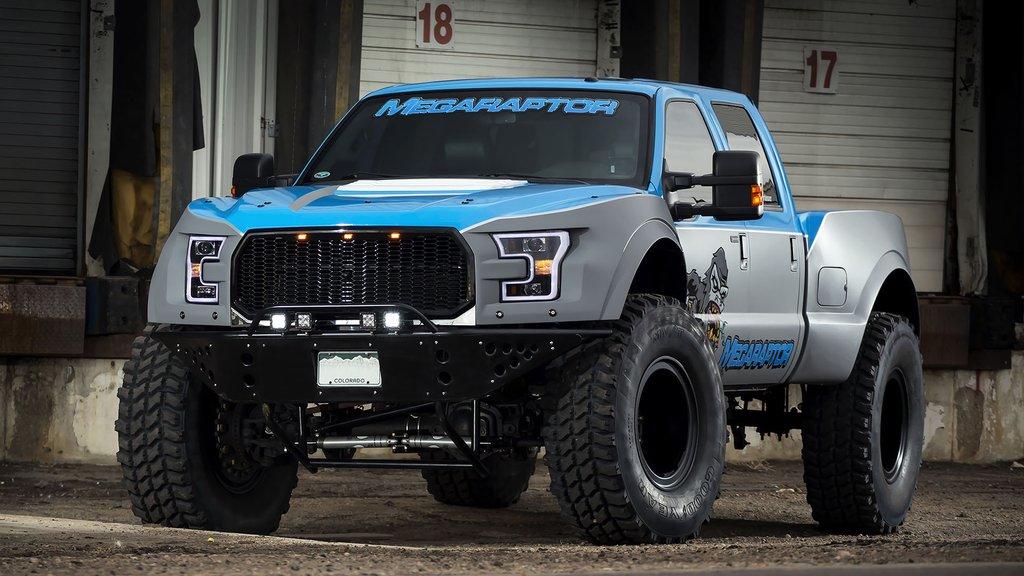 2018 Ford F-150 Raptor – 510 lb.-ft.
The Ford F-150 Raptor is one of the multiple versions of the popular Ford F-150 that is powerful enough for this list yet unique enough to be mentioned separately. The Raptor gives you 510 pound-feet of torque plus 450 horsepower, ensuring that you will get your thrills as you drive along in the F-150. The engine is a 3.5-liter V6 with turbochargers and fitted to work with four-wheel drive as standard. The Raptor particularly excels off-road thanks to a locking rear differential and rugged suspension. This is the Ford F-150 to go with if you want high torque and off-roading in your truck.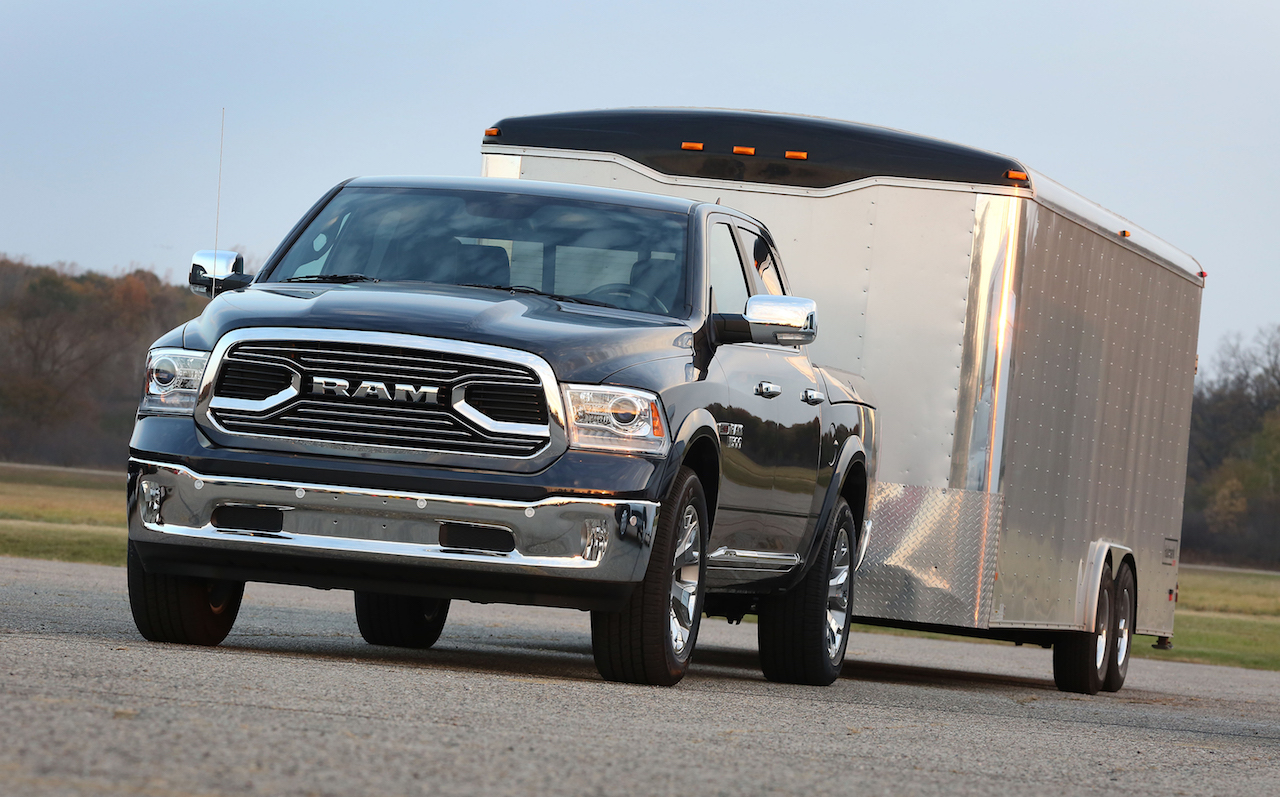 2018 RAM 1500 EcoDiesel – 420 lb.-ft.
The RAM 1500 stood out in 2014 when it became the first half-ton pickup in modern times to offer drivers a turbocharged diesel engine. As of 2018, it was still the only auto in its class to do so. The EcoDiesel has a 3.0-liter V6 turbodiesel engine that works with an 8-speed automatic transmission. The 420 pound-feet of torque from this pickup are supplemented by its 240 horsepower. The "EcoDiesel" in the name is not much of an exaggeration, as the truck gets 27 mpg highway. There are also two fuel tank sizes, so you do not have to stop to fuel up often.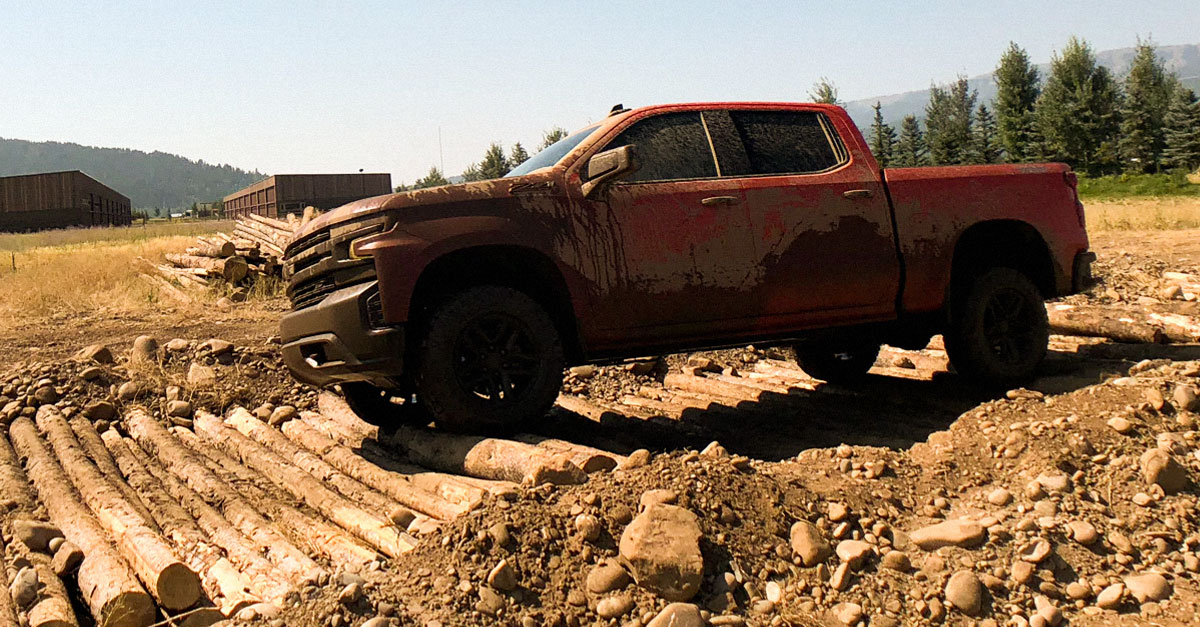 Chevrolet Silverado (V8) – 460 lb.-ft.
Equipping the Chevrolet Silverado with the powerful 6.2-liter V8 gas engine gives you an impressive amount of torque, 460 pound-feet, along with a capable gas engine. This top-spec V8 from General Motors also provides drivers with 420 horsepower. With this version of the vehicle, drivers can tow up to six tons. The V8 engine in question that delivers this torque arrived in late 2013, giving Chevy a narrow lead over Ford in terms of top torque and horsepower. The 2019 Silverado continues the trend, maintaining the engine output while maximizing the interior comfort and tech.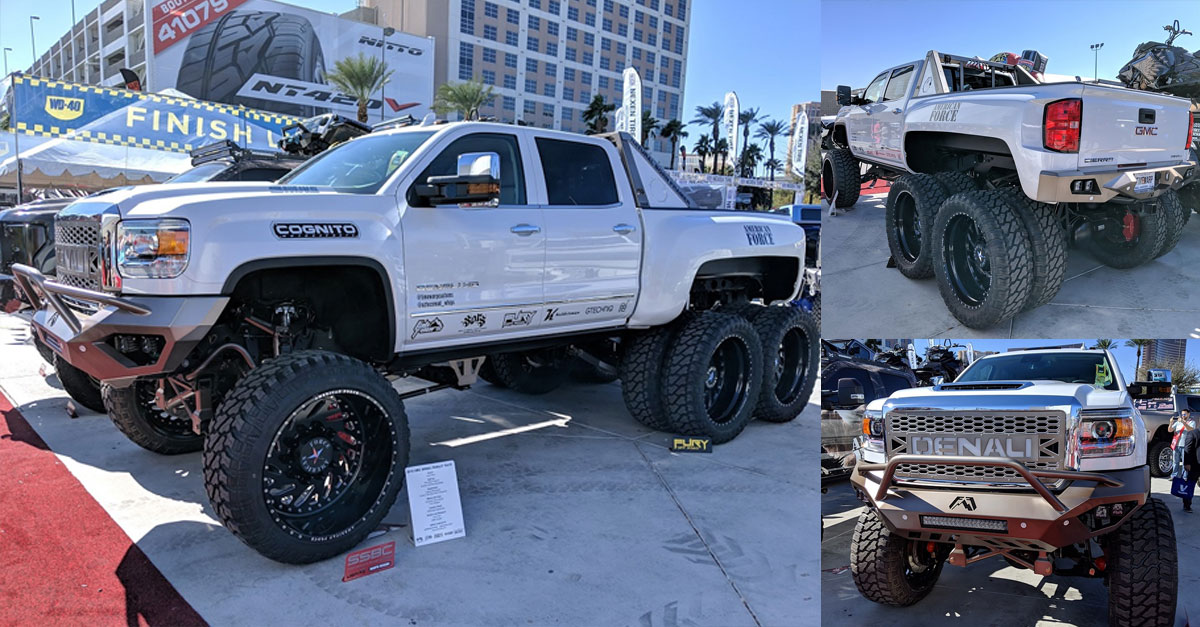 2018 GMC Sierra 2500 – 910 lb.-ft.
Although the Chevy Silverado and GMC Sierra are nearly identical in many ways, the GMC Sierra offers the same 910 pound-feet of torque in the 2500 version that the Silverado does in the 3500HD. This comes via the same 6.6-liter Duramax V8 turbocharged diesel and six-speed Allison automatic. The Sierra 2500 can handle conventional towing of 14,500 pounds with 4WD or 2WD. It also offers the benefit of the luxurious Denali model with its high-end interior. Consider the Sierra 2500 Denali if you want that premium feel along with your over 900 pound-feet of torque.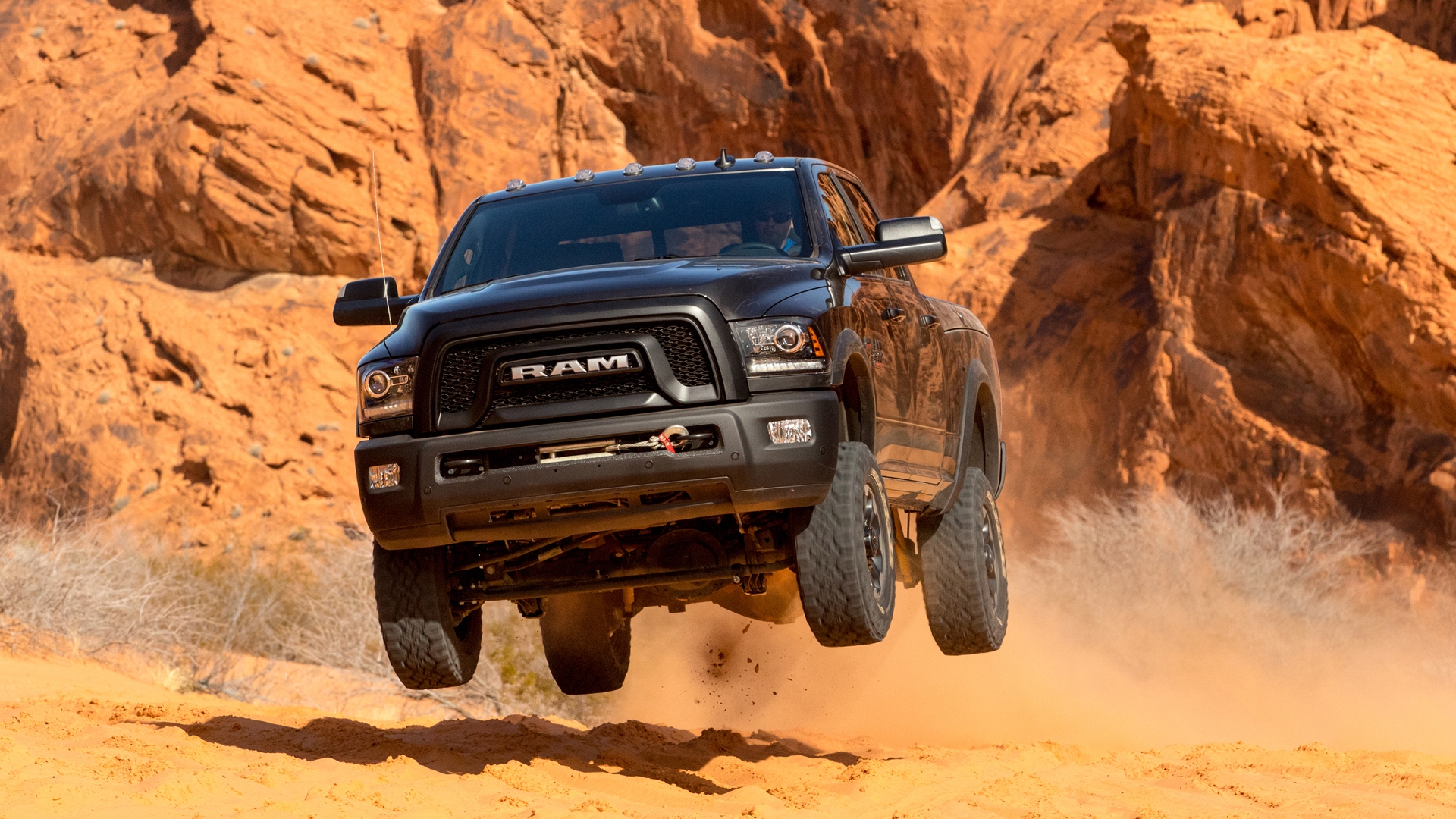 2018 RAM Heavy-Duty 2500 – 429 lb.-ft.
Yet another example showing that RAM knows how to produce powerful trucks, the 2018 RAM Heavy Duty 2500 gives drivers 429 pound-feet of torque along with 410 horsepower. This is not the strongest engine in the RAM 2500 lineup, but it is the most powerful gas one in the lineup. If you want a diesel, look at the version later on the list. Otherwise, the 6.4-liter HEMI V8 engine will give you 429 pound-feet, letting you haul 3,990 pounds or tow 16,320 pounds. It also has a comfortable ride and a spacious cabi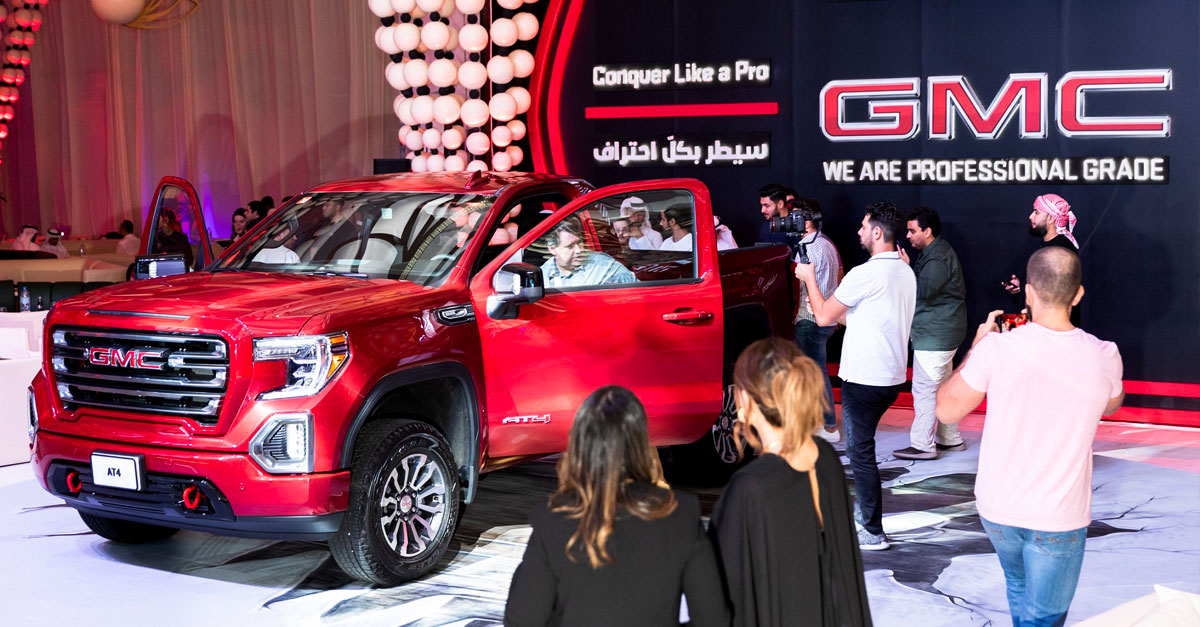 GMC Sierra (V8) – 460 lb.-ft.
Any list that mentions the Chevy Silverado will also include the GMC Sierra since the two are nearly identical. The 2019 GMC Sierra was redesigned for the 2019 model year, with the 6.2-liter V8 offering 420 horsepower along with the 460 pound-feet of torque. You also get updated tech and features, from Wi-Fi hot spot capabilities to an 8-inch touchscreen to a Bose audio system. The cabin is also high quality, making the Sierra incredibly tempting for those in search of a fully capable gas-fueled pickup truck with plenty of torque.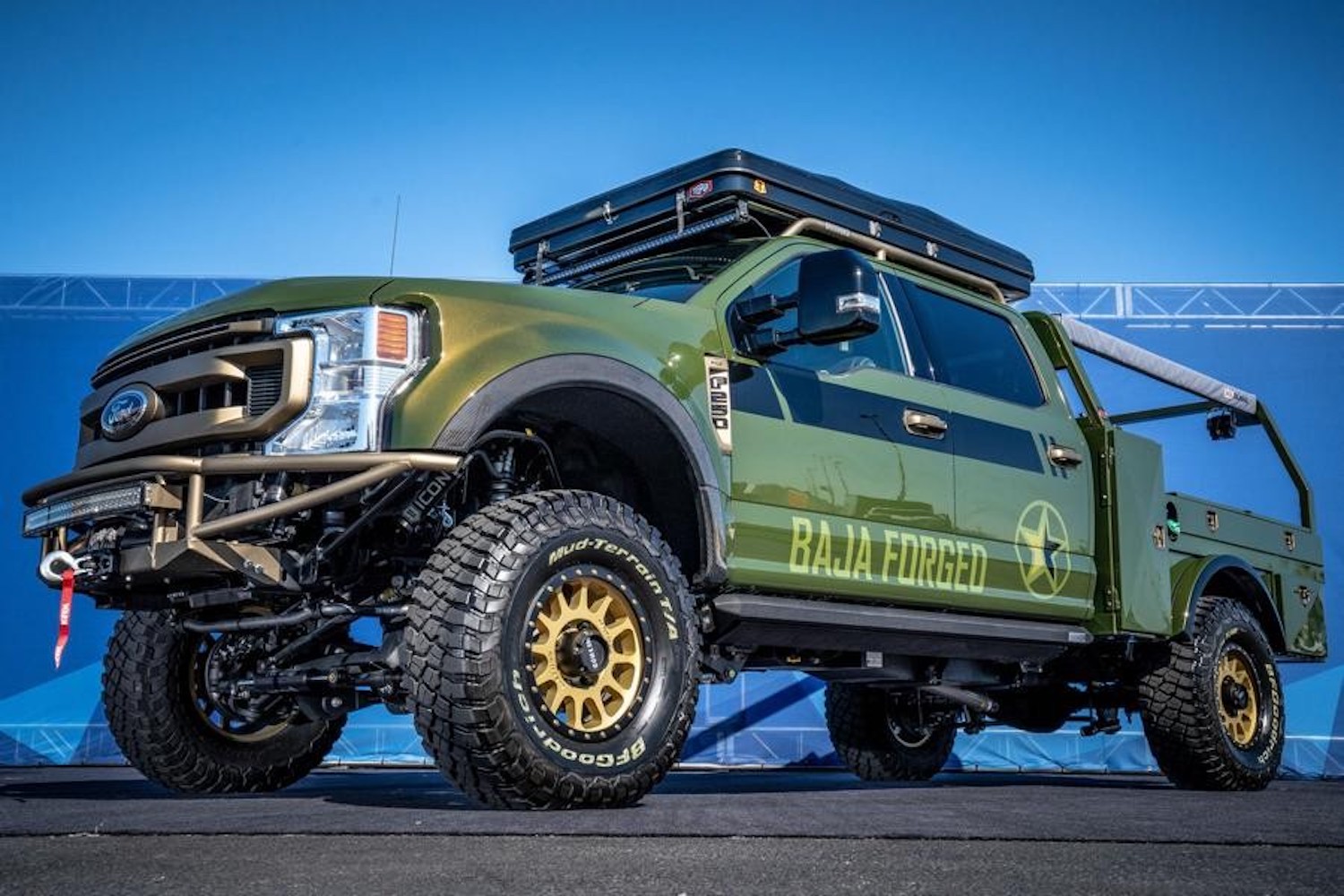 2020 Ford Super Duty (V8 Gas) – 475 lb.-ft.
Claiming the title of segment-best gas torque and power, the 2020 Ford Super Duty with the 7.3-liter V8 uses an all-new engine. This powertrain delivers 430 horsepower with that 475 pound-feet of torque at 4,000 rpm. You can enjoy this engine with any of the Super Duty configurations you want, with the exception of the F-450, which is only available as a diesel engine. With the gas engine's torque, you can tow up to 21,200 pounds with a gooseneck or fifth-wheel trailer or 21,000 pounds conventionally. For more power, go with the diesel.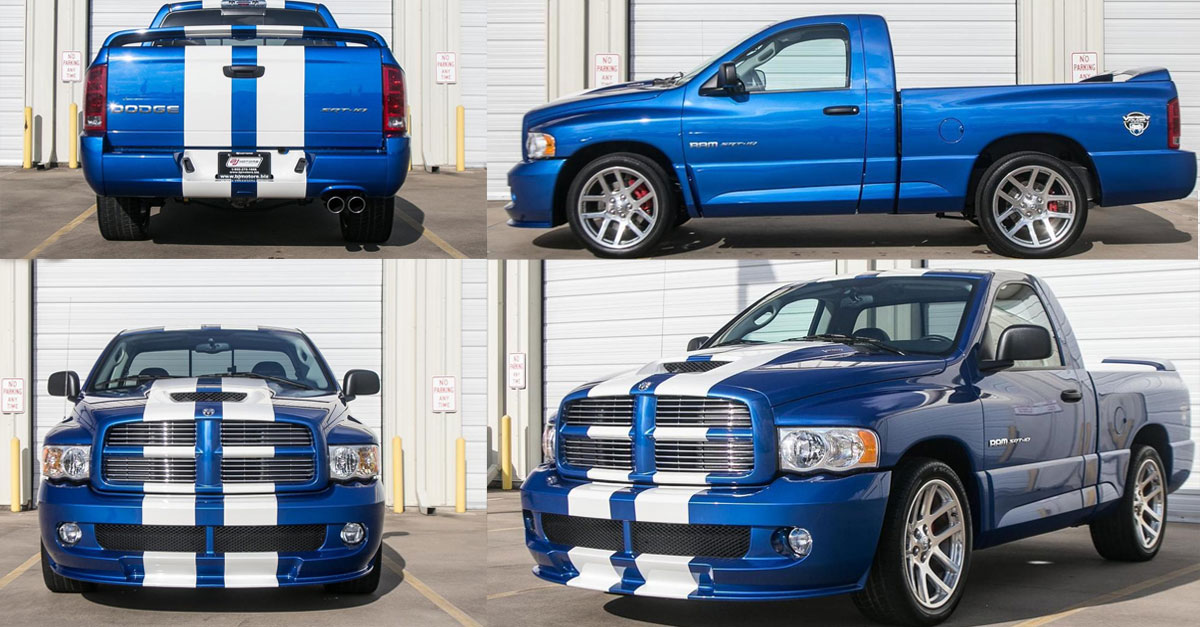 2004 to 2006 Dodge RAM SRT10 – 525 lb.-ft.
If you find a Dodge DRAM SRT10 from between 2004 and 2006, you will find yourself behind the wheel of an 8.3-liter V10 engine that was originally found in the Dodge Viper. This engine gives the truck 525 pound-feet of torque, working with 500 horsepower. For a pickup, especially one with a gas engine, this is truly impressive. In fact, at the time, the SRT10 was the Guinness World Record holder as the fastest full-sized pickup. This title continued as of recently. Between the speed and torque, this truck is also a gas guzzler, so keep that in mind.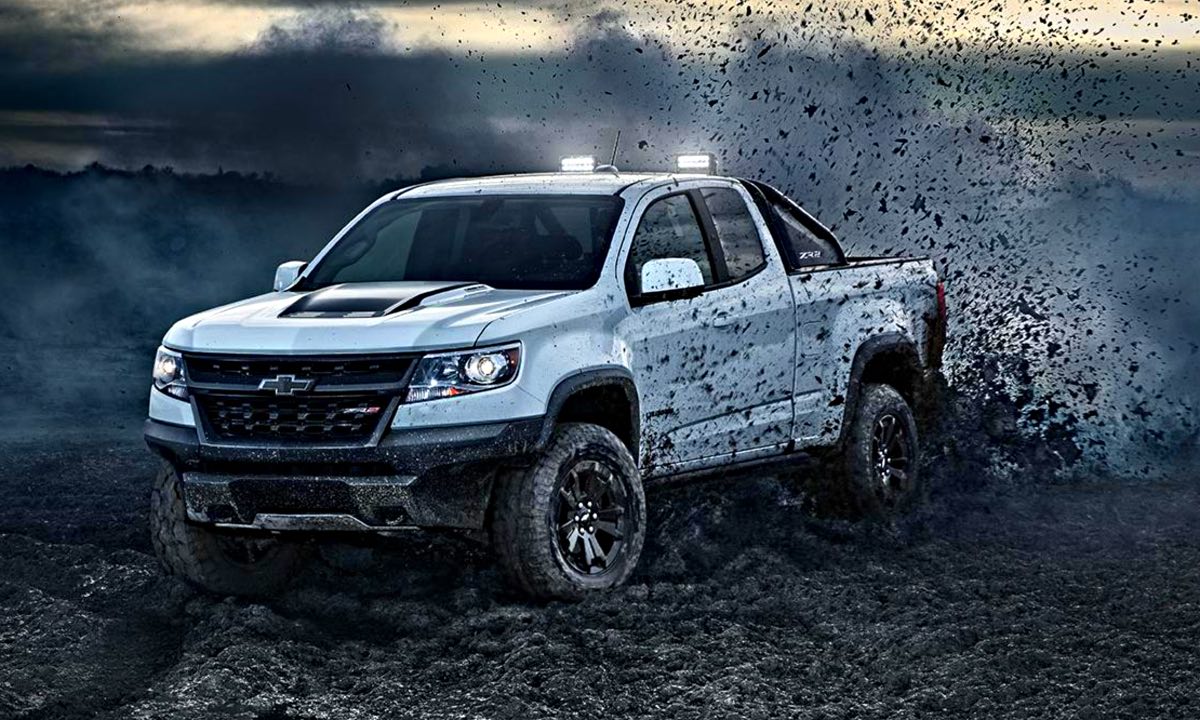 2018 Chevrolet Colorado (Duramax) – 369 lb.-ft.
The 2018 Chevrolet Colorado has more than enough torque to satisfy the average driver, especially when configured with the 2.8-liter Duramax turbodiesel 4-cylinder engine. In addition to 369 pound-feet of torque, it generates 181 horsepower. Its low-to-mid approach to torque means that the Colorado with the Duramax engine offers the perfect balance between power and efficiency, getting 30 mpg on the highway with 2WD and 28 mpg with 4WD. These figures drop slightly with the 4WD Colorado ZR2, but you also get a state-of-the-art suspension system and locking differentials for off-roading.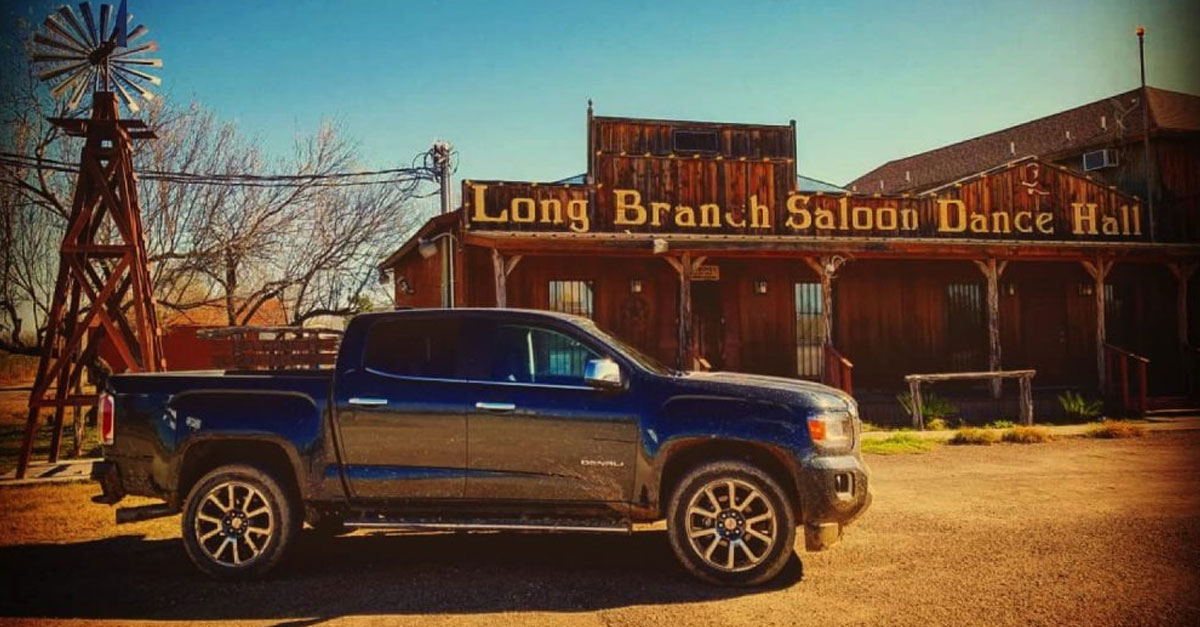 2018 GMC Canyon (Duramax) – 369 lb.-ft.
The GMC Canyon is the mechanical twin to the Chevrolet Colorado, so it should be no surprise that this truck is also on the list. Like the Colorado, the 2018 Canyon with the 2.8-liter Duramax turbodiesel generates 369 pound-feet of torque, along with 186 horsepower. It also uses the same six-speed automatic transmission. The Canyon gets 30 or 28 mpg on the highway, depending on whether it is 2WD or 4WD. You can add luxury to the power with the Canyon Denali or enhance its off-roading powers with the All-Terrain Trim.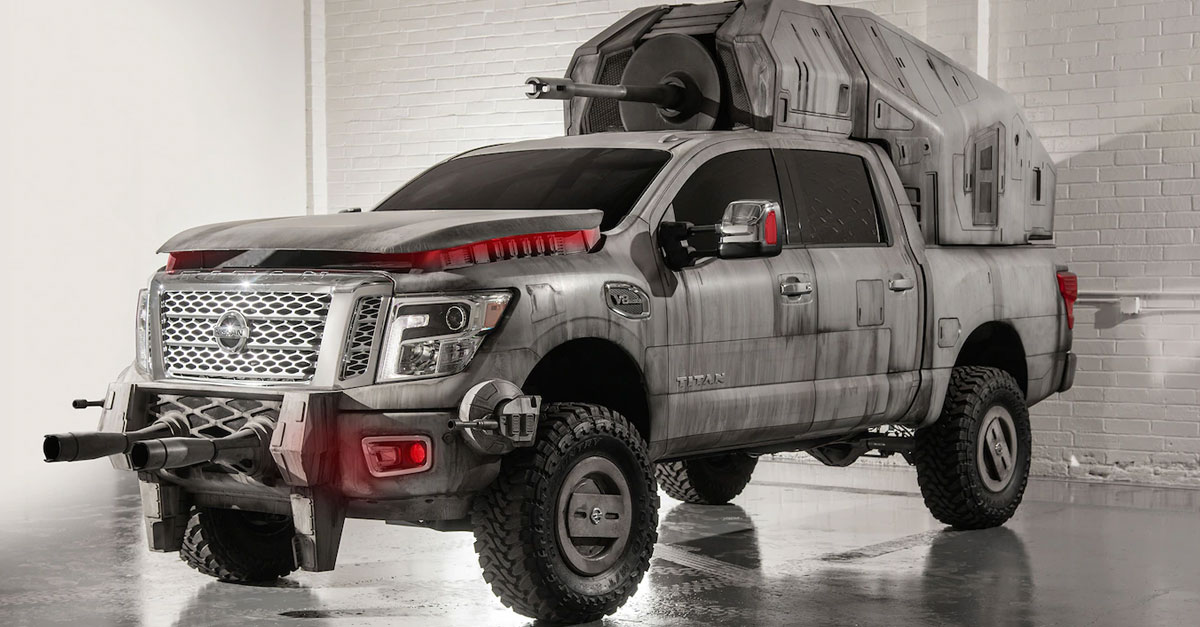 2018 Nissan Titan – 394 lb.-ft.
The 2018 Nissan Titan is not quite as impressive as the Titan XD, but it is still powerful enough to earn a spot on this list. The truck is agile to an extent that will surprise most drivers and the 5.6-liter V8 delivers 394 pound-feet of torque along with 390 horsepower. The engine gives you accurate handling and solid acceleration, perfect for all of your driving needs. You can equip the Titan to tow 9,740 pounds or carry a payload of 1,950 pounds. As with the torque, the figures are impressive but can be beaten by competitors.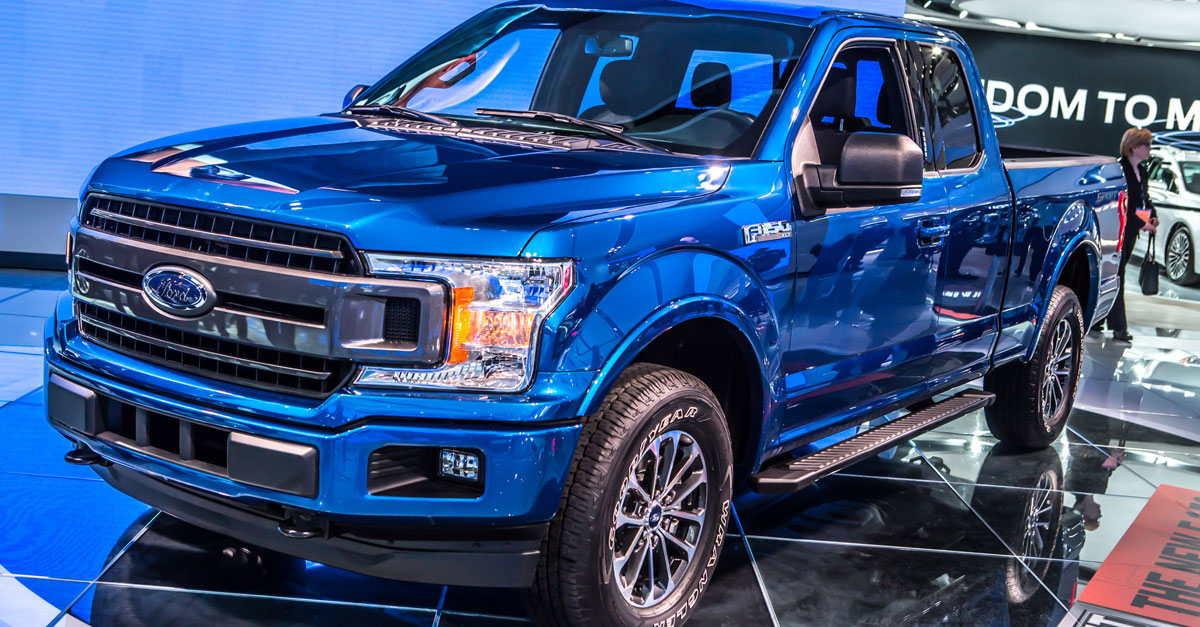 2018 Ford F-150 – 400 lb.-ft.
The Ford F-150 is a popular truck year after year thanks to its capability, reliability, and other factors. Choose the 5.0-liter V8 engine instead of a turbocharged V6 to get the 400 pound-feet of torque and 395 horsepower. This engine output results in fuel economy, power, and excellent hauling and towing. Some people who get behind the wheel will also notice hints of the Ford Mustang's muscle car nature, delivering some thrills as you drive. The 2018 model year even has some new safety tech compared to previous Ford F-150s.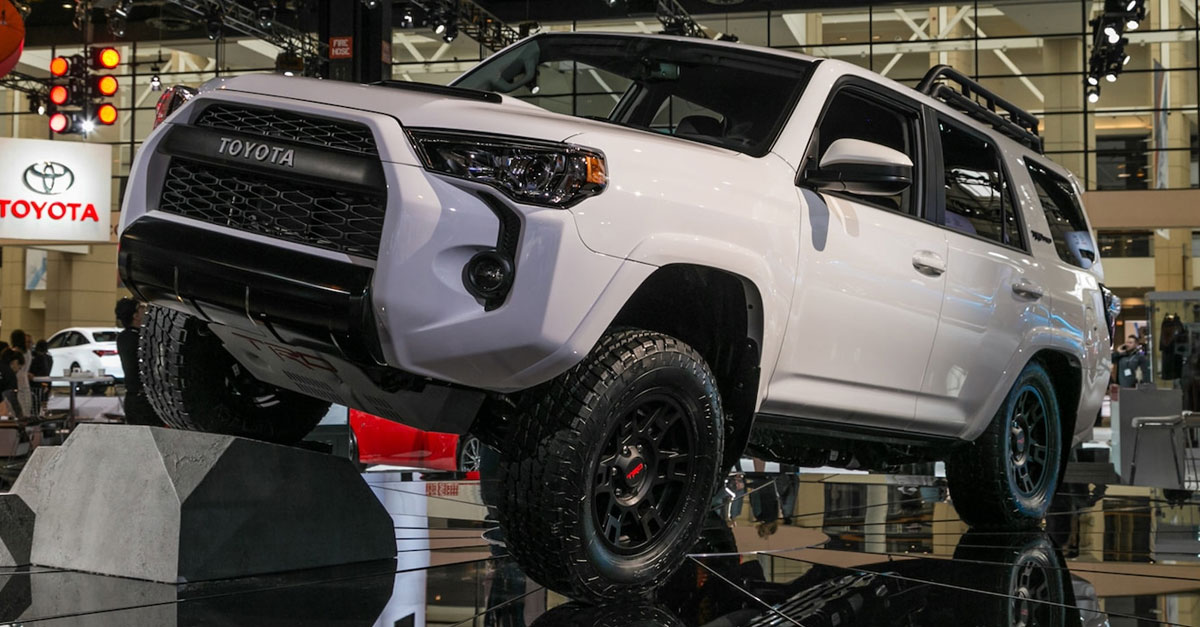 2017 and 2018 Toyota Tundra – 401 lb.-ft.
The 2017 Toyota Tundra gives drivers behind the wheel access to more than 400 pound-feet of torque, along with 381 horsepower. This comes courtesy of the Tundra's 5.7-liter V6 engine. The result was a clear sign that Toyota is a real player in the world of full-size pickup trucks. This V8 engine lets the Tundra tow over 10,000 pounds with ease and carry a literal ton of cargo in its bed. Just keep in mind that compared to some of the other pickups on this list, the interior feels a bit dated.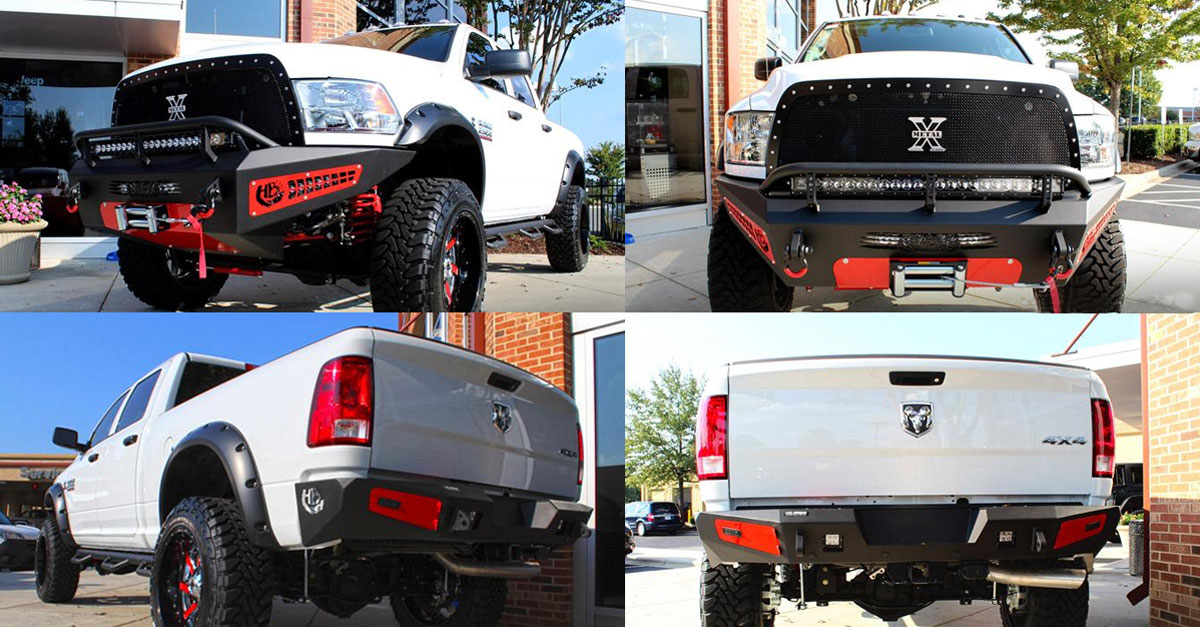 2017 Dodge RAM 1500 Tradesman (V8) – Over 400 lb.-ft.
The RAM 1500 Tradesman is one of the more basic configurations of the Dodge RAM full-size pickup, but it certainly does a great job at delivering power. Going with the 5.7-liter Hemi V8 engine gives you more than 400 pound-feet of torque, 390 horsepower, and 20 mpg on the highway. That pickup also has a towing capacity of 10,000 pounds, a factory warranty for 100,000 miles, and the choice of four-wheel drive. The result is a great value for your power, even today. This truck is also available with a V6 engine but you should expect less torque from it.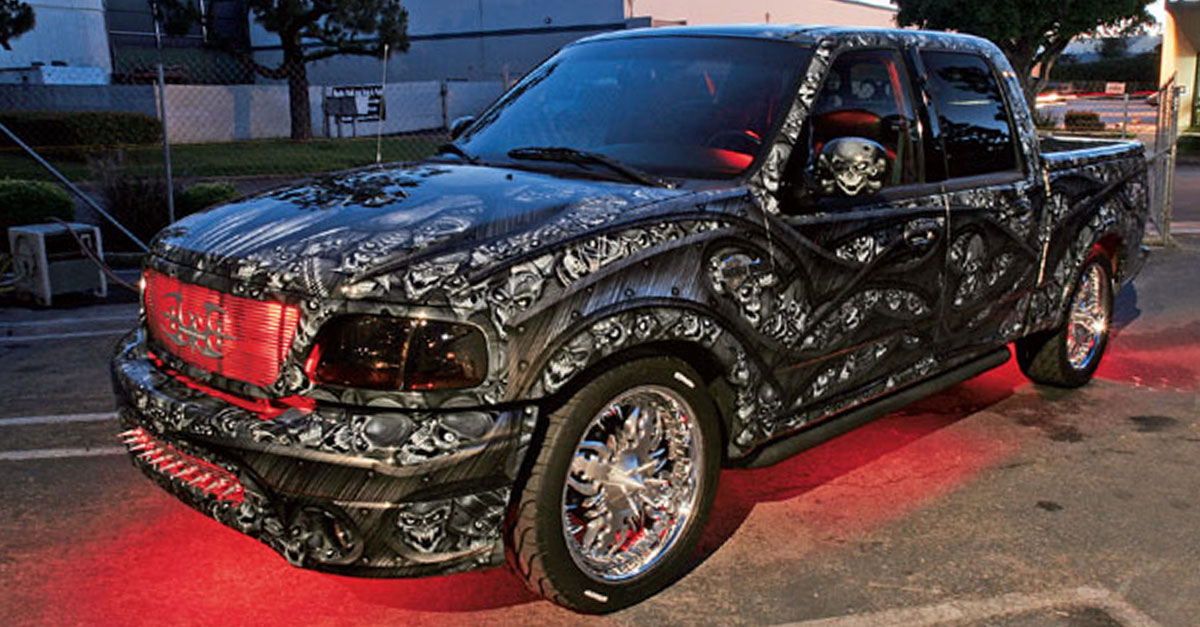 2001 to 2004 Ford SVT Lightning – 450 lb.-ft.
One of the most powerful trucks with a gas engine, the Ford models from 2001 to 2004 equipped with the Lightning's engine delivers 450 pound-feet. Unfortunately, that amazing torque results in massive fuel consumption and somewhat of a reduction in truck usability. This made the Lightning powerful but not the most practical. You can still find it with its 5.4-liter supercharged Triton V8, towing capacity of 5,000 pounds, and payload capacity of 1,350 pounds. The truck offered all that power along with affordability given its specs, which helped its appeal somewhat.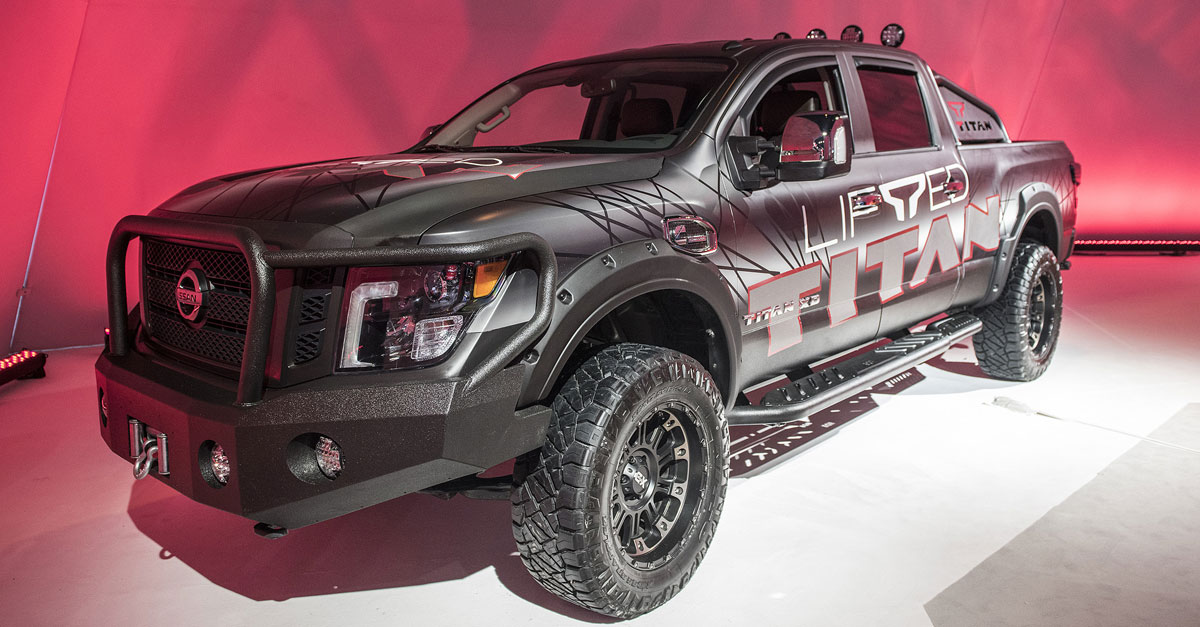 2018 Nissan Titan XD – 555 lb.-ft.
The 2018 Nissan Titan XD made headlines upon its arrival for multiple reasons, including its ability to straddle the line between a light-duty and heavy-duty pickup. This diesel-powered version runs on a 5.0-liter turbodiesel V8 from Cummins. That V8 provides 555 pound-feet plus 310 horsepower, controlled via the six-speed Aisin automatic. Experts say that the V8 was designed for RAM despite its spot in the Nissan lineup. You can also maximize the off-road-worthiness of this auto with the PRO-4X trim that has skid plates, electronic locking rear differential, and Bilstein off-road shocks.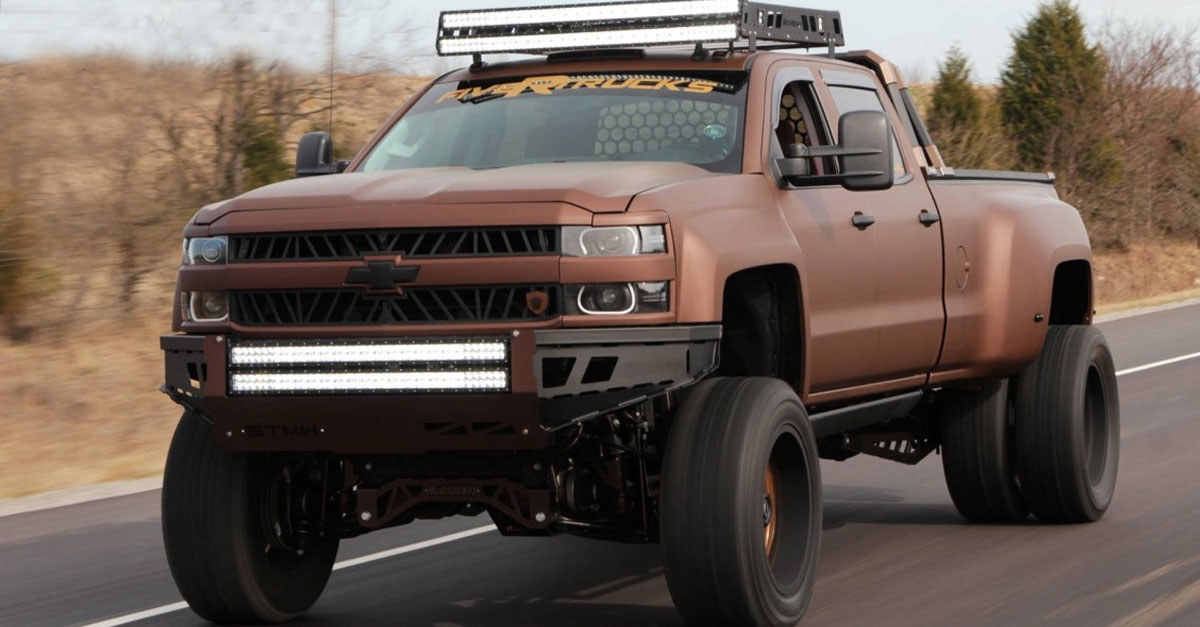 2015 Chevrolet Silverado (Duramax) – 765 lb.-ft.
The 2015 Chevrolet Silverado with the Duramax diesel engine is easily among the most powerful trucks ever made, generating 765 pound-feet of torque. The engine is a 6.6-liter unit that also has 397 horsepower. Amazingly enough, this impressive torque is at only 1,300 rpm. Such power and torque are necessary given that the auto weighs 7,500 pounds. Despite that weight, the power lets it reach 60 mph in just 7.2 seconds. To top it all off, the interior can be downright luxurious with plenty of space and leather upholstery to stretch out on.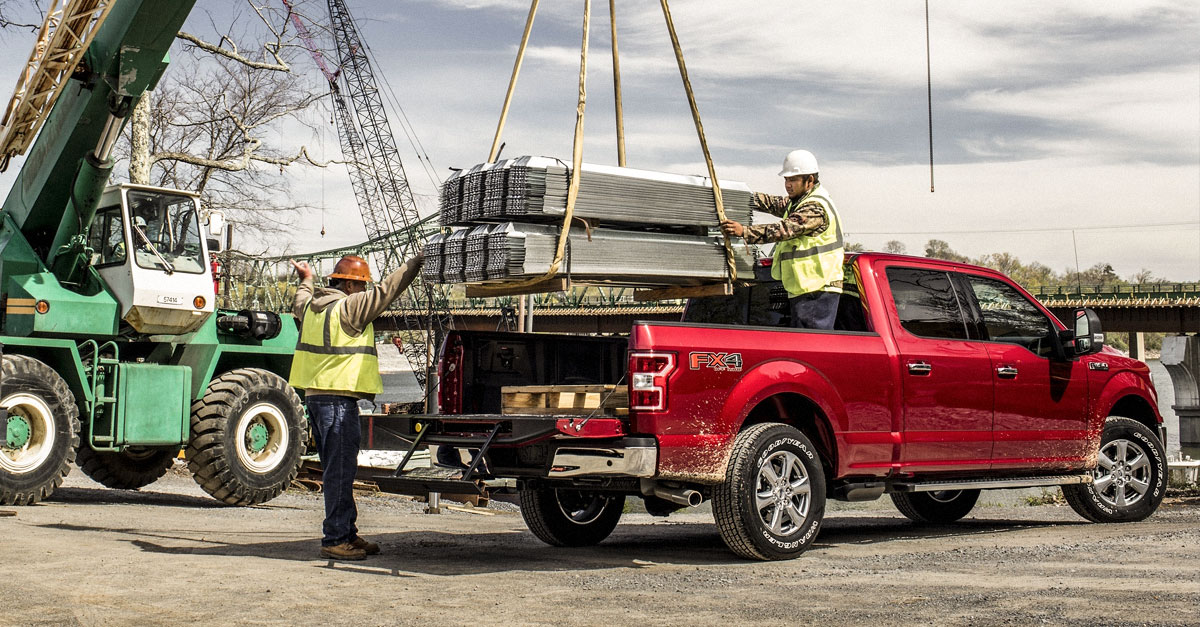 2018 Ford Super Duty (F-250) – 925 lb.-ft.
The Ford Super Duty shows off its torque in multiple configurations, including the F-250, when configured to feature the 6.7-liter V8 Power Stroke turbodiesel. This engine gives the F-250 925 pound-feet along with 450 horsepower. It is even available in the King Ranch trim, which is among the automaker's most popular trims for this pickup with its luxurious features that are not the most expensive option. With a gooseneck of fifth-wheel, you can use it to tow 18,500 pounds. Those who need even more towing capabilities or a bit more torque can look at the F-350 or F-450 instead of the F-250.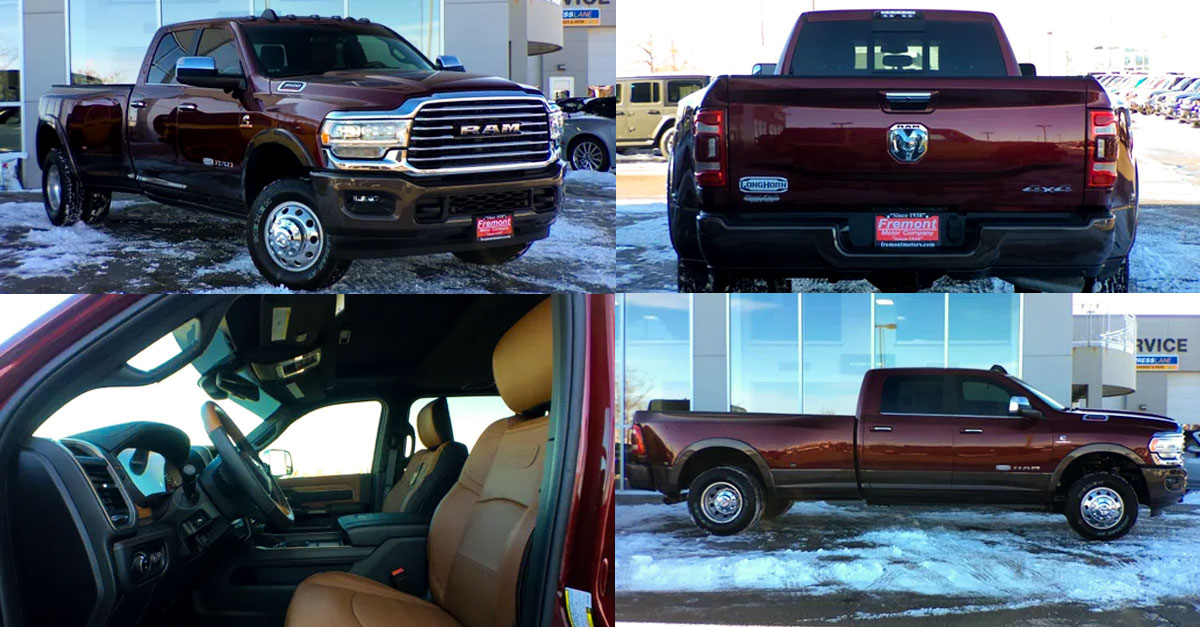 2018 RAM 3500 Laramie Longhorn – 930 lb.-ft.
Since it weighs a full ton, the 2018 RAM 3500 Laramie Longhorn needs plenty of horsepower and torque to get moving, both of which it delivers on. The 6.7-liter Cummins turbodiesel that we have seen on this list several times gives this pickup 930 pound-feet and 385 horsepower. You can choose from an automatic or manual transmission with this incredibly powerful diesel engine, both of which will have six speeds. As a bonus, the Laramie Longhorn stands out with its supple leather upholstery and other high-end elements, like the RamBox cargo management system and auto-leveling air suspension in the rear.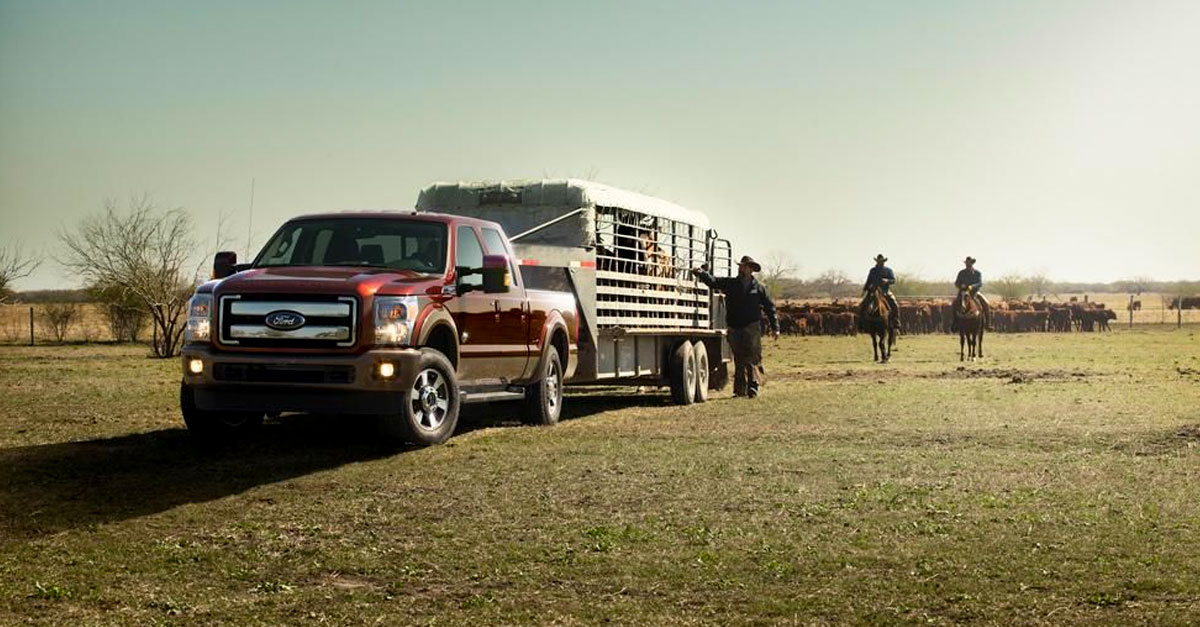 2015 Ford (Power Stroke) – 860 lb.-ft.
Choosing to go with the 6.6-liter Power Stroke V8 engine in your Ford truck will put you in control of 860 pound-feet of torque, along with 440 horsepower. To put that into perspective, the 7.3-liter Power Stroke diesel from Ford during the middle of the 1990s had less than half that torque. Thanks to this powerful engine, this Ford Power Stroke can tow as much as 15 tons, something which shows just how far the industry standard has risen over the years. To complement the engine, this Ford also has commercial-grade rubber, big brakes, and a Dana S110 rear axle.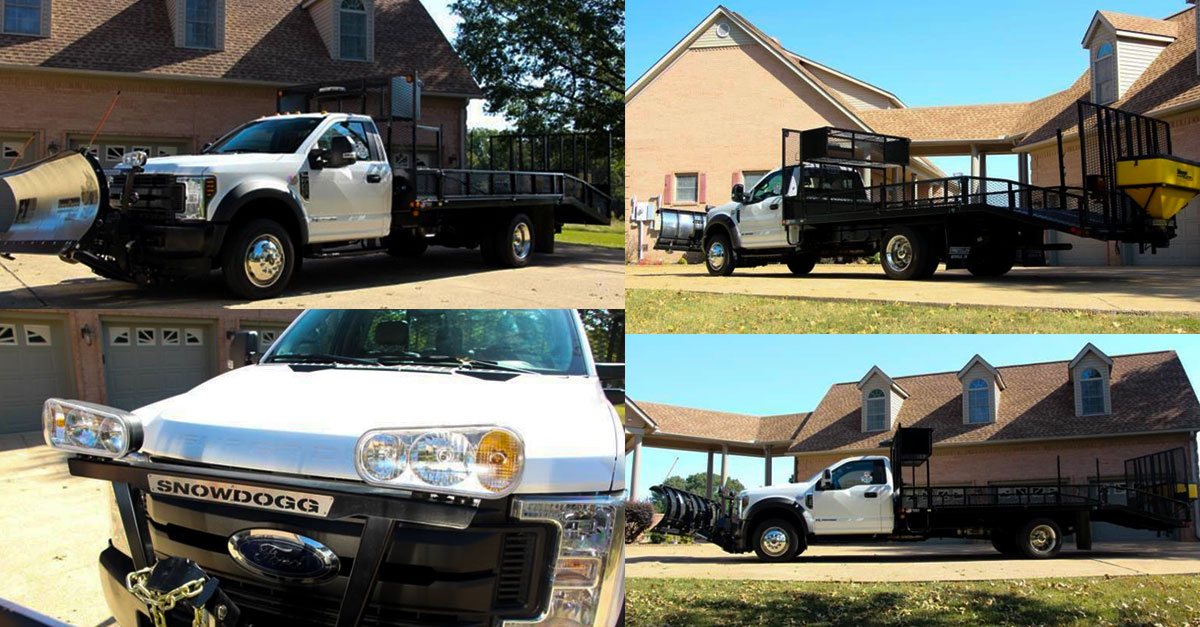 2018 Ford Super Duty (F-450) – 935 lb.-ft.
The 2018 Ford Super Duty comes with a towing capacity of 34,000 pounds to accompany its 935 pound-feet of torque, which was a boost of 10 pound-feet over the previous year. It also has 450 horsepower, an improvement of 10. Conventional hitch towing for this powerful truck is 21,000 pounds and there is a payload capacity of 7,360 pounds. These figures all apply to the F-450, which was available in a range of trim choices to appeal to the tastes of anyone. At the time of its release, Ford recommended a commercial license to use all the features of this truck.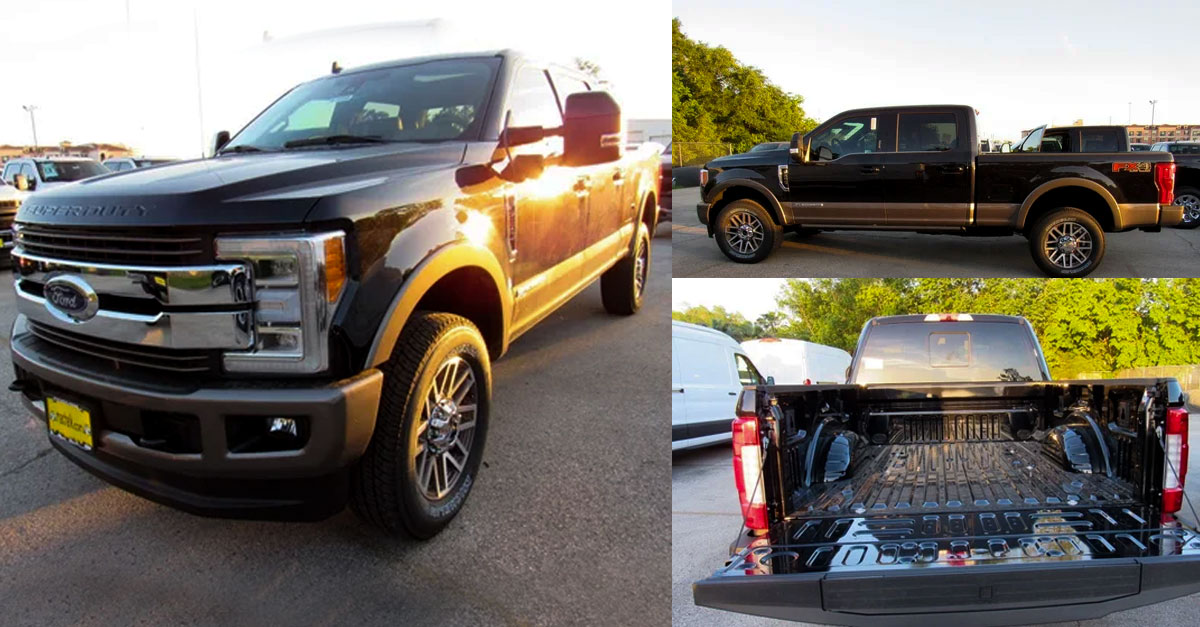 2019 Ford Super Duty (F-250) – 935 lb.-ft.
If you opt for the 2019 model year instead of the 2018, you will find yourself with the ability to get the same impressive 935 pound-feet of torque, but on the lighter and more affordable F-250 Super Duty instead of requiring an upgrade to the F-450. Enjoy 450 horsepower as well, courtesy of the 6.7-liter turbodiesel V8. Configure it properly and the F-250 will tow 21,000 pounds with ease. If that seems like an impressive figure, that is because it is the class-leading towing capacity that truly sets the Ford pickup ahead of the pack.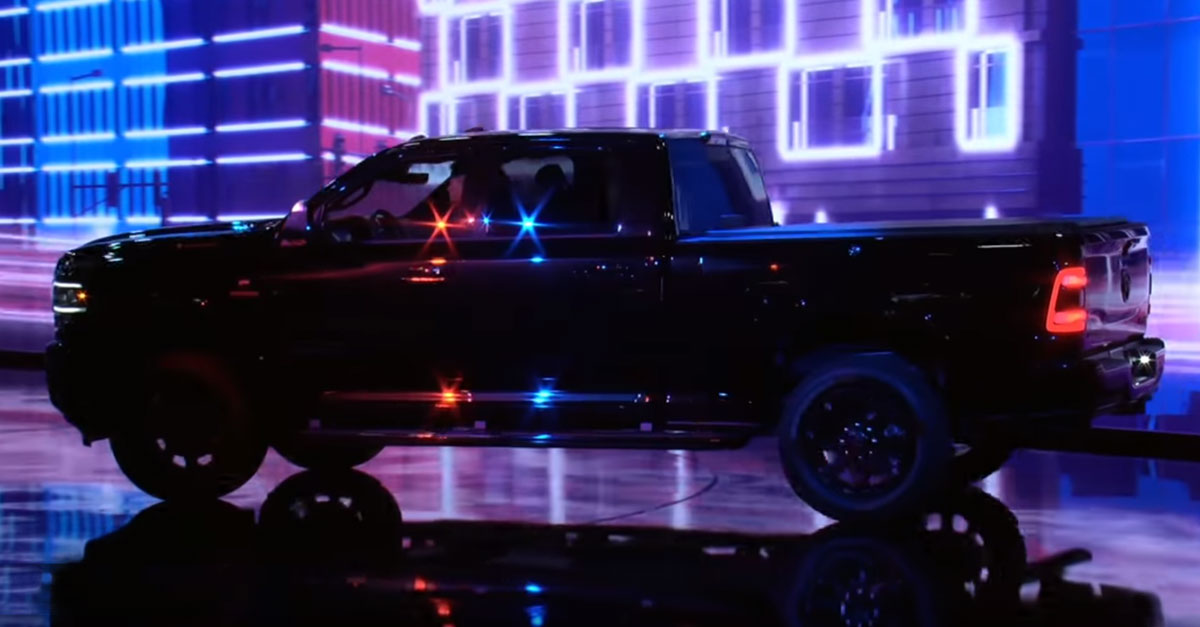 2019 RAM Heavy Duty (Tuned Diesel) – 1,000 lb.-ft.
The tuned version of the 2019 RAM Heavy Duty with the diesel engine is even more powerful, 1,000 pound-feet thanks to this 6.7-liter Cummins turbodiesel. At its launch in early 2019, this made it the most powerful as well as "most capable" pickup within the segment. It also has 400 horsepower, a 7,680-pound payload capacity, and a 35,100-pound towing capacity. Like the detuned version, it lost 60 pounds and has stronger, lighter pistons as well as a new cast-iron cylinder block and cylinder head. The suspension is ready to keep up with the higher payloads that this truck can handle.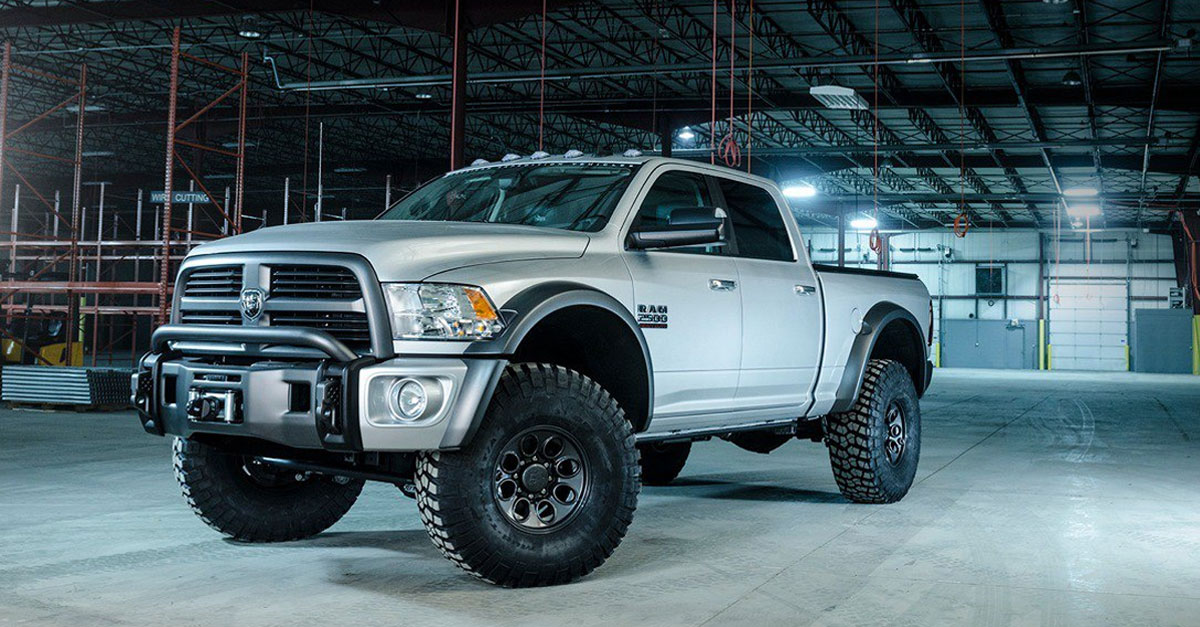 2014 to 2018 Dodge RAM (Cummins) – 800 lb.-ft.
Configuring the 2014 Dodge RAM with the Cummins turbodiesel engine gives you a vehicle with a whopping 800 pound-feet, working with 370 horsepower. This turbodiesel is a 6.7-liter straight-six. Thanks to this power, the 2014 RAM 3500 can tow 30,000 pounds. The more recent 2018 version uses the 6.7-liter Cummins High-Output turbodiesel, for the same output. Control everything via the six-speed automatic or the available six-speed manual. Going with the 2018 model year not only gets you this 800 pound-feet, but it also offers a full range of trims and colors, from the Limited Tungsten at the top of the range to the Tradesman without thrills.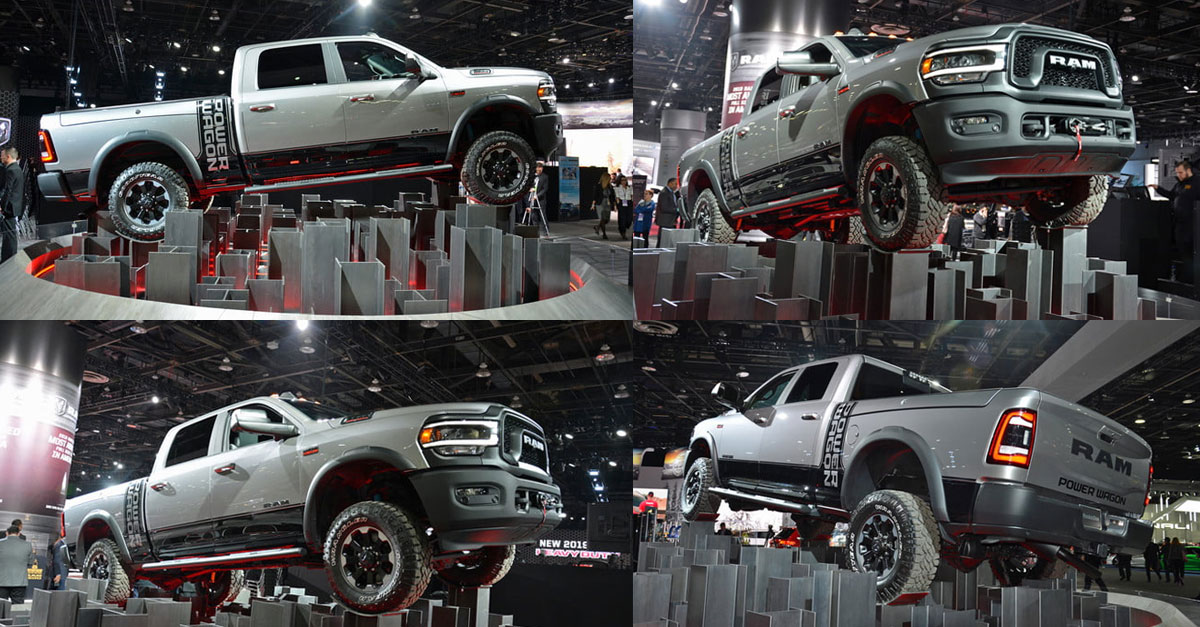 2019 RAM Super Duty (Detuned Diesel) – 850 lb.-ft.
One of the big pulls for the 2019 RAM Super Duty is the diesel powertrain that can generate 850 pound-feet of torque even without any special tuning. It works with a six-speed automatic transmission that is electronically controlled and was specifically designed to work with the massive torque, including that of the more powerful tuned version. This is the latest generation of the diesel powertrain, which is lighter, dropping 60 pounds compared to the previous version. It also has other updates to help with that massive output, with or without engine tuning.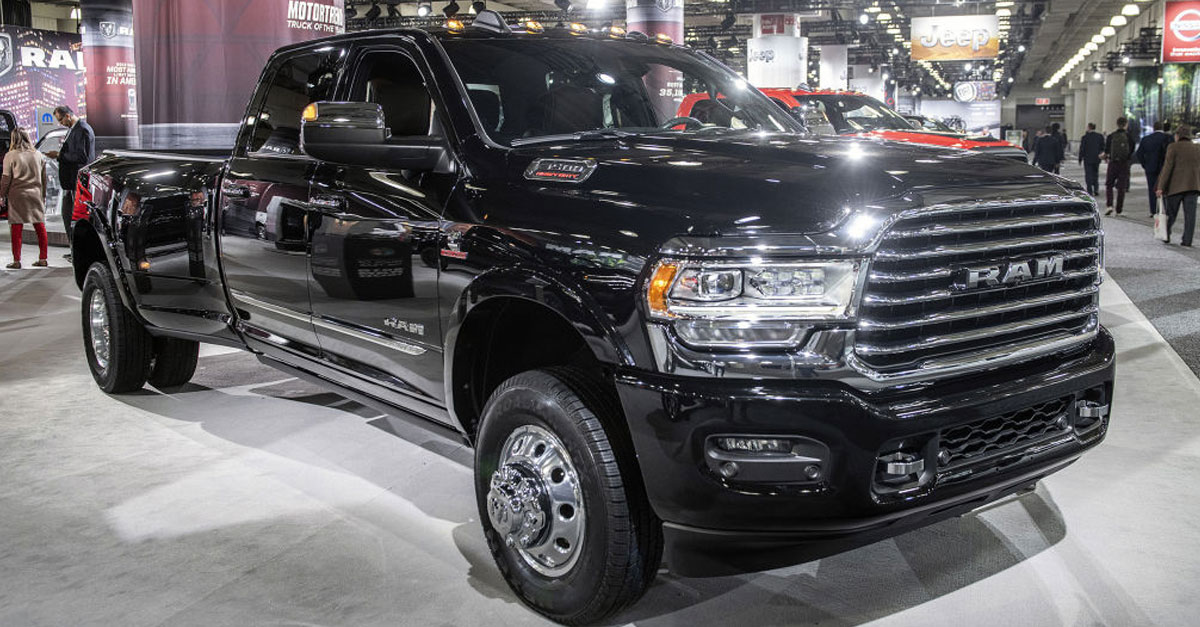 2018 Dodge RAM (Cummins) – Over 900 lb.-ft.
While a previous version of the Dodge RAM with the Cummins turbodiesel engine already made this list, the 2018 version showed enough of an improvement to warrant its own listing. On the 3500 trim, this RAM with the Cummins can put you in control of more than 900 pound-feet, along with 385 horsepower. It also features a best-in-class towing capacity of 30,000 pounds. This engine is so powerful that it can be used for marine, railroad, and stationary environments as well. As is typical of RAM, there is also the choice of trims, with six options to select from.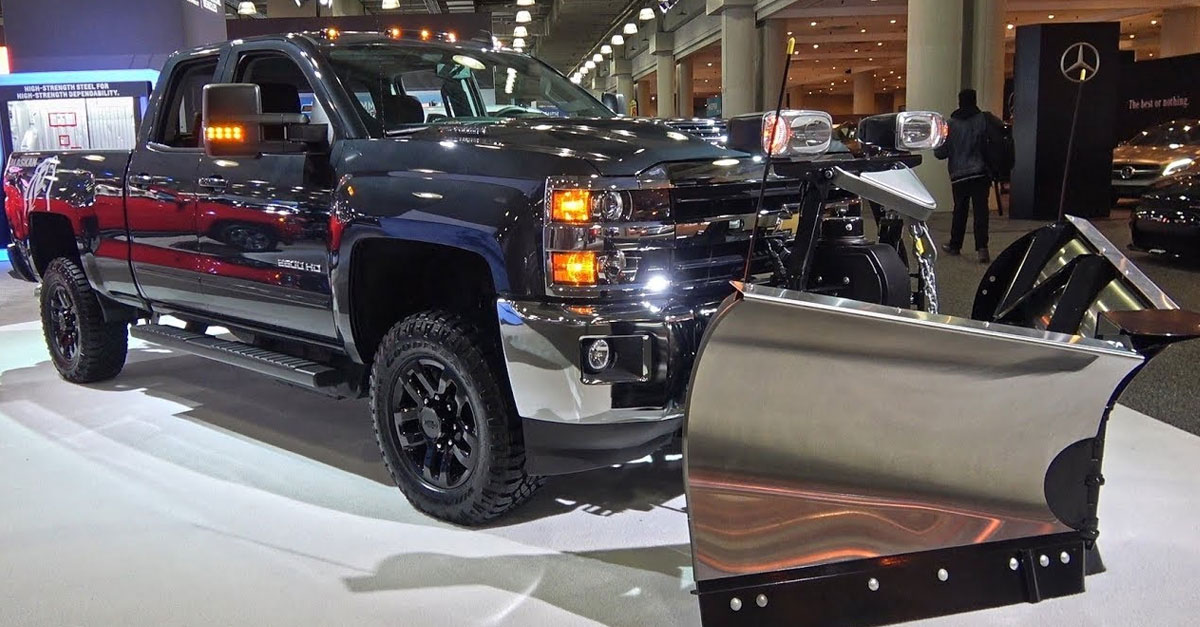 2018 and 2019 Chevrolet Silverado 2500HD and 3500HD – 910 lb.-ft.
The 2018 Chevrolet Silverado 3500HD offers multiple engines, including the 6.6-liter Duramax V8 that will maximize your torque at 910 pound-feet. This turbodiesel engine can be paired with dual-rear-wheel or single-rear-wheel configurations. In addition to that impressive torque, the Duramax also gives this Silverado 445 horsepower, controlled via a 6-speed automatic from Allison. Use this torque to tow up to 20,000 pounds with conventional towing or 23,300 pounds with a gooseneck or fifth-wheel. Before the new line of 4500 and 5500 pickups in 2019, this was the go-to Chevy workhorse.