Truck Driver Unloads Like a Boss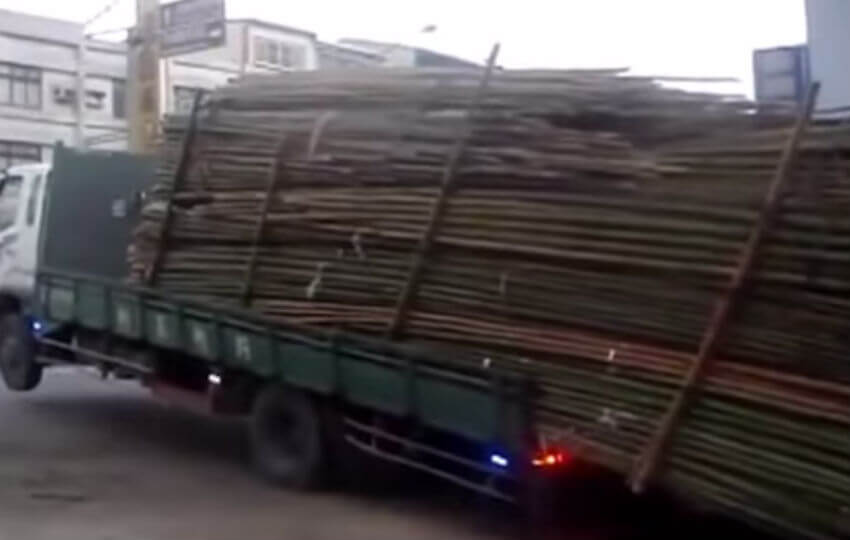 In the United States, there are extremely strict rules for the loading and offloading of trucks. Each vehicle has a Gross Vehicle Weight which it cannot – by law – exceed. A lot of manufacturers and distributors overseas, though, don't have those stipulations (or they're not enforced rigorously). There's a simple reason why the US doesn't allow oversized and overloaded cargo trucks – it's a real danger to load and off-load. And for one Taiwanese driver with an oversized load of bamboo in his flat bed, offloading is about to get a whole lot easier.
Definitely not recommended for the average driver, this technique relies mostly upon using the brakes to push the load off the trailer. Extremely dangerous! Once the brakes are slapped, the cargo is traveling by force of inertia. This creates a real burden for those tasked with picking up the pieces but for this purpose, it's just mildly entertaining.
Other Wrong Way Cargo Tricks
All of these are not at all recommended for serious truck drivers. Especially in the United States and quite a few other countries – getting caught doing these maneuvers is a great way to get slapped with fines and even lose one's commercial driving license. We're covering them anyways because why not know what to avoid? (more…)
(Read More)
The Double Truck Lift Car Load – "Mind the Gap" Sometimes when cars get transported, in shipping containers especially, truck drivers are incentivized to find the f