Classic (and New) Cars That Were Auctioned For Over $1 Million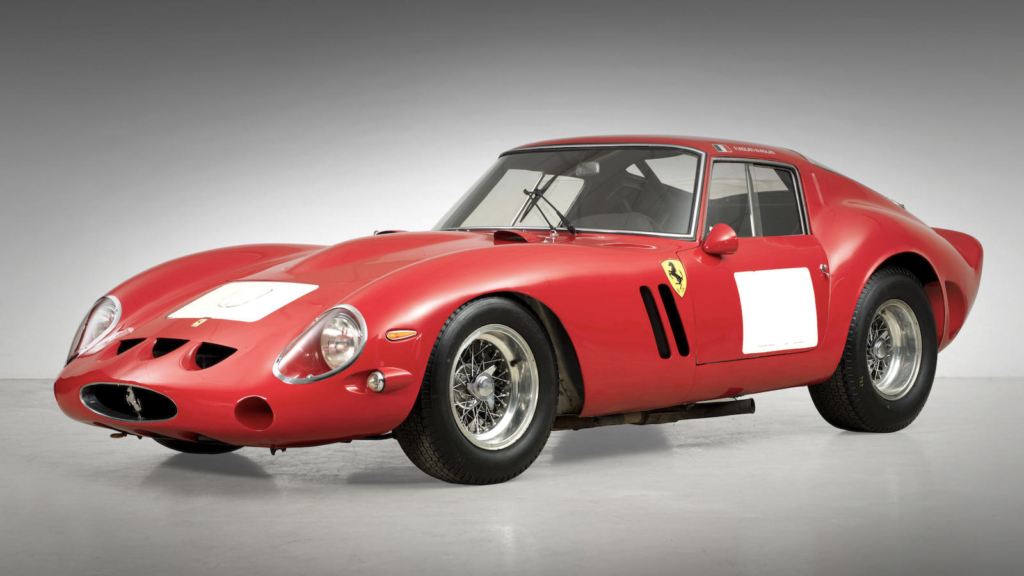 If you've ever seen a car auction in real life then you know the excitement that they carry. But you've probably never seen a car be sold for a million dollars…much less $48 million! That's how expensive the most expensive car ever is – just wait until you see it. It' beautiful…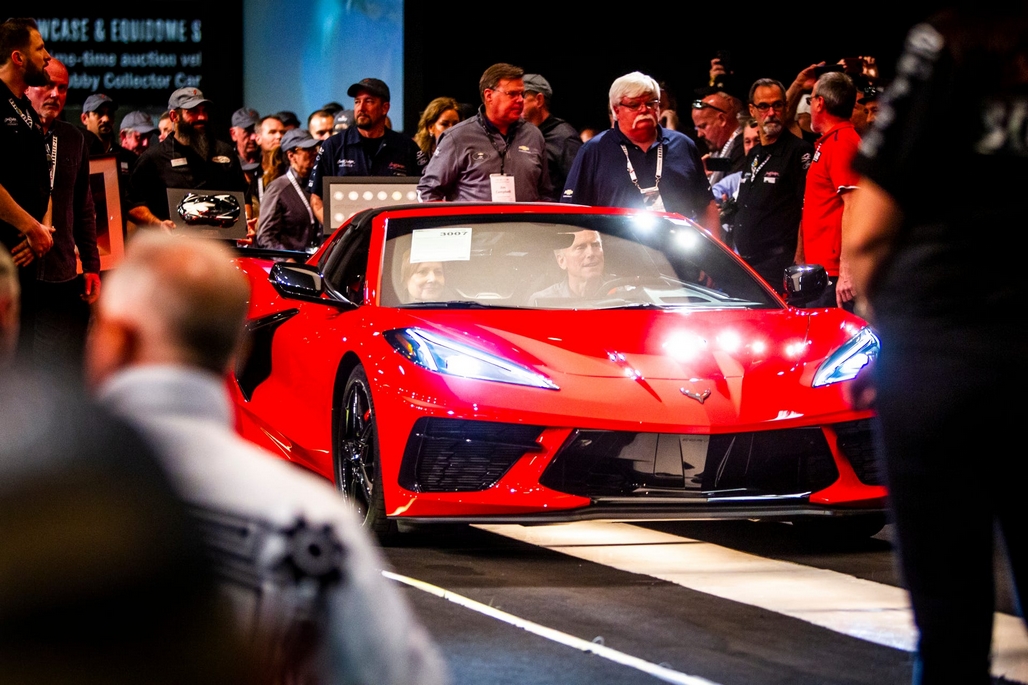 2020 Chevrolette Corvette C8 VIN 001
Price: $3 million
Auctioneer: Barrett-Jackson – Scottsdale, Arizona, 2020
In 2020, the CEO of General Motors rolled the Chevrolet Corvette C8 VIN 001, for it to be auctioned off at a Barrett-Jackson auction house. The proceeds of the sale will go to the Detroit Children's Fund, which specializes in recruiting allstar leadership, teachers, and constructing facilities to propel youth to academic success.
Modeling some features after the C7, the C8 exterior gets a complete makeover, focused around aerodynamics, cooling and weight distribution. The engine, now centered in the middle of the car, will allow the large side air intake vents to better cool the unit. The V8 engine got an upgrade, along with an 8 speed automatic, double clutch transmission, guaranteed to make you drive fast!
This rad ride beat out all other manufacturers including Ford, Ferrari, and Lamborghini, and won the 2020 Motor Trend Car of the year. A classic in itself, check out the next ride!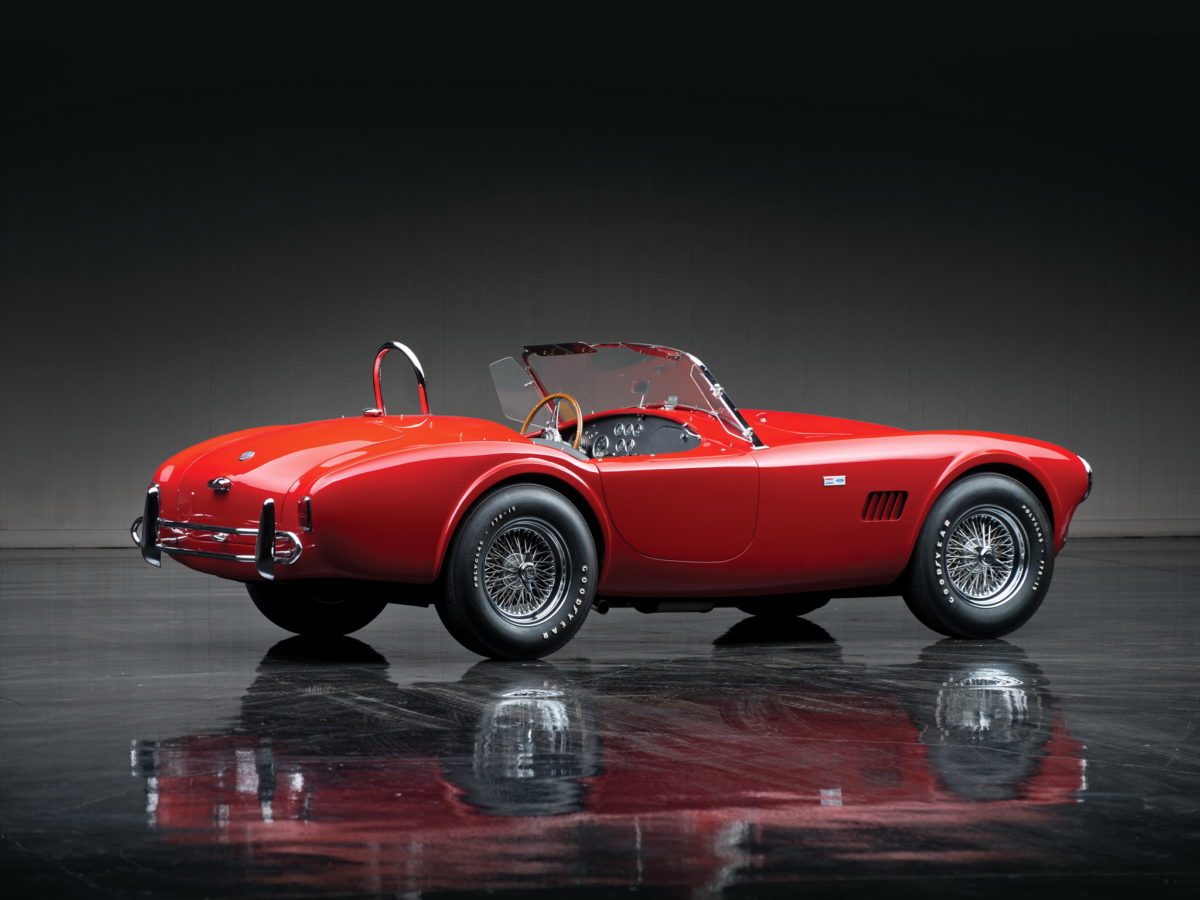 Shelby 260 Cobra
Price: $14.67 million
Auctioneer: RM Sotheby's – Monterey, California, 2016
Carroll Shelby was an inventor, engineer, innovator and car builder.
The set of wheels that stunned the world back in 1960, his personal car, and the very first iteration of the Shelby Cobra 250, sold for a staggaring $13.75 million dollars at auction! That is one hefty price tag, but not for a timeless piece of history. The reason this car is so notable was for it's sheer performance statistics. It could do 0-60 in 4.2 seconds, a quarter mile in 13.8 seconds, and reach a top speed of 152 mph!
Now I know some of you are rolling your eyes at these numbers, but you must remember, this was 1962! Here's a little fun fact, did you know Shelby would paint the car in between test, so journalists thought he had multiple cars? I like to call that the ole misdirection! Anyway, utilizing Ford's V8 engine, allowed Shelby to blow minds of master car makers such as Enzo Ferarri and Porsche.
Ever heard of James Bond? This next ride might remind you of a little something..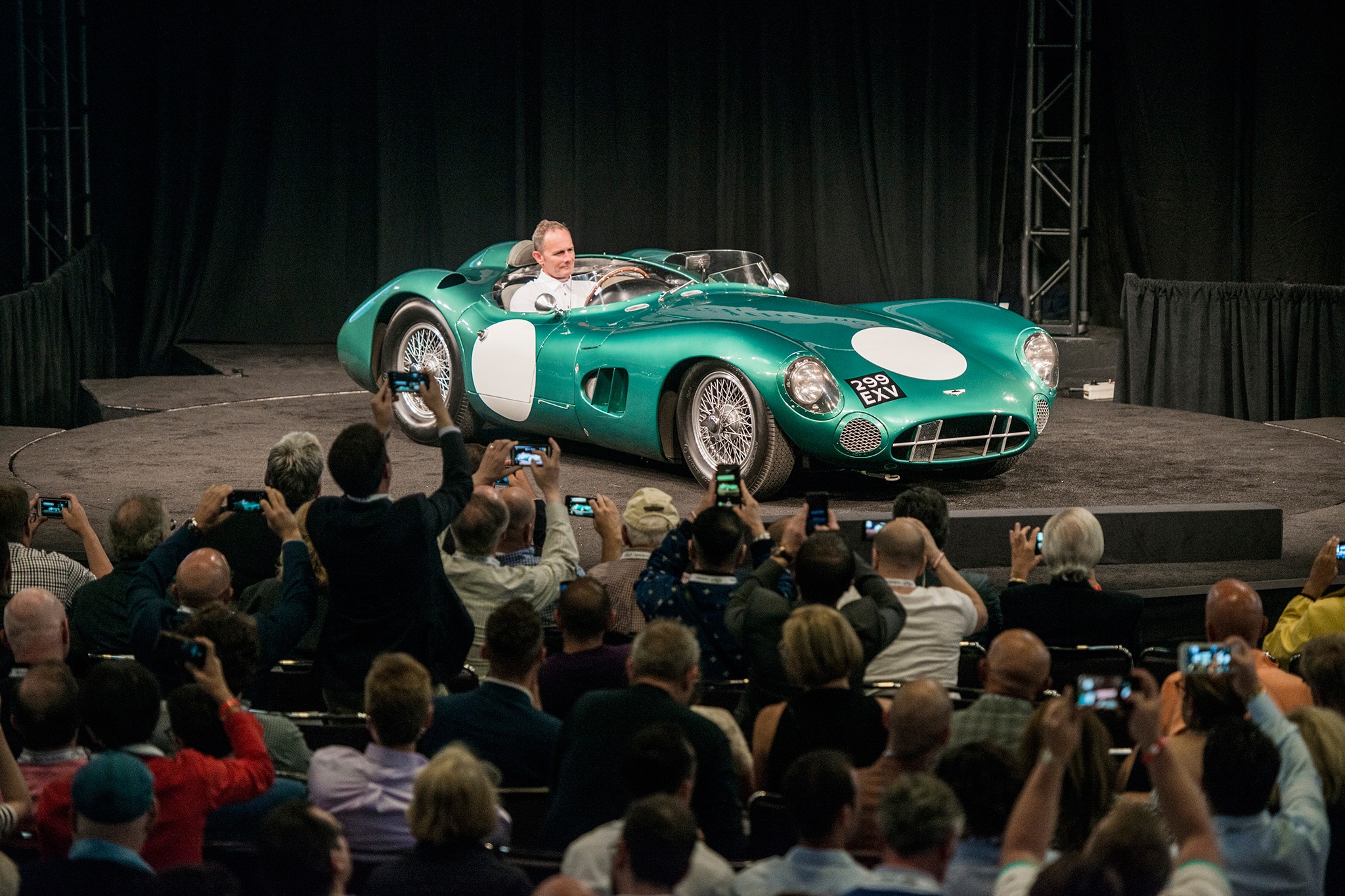 1956 Aston Martin DBR1
Price: $22.55 million
Auctioneer: RM Sotheby's – Monterey, California, 2017
The Aston Martin DBR1 started manufacturing in 1965, with the intention of entering the World Sportscar Championship and other sporting car races. In 1959, it raced in the 24 Hours of Le Mans, in which the Aston Martin DBR1 emerged the outright victor.
When this legendary piece was brought to auction, it sold for an incredible $22.5 million- which I imagine is a mere pocket change for the new owner. Among the other notable attributes of this car are its drivers. Legendary car craftsman such as Carroll Shelby, Stirling Moss, Jack Brabham and Roy Salvadori are among the cars notable jockeys.
We've seen several rides with an okay, paint job, but let's crank up the flash on this next one!!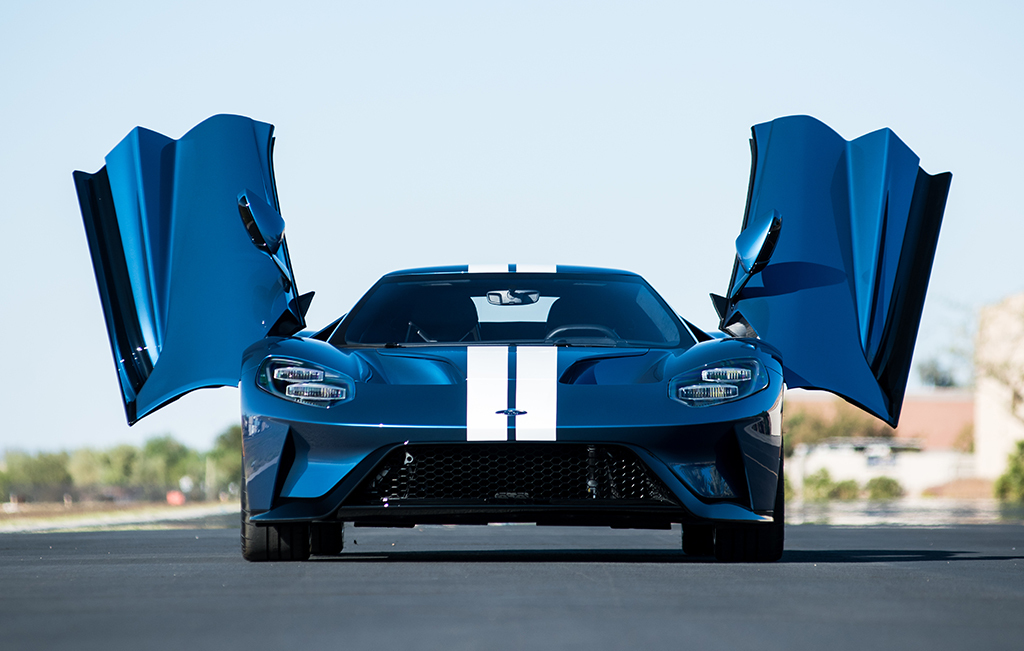 2017 Ford GT
Price: $1.3 million
Auctioneer: Meum – Dallas, Texas, 2019
Following a limited manufacturing run in 2017, there was a two-year sales prohibition on the second generation supercar, 2017 Ford GT owned by famous wrestler and actor John Cena. Ford is purposely making purchasing the supercar extremely difficult, famously putting applicants through a rigorous selection process. 6500 people applied for the mere opportunity to purchase one of the 1000 editions of the John Cena 2017 Ford GT.
Following the initial application there were 350 extra vehicles made exclusively for a second round of applicants. The car that it seemed to be purchased exclusively as an investment, is cranking out some impressive statistics including a 3.5 L V6 eco-boost turbo charged engine coupled with 647 hp and 550 pounds of torque. The original purchasing price of the car was $450,000 and at auction sold for $1.485 million.
This next car might make you think of a large cat..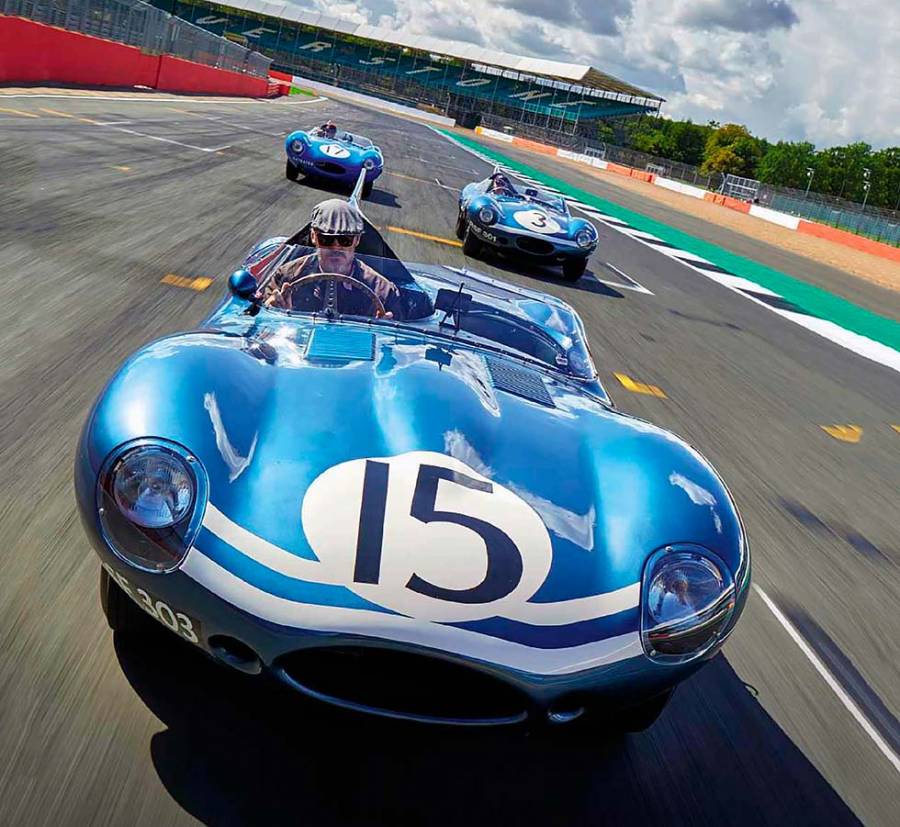 1955 Jaguar D-type XKD 501
Price: $21.78 million
Auctioneer: RM Sotheby's – Monterey, California
In 1956 the 24 hours of Le Mans was won by the 1955 Jaguar D- Type XKD 501, completing 2507 miles at an average speed of 104 mph and then maximum speed of 156 mph. Enter, the history books.
The Jaguar D-Type chassis is one of the most exquisite race cars ever developed possessing a monocoque chassis design, it secured victories in three 24 Hours of Le Mans in 1955, 1956 in 1957. Most of the weight in the D-Type Is distributed evenly over the wheels and engine with a massive racing fan perched atop the rear. This design is indispensable, enabling the ultimate aero dynamics. This specific vehicle, 1955 Jaguar D- Type XKD 501, remains in its original racing condition, unscathed from when it's secured that remarkable victory. It sold at in RM Sotheby's Monterey auction for $21.78 million.
Can I get a little horsey sauce with this next ride?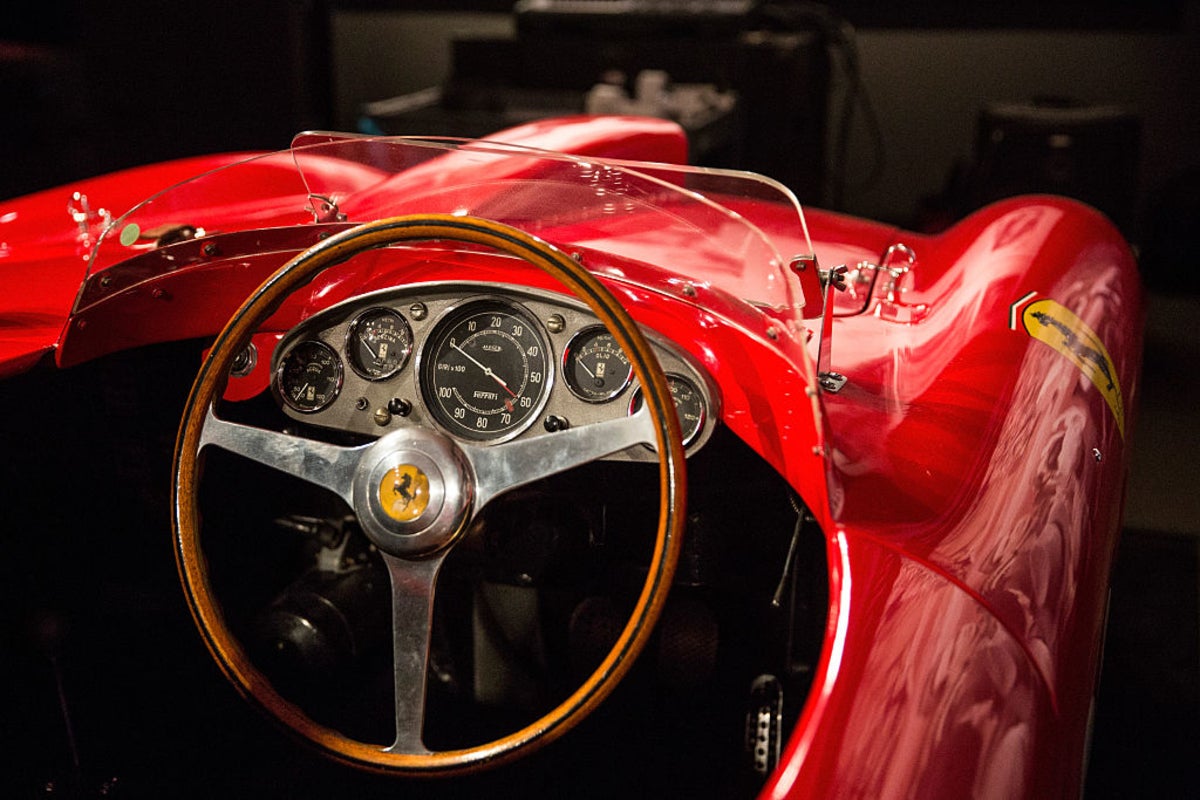 1956 Ferrari 290 MM
Price: $22,005,000
Auctioneer: RM Sotheby's – Los Angeles, California, 2018
Throughout 1956 and 1957, the Ferrari 290 MM chassis number 0628 was piloted by a notable roster of incredible team drivers including Juan Miguel, Peter Colin, Wolfgang VonTrippe, Oliver Guinn Debbie, and Eugenio Castellotti. This car's incredible compilation of drivers is one of the most famous teams to ever pilot a single vehicle.
In December 2018, RM Sotheby's sold this car for $22 million at auction, entering it into one of the most valuable motorcars ever to be sold. The car once resided at the Peterson Automotive Museum, and will be taken home by a private collector to join their arsenal of legendary vehicles. Though debated among pundits, it is rumored that this vehicle has the most famous racer's butt sweat in history.
Enough about butt sweat, I barely knew how to pronounce this next car..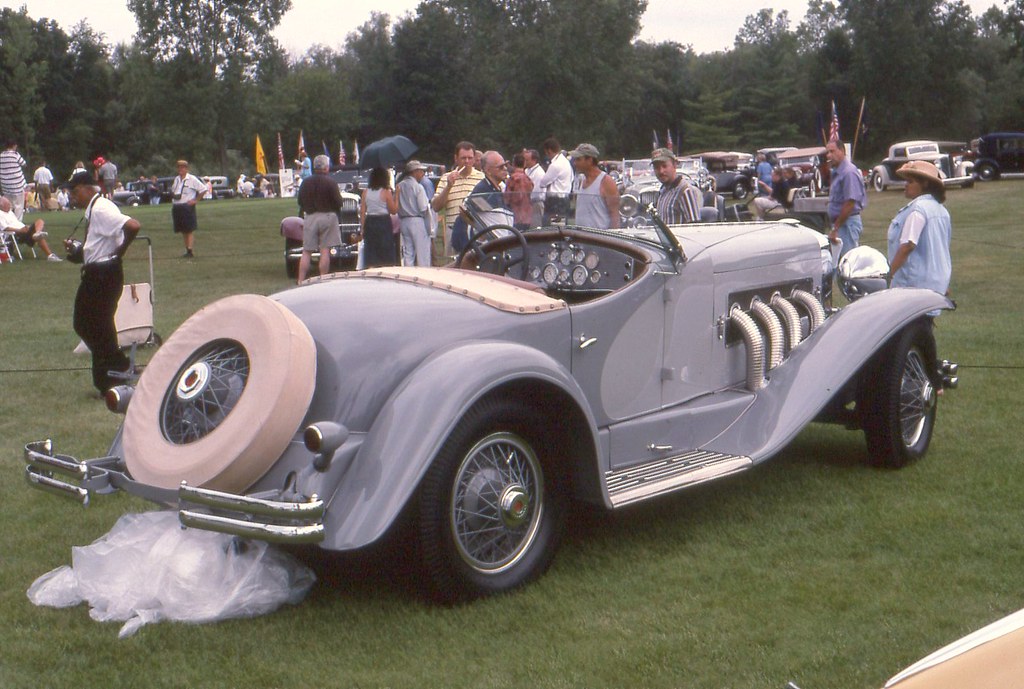 1935 Duesenberg SSJ
Price: $35 million
Auctioneer: Gooding & Company – Pebble Beach, California, 2018
Once owned by Gary Cooper, the 1935 Duesenberg SSJ fetched a staggering $35 million at the Gooding and Co. Pebble Beach Auction.
This notable ride was only one of two ever made by Duesenberg, which is no longer operating as a manufacturer. It possesses a 7.3 L, twin carburetor, dual overhead cam, 32- valve, centrifuge really super charged, straight eight engine. The starting of this car is particularly interesting, involving an eight step process. Aside from extreme rarity, when it hit the market in 1935 it's reported 400 hp engine was more than double anything else on the market, even a late 1970's Ferrari 308GTB. It's old age plus incredible performance power makes it one of the most astonishing vehicles still in operation today.
This next ride has more mods than a playboy model!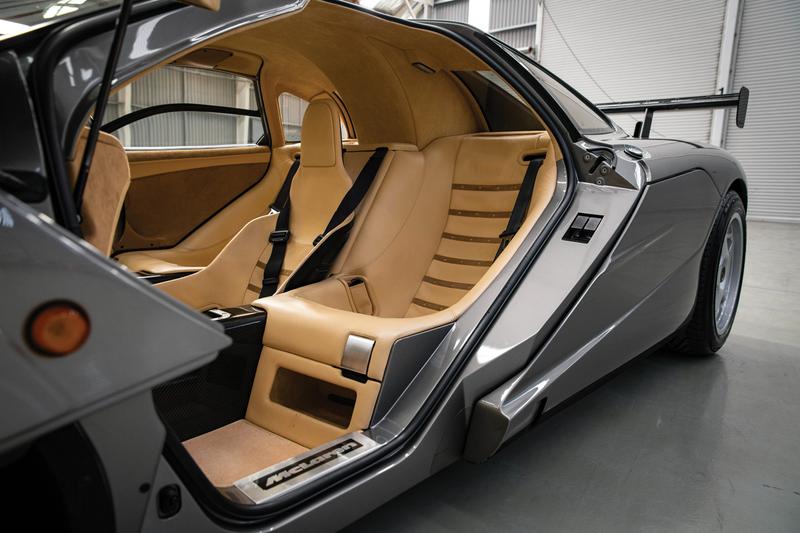 1994 McLaren F1 'LM-Specification'
Price: $19,805,000
Auctioneer: RM Sotheby's – Monterey, California, 2019
The 1994 F1 McLaren 'LM Specification' It's remarkable for a number of reasons, being its one of two cars ever modified by the factory to "LM" specifications. It comes with an unrestricted GTR racing engine and ultra high down force kit, and is in the family of the 64 road car iterations of the vehicle ever built.
In 2019 the car sold for an incredible $19,805,000 at a Sotheby's auction. LM specification stands for 'Le Mans' and includes upgrades not only to the exterior and performance, but to the interior as well. These upgrades consist of air-conditioning, new radio, headlights, and a buffalo hide steering wheel!
Though it was never a victor of the infamous race, it is one of the most celebrated supercars in history. You know what they say about finding cars in barns..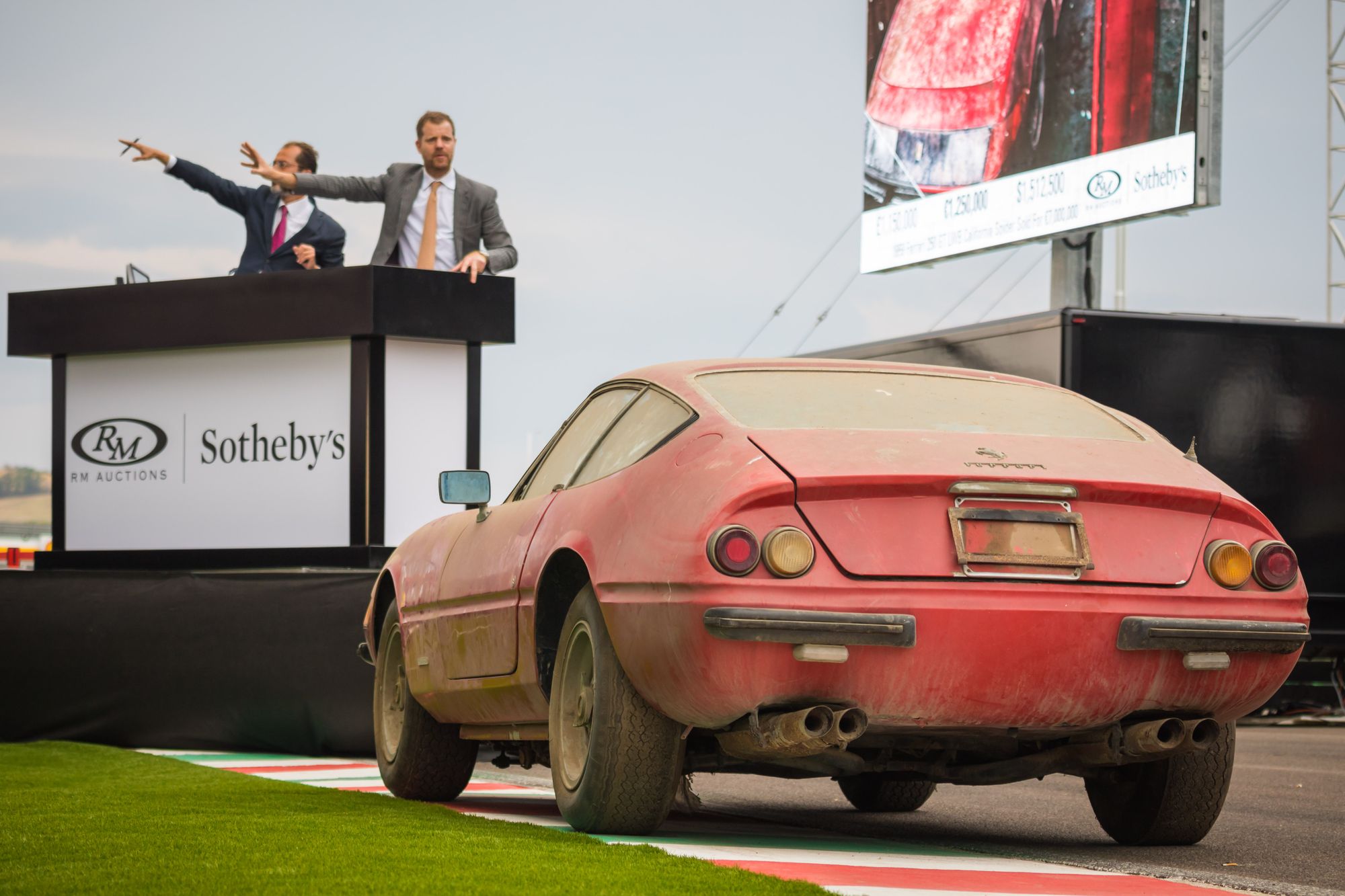 1969 Ferrari 365 GTB/4 "Daytona" Berlinetta Barn Find
Price: $2.6 million
Auctioneer: Barrett-Jackson – Scottsdale, Arizona, 2017
The Ferrari Daytona was produced by Ferrari from 1968 to 1973, and introduced at the Parris Auto Salon. It featured a Colombo V12 bored out engine and the power block consumed a total of 4,390cc.
The number of Daytonas is reported to be 1406 still in existence and operation today, however this particular car was a ridiculous steal. The owner who brought it to auction had recently purchased a part of land with a barn containing the car as well as several other collectibles! The 1969 Ferrari 365 GTB/4 "Daytona" Berlinetta Barn Find ended up selling at a Barrett- Jackson auction for $2.6 million. Variations of the car include the 'Spyder' model for owners who prefer an open cockpit on the vehicle.
You've heard of Romeo and Juliet, but what about Alfa Romeo.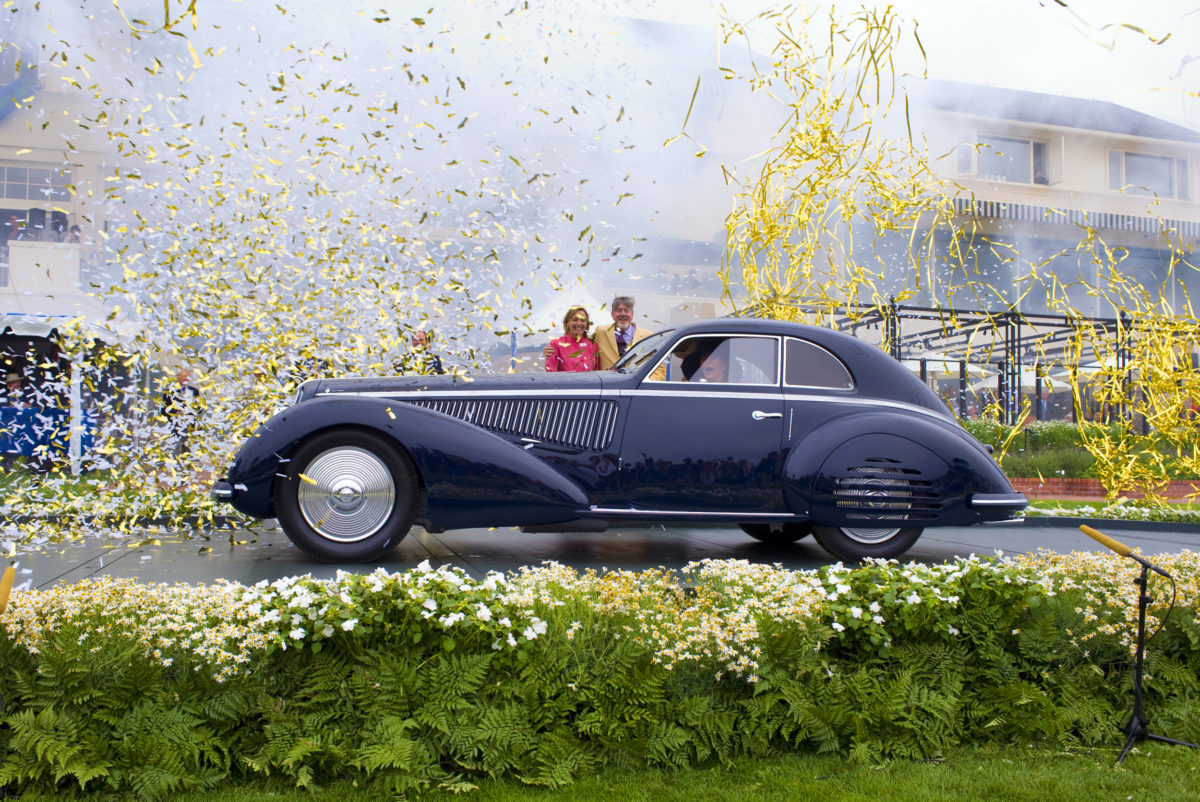 1938 Alfa Romeo 8C 2900B Touring Berlinettar
Price: $21 million
Auctioneer: Artcurial – Paris, France, 2017
In 1938 at Watkins Glen this suave sailing masterpiece won the first race in what would become one of the most notable car exhibitions in the world.
The 1938 Alfa Romero 8C 2900B Touring Berlinetta sold for a whopping $21,093,095 at Artcurial auction house. There were only 32 cars manufactured of this model, most of them assembled in Italy, known for their detuned engine, comfort and reliability. These units feature an engine mounted, multi-plate clutch and rear axle. It's light gauge platform, which contains a welded box section frame and completely independent suspension, ensures a smooth ride and enjoyable driving experience despite its engines significant torque.
How bout a more recent car on this next one…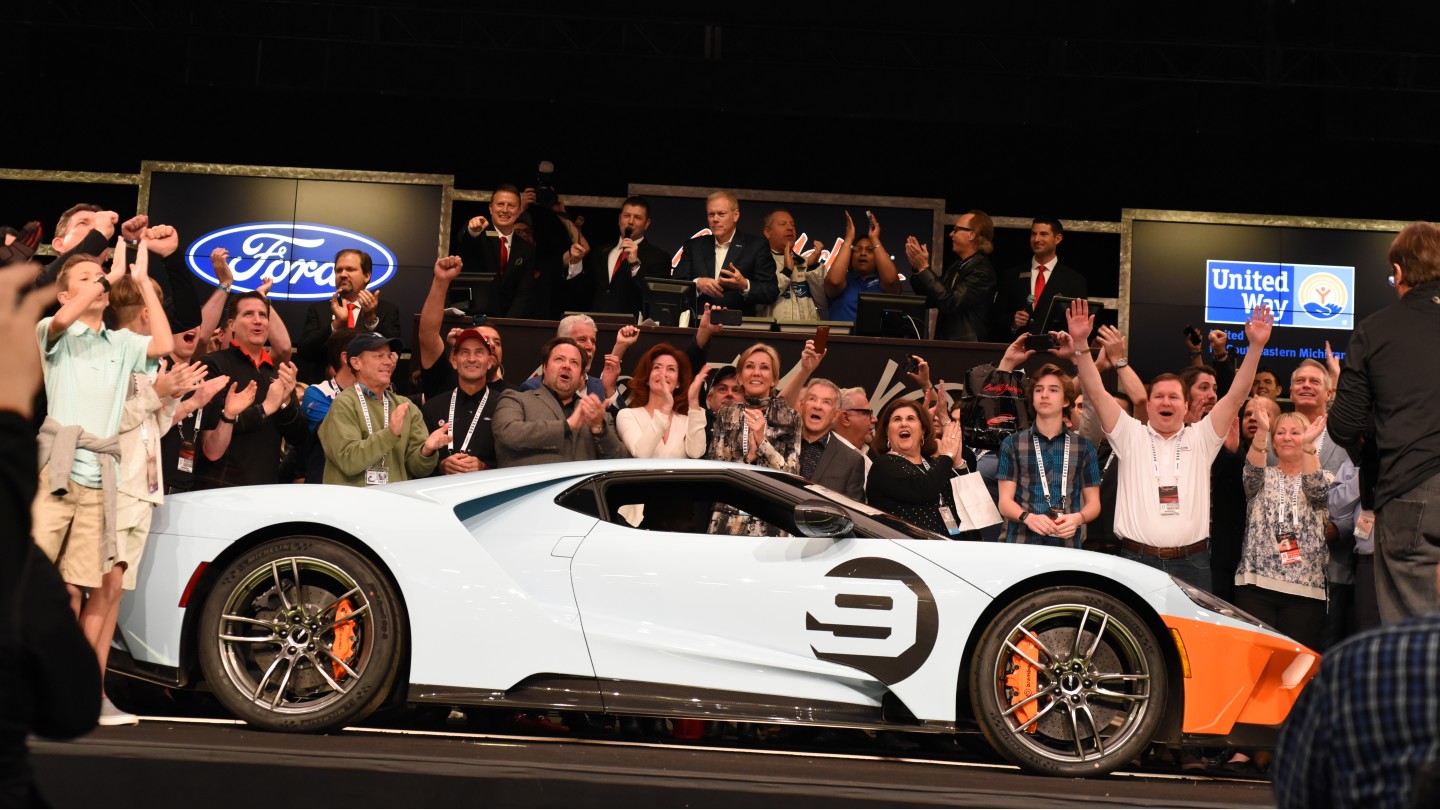 2019 Ford GT Heritage Edition
Price: $2.5 million
Auctioneer: Barrett-Jackson – Scottsdale, Arizona, 2019
Ford car manufacturers have been known for its famed mustang for decades. Their special edition, VIN 001, 2019 Ford GT Heritage edition with Gulf racing theme, raked in a record $2.5 million at auction – which was donated to charity.
This isn't your "middle of the mall kiosk mustang", this bad boy is the souped up racing version. It packs a 5.2 L V8 six speed manual transmission, 480 hp and a top speed of around 200 mph. The Barrett-Jackson auction house was thrilled with a special event weekend raking in a total of $3.7 million, including the sale of the GT Heritage, which was donated to a long time charity partner.
Now lets throw it back to a classic, vintage car!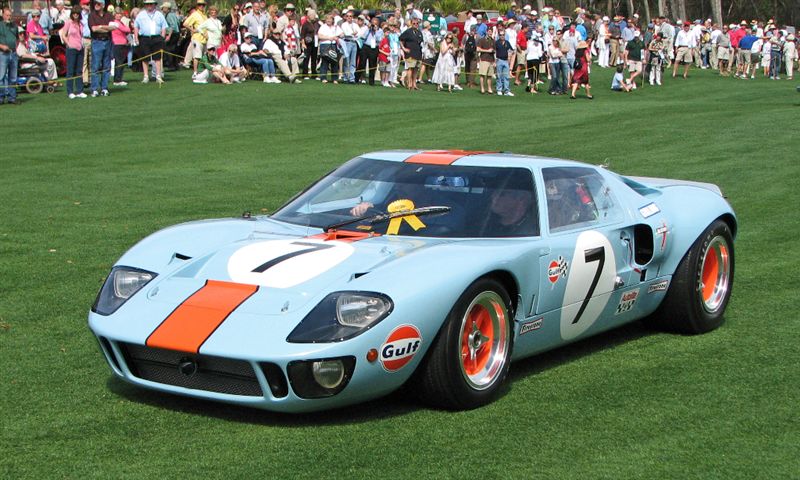 1968 Ford GT40
Price: $12.25 million
Auctioneer: RM Auctions – Monterey, California, 2012
Breaking ground in the alternate asset class category, are investment grade automobiles. This 1968 Ford GT 40 racer was projected to sell for $8 million, however pulled an incredible 50% over market value, and sold for $12,250,000. The rig comes complete with a trademark powder blue and Merigold stripe, a bone chilling 480 hp and in-line V8 engine. The alternative asset class has been gaining increasing traction from new investors looking to diversify their portfolios. Among the top contenders for the alternative investment classes, including fine automobiles, art and wine. Most of the auction sales are held by RN, Gooding & Co, and Barrett – Jackson.
Ever wake up in a new.. Bugatti?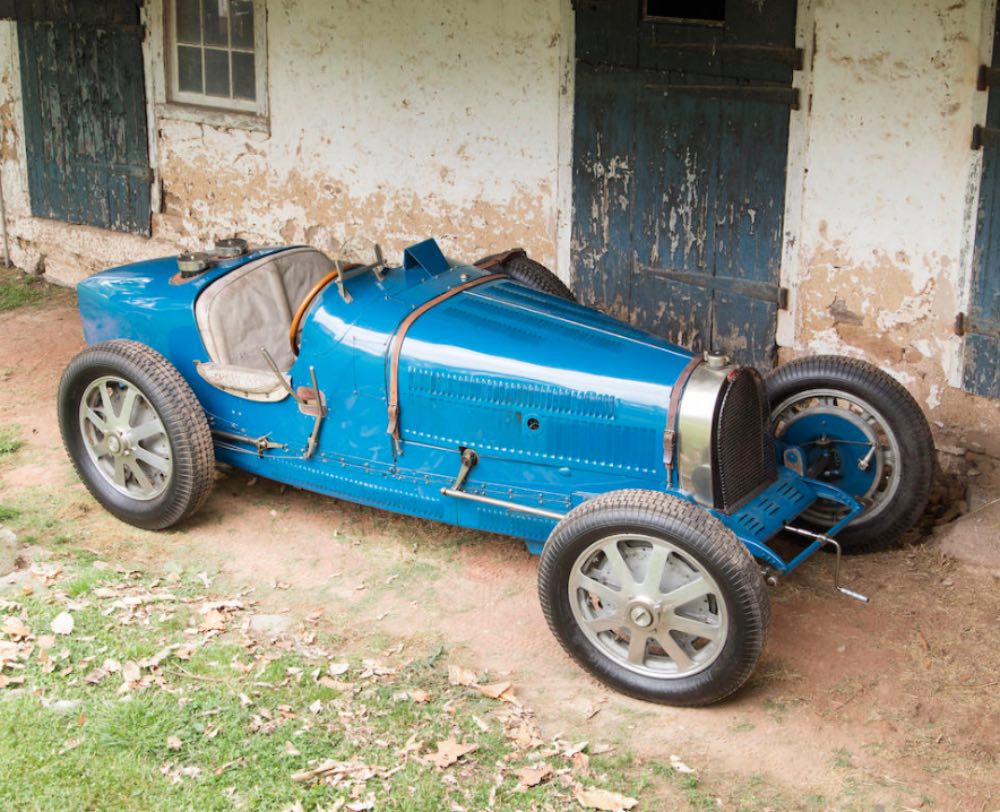 1932 Bugatti Type 55
Price: $11,079,211
Auctioneer: Gooding & Co. – Pebble Beach, California, 2016
Very few cars of this caliber still remain in such pristine condition than the 1932 Bugatti Type 55 Roadster. Pictured here, this vehicle auctioned by Good & Company, sold for an incredible $11,079,211.
Among collectors, this is arguably the best Type 55 ever crafted by Jean Bugatti. It has had a number of notable drivers including Achille Varzi and Count Castelbarco. The car enjoys retaining original coachwork and matching components, boasting a four-speed manual gearbox and in-line 8 cylinder engine. Collectors from around the globe revere the immaculate condition this vehicle remains considering it's age and resilience through the years.
This next ride sure did pull a pretty penny.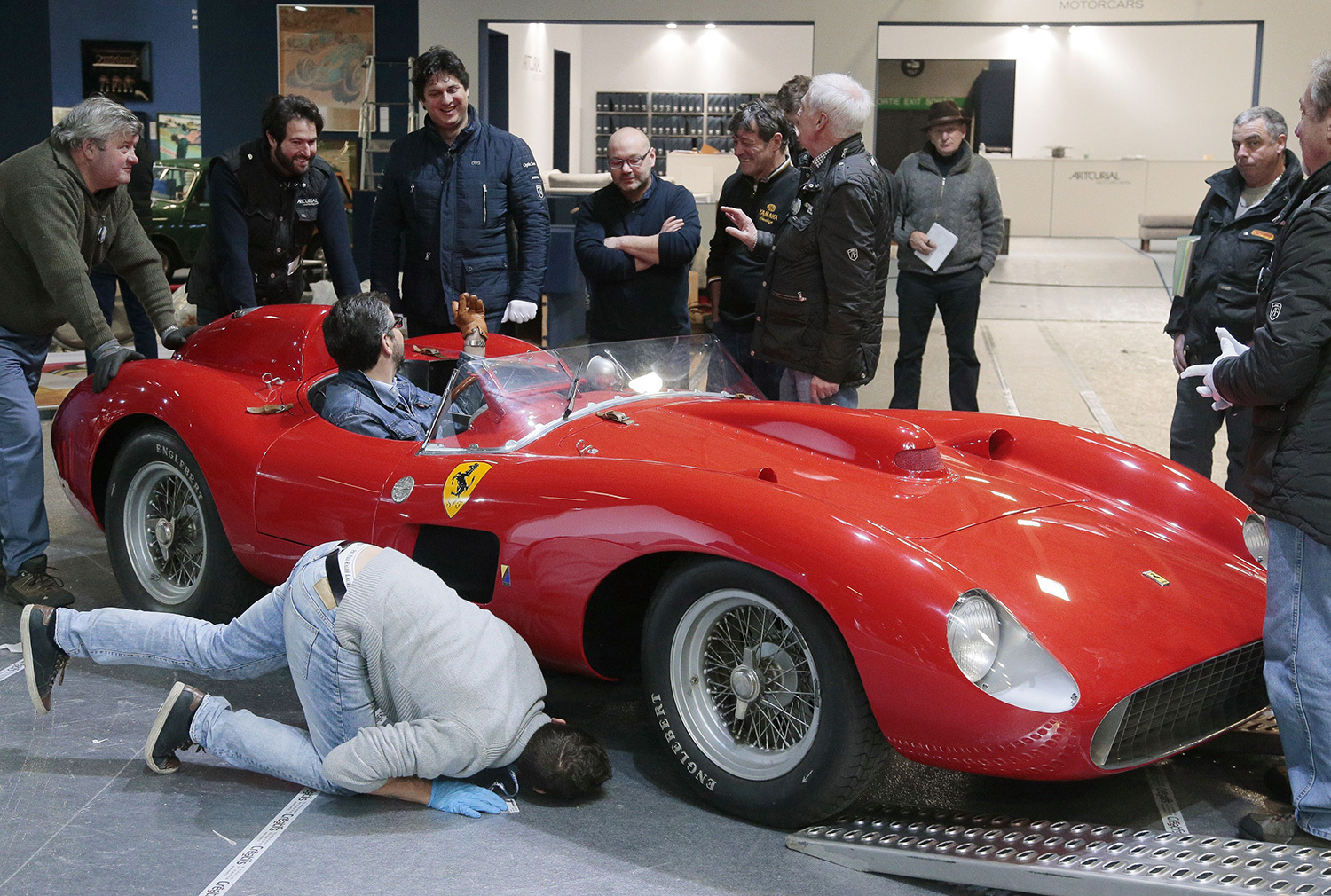 1957 Ferrari 335 S Spider Scaglietti
Price: $29.3 million
Auctioneer: Artcurial – Paris, France, 2016
Enzo Ferrari and Maserati were in a vicious battle between who could produce the most magnificent racing car to ever grace in the streets.
The 1957 Ferrari 335S spider Scaglietti was released as a direct response to the Maserati 450 S. Only four cars were ever produced of this model, making it exceedingly rare as they are sold to private collectors. It's 4.0 L Tipo 141 Jano V 12 engine made it one of the fastest cars of its era, instigating many rivalries among the industry. The exact car that sold for $29.3 million set a lap record at Le Mans, then finished fourth in the Swedish GP and second in the Venezuelan GP, finally taking the win at the Cuban Grand Prix.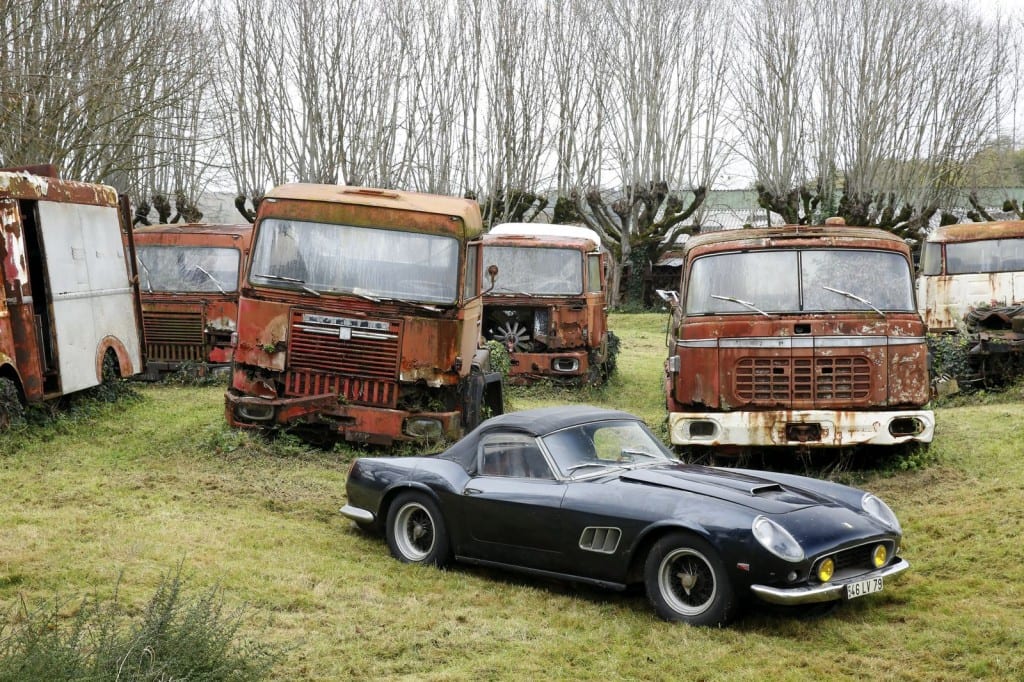 1961 Ferrari 250 GT SWB California Spyder
Price: $19.95 million
Auctioneer: Artcurial – Paris, France, 2017
The notable car is just one of 56 examples produced in 1961, and the rarity increases with the inclusion of the hardtop.
It's fully open headlight system is only one of 16, revolutionary for visibility and clarity while driving at night. While previously displayed at the Museo Ferrari, it is now in a private collector's personal holdings. It was the winner of the Ferrari Classic Cup and 2011 Cavallino Classic – and while winning, it was done in style with an open air sporting design. The phrase "California Spyder "stirs up many emotions among car enthusiasts for one of the most pleasurable driving experiences ever known to man. There is no wonder this 1961 Ferrari 250 GT SWB California Spider sold at a Artcurial auction for $19 Million.
How many cars are actually found in barns?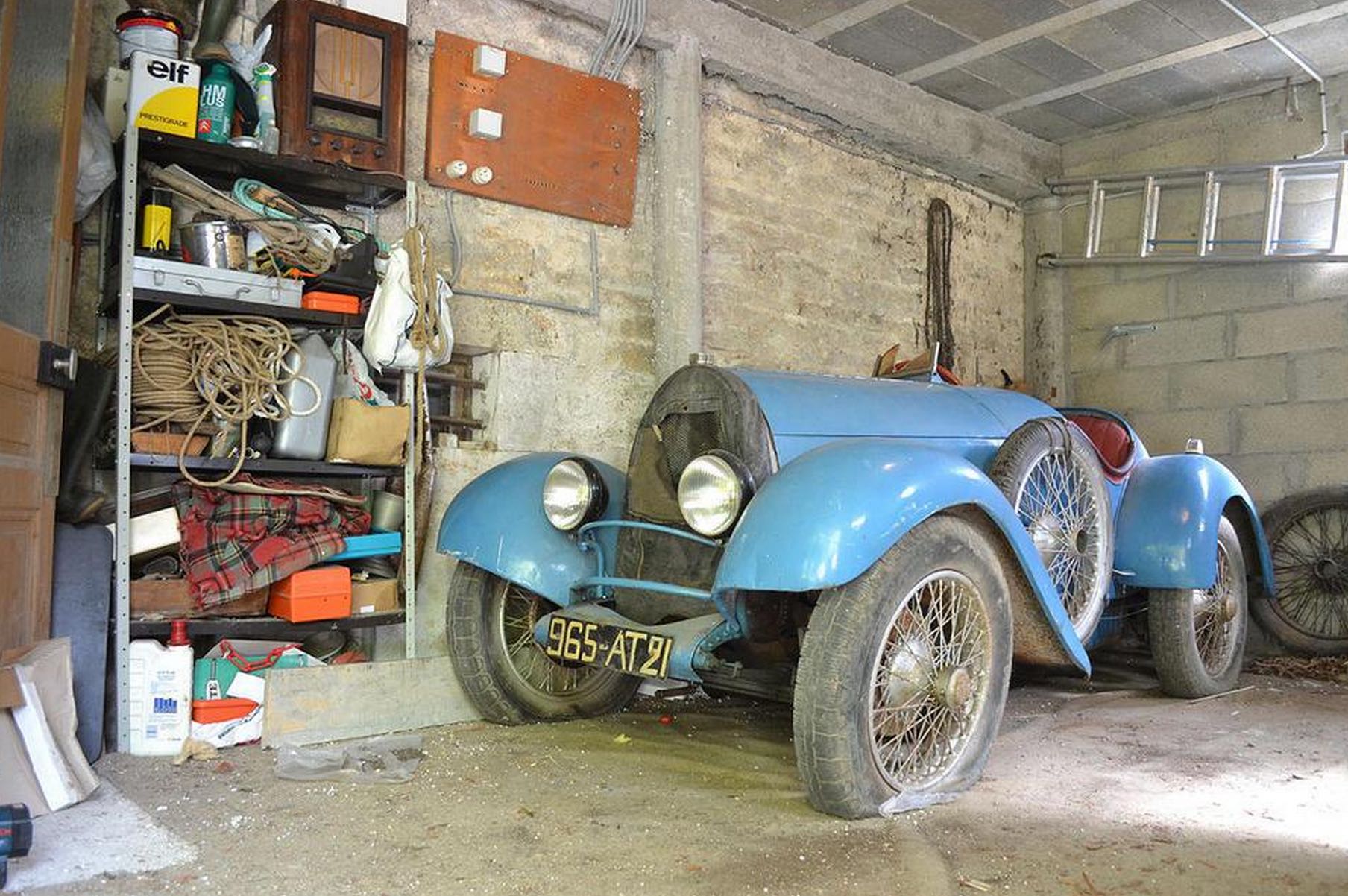 1923 Bugatti T13 Barn Find
Price: $1 million
Auctioneer: Artcurial – Paris, France, 2015
The 1923 Bugatti T13 is considered the first Bugatti car, even though it was followed by five other different models derived from its original form.
435 examples were manufactured including the type 13 racers which possessed 16 valve heads on the engine- some of the first ever produced. It earned its nickname for notoriety and innovation becoming known as 'thoroughbred', maintaining Ettore Bugatti's feelings for his innovations. during World War I production ceased due to dispute in the region. Bugatti took 13 cars to Milan, and buried the components to build three more near to the factory, upon his return.
Following the war he dug up the parts and assembled the remaining components preparing the iron stallions for racing. While were talking about racing, check out this next ride!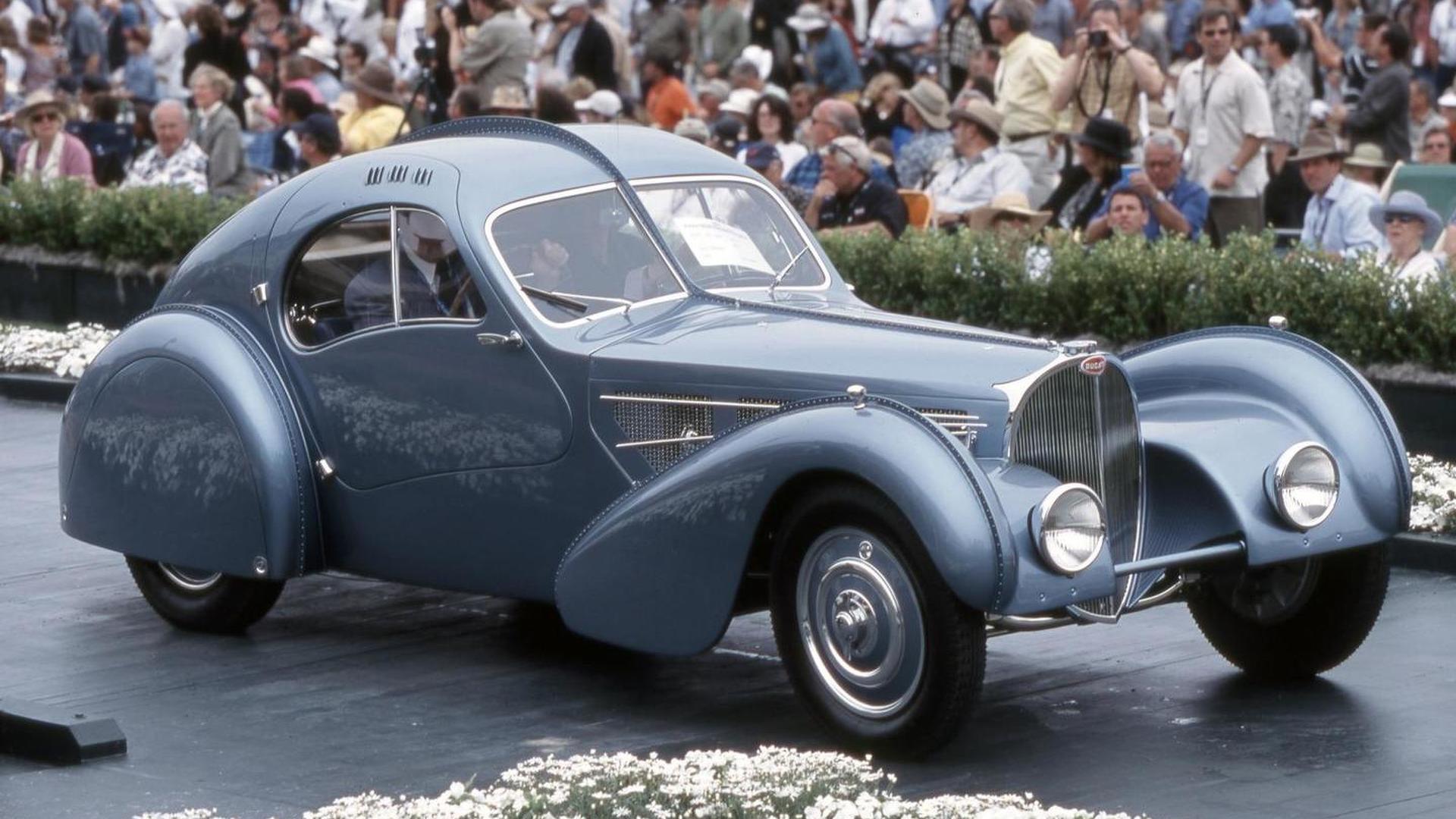 1936 Bugatti 57SC Atalante
Price: $30 million
Auctioneer: Gooding & Co. – Pebble Beach, California, 2013
This car was owned by Dr. Peter Williamson of New Hampshire, one of only two that remain in pristine condition. The other model, with black paint, belongs to legendary fashion designer and car collector Ralph Lauren.
It's low slung body, fashioned out of aluminum, insured maximum aerodynamics and was revered for its technological innovations at the time. As some people appreciate fine art, congruently some people appreciate exquisite automobiles, which is why this 1936 Bugatti 57SC Atlantic sold for $30 million at auction.
As the automobile investment industry broadens, we'll begin too see steeper price tags on vehicles. This next price is staggering as well..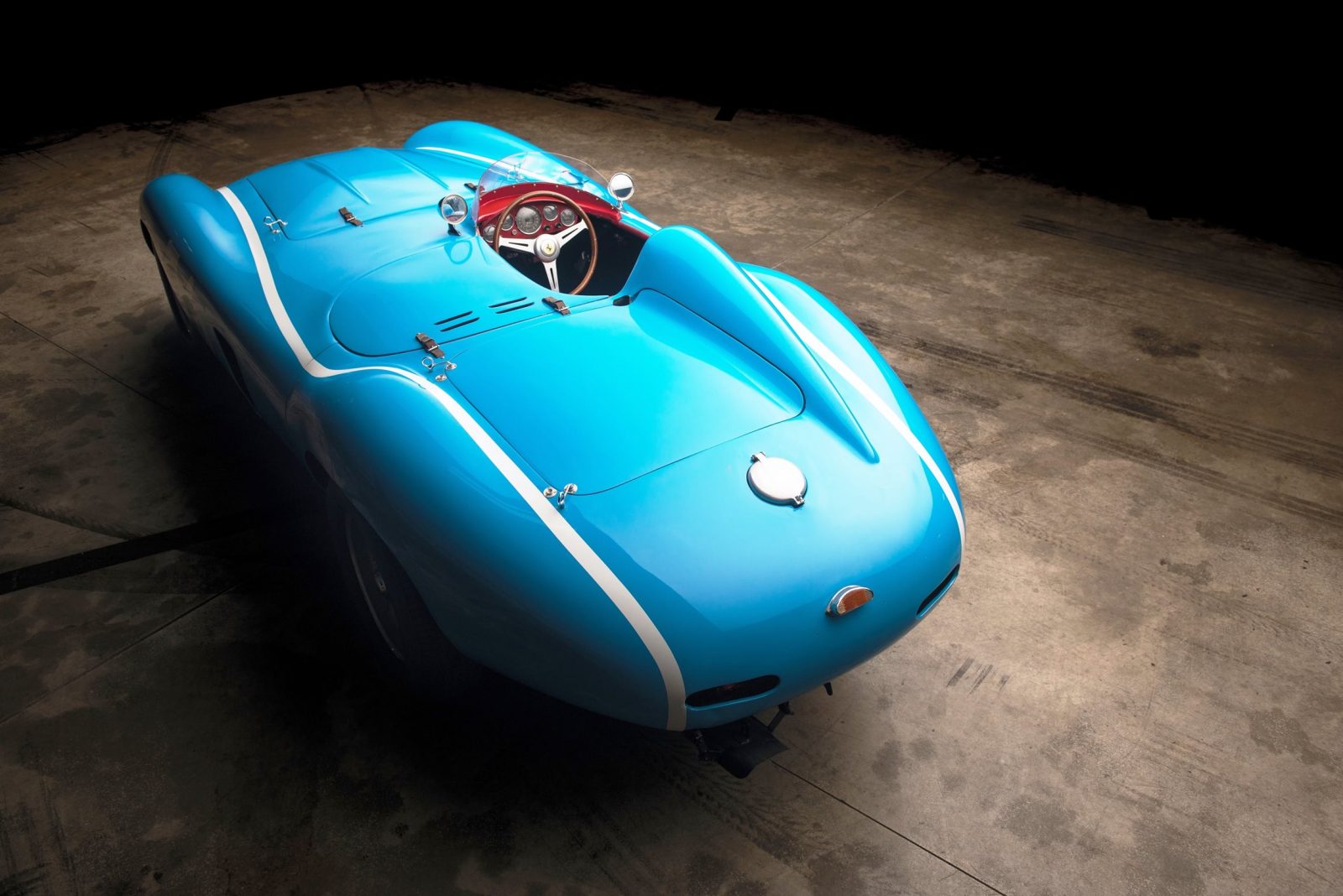 1955 Ferrari 121 LM Spider by Scaglietti
Price: $5,720,000
Auctioneer:RM Sotheby's – Monterey, California, 2017
This legendary Ferrari has a tragic, however redeeming history, claiming the life of one of automobile racing's greats.
Three 1955 Ferrari 121LM spider by Scaglietti possess chassis number 0546 sold for an incredible $5,720,000 at Sotheby's auction house. During the 1956 Pebble Beach Del Monte trophy race, the car's driver McCathie ran off the track and tragically ran into a tree, claiming his life. It took nearly 2 decades to rebuild the 121LM chassis number 0546, however it eventually made its way back to the race track. Between 1974 and 1995, the 1955 Ferrari 121LM was a regular at the Monterey until it's disappearance.
It reappeared recently for auction and had been unseen for almost 15 years, likely in the collection of a wealthy man in Asian who wishes to remain nameless. Is that the girl who left all the junk on your "Porche".. check out the next slide to find out what I mean..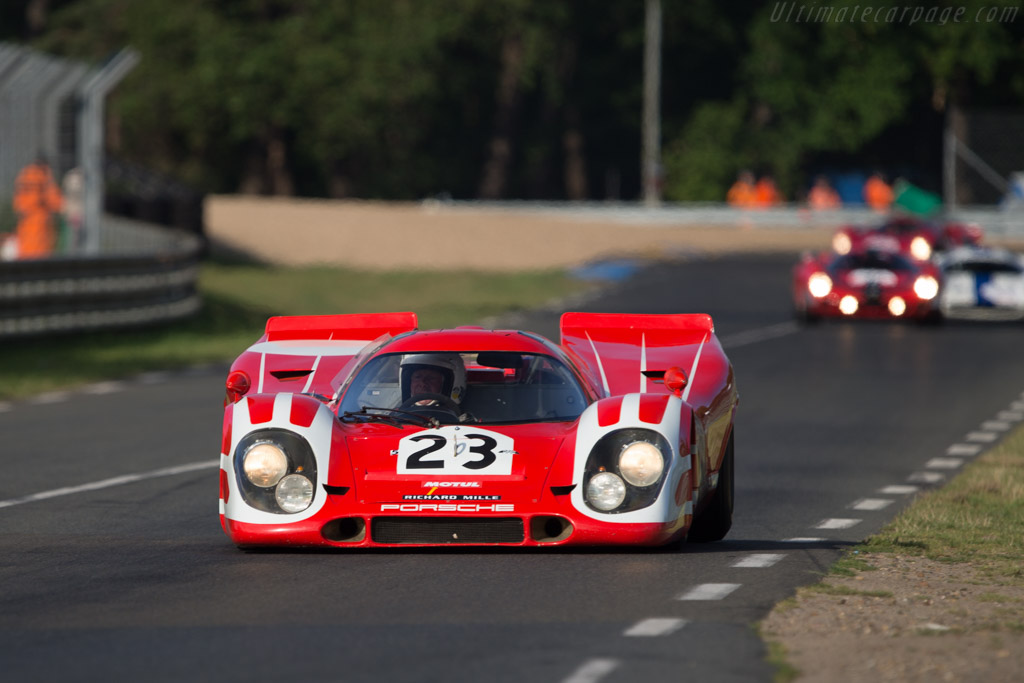 1970 Porsche 917K
Price: $14.3 million
Auctioneer: Gooding & Co. – Pebble Beach, California, 2017
In 1970 designer Hans Mezger released the prototype for one of the most notorious cars to ever grace the asphalt. Complete with a 4.5 L Type 912 flat 12 engine, the total weight of the car was 1764 pounds.
Unsatisfied with the performance of the car, John wire modified the tail on the rig in order to provide more down force while driving. The lack of gnats on the rear tail indicated there was too much air flowing over and insufficient down force to provide the torque needed to propel the car to victory. The modification completed was a shorter tail recently named 917K, "Kurzheck" or short-tail. At a Gooding & Company auction, the 1970 Porsche 917k sold for $14.3 million.
Pretty crazy how a 'frankenstien' car can fetch so much money at auction! Also crazy how some people run into such luck like in the next slide..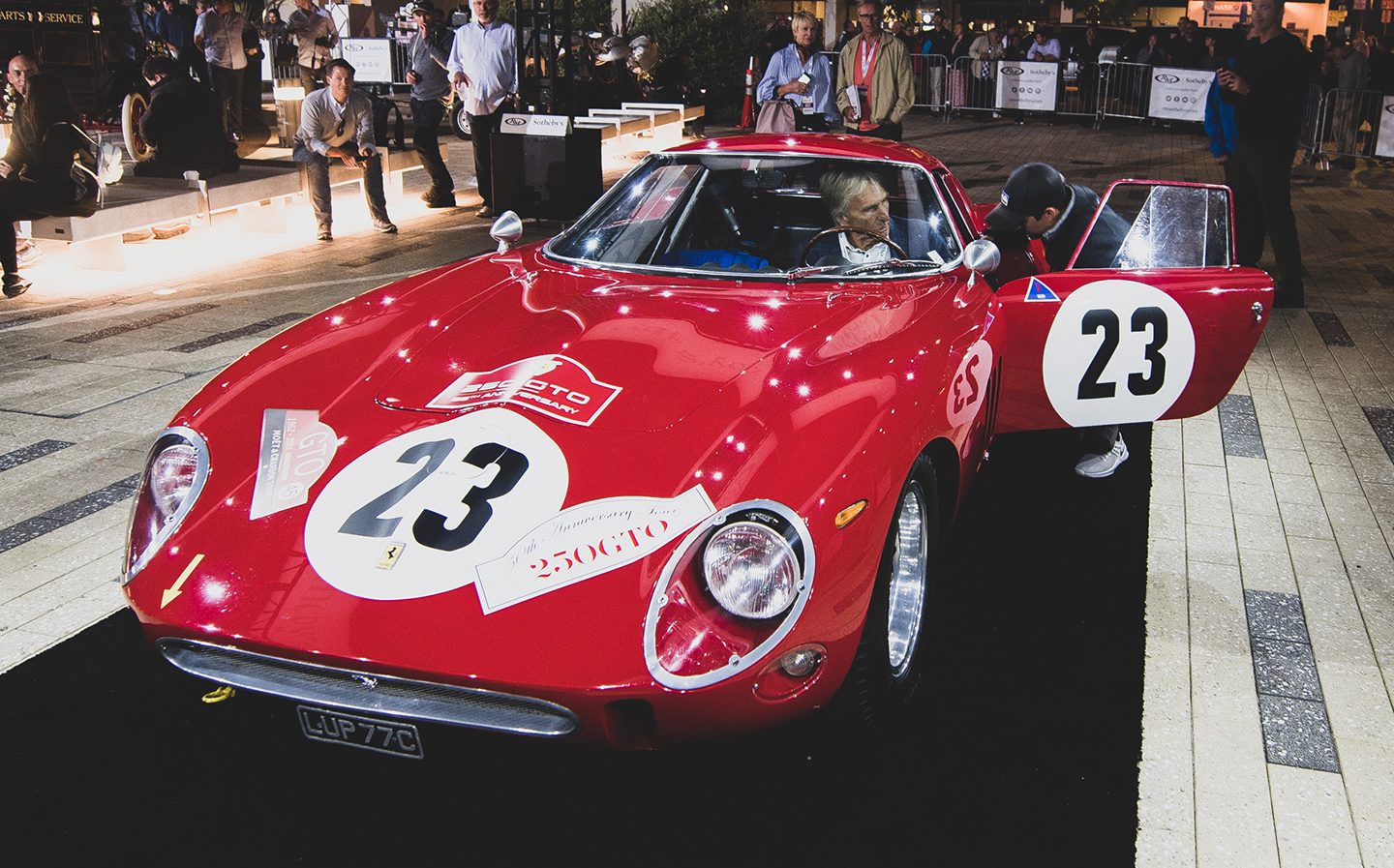 Ferrari GTO 250
Price: $48 million
Auctioneer: RM Sotheby's – Monterey, California, 2018
The most expensive car in the world also has some secretive history that accompanies it upon purchase. Ever heard of WeatherTech Mats? The high end floor mats that protect most mud-exposed vehicles such as Ford, Chevrolet, Subaru and Volvo to name a few.
Well the owner of that company recently bought a Ferrari GTO 250 and spilled the beans on all the easter eggs that come with it! Upon purchasing a Ferarri GTO 250, you're introduced into a secret society solely composed of GTO owners. There are races that take place in various parts of Europe, open only to Ferrari GTO 250 owners, who are among the richest and most interesting men in the world. Included in this group is Ralph Lauren, Pink Floyd drummer Nick Mason, and British billionaire Lord Anthony Bamford.
The exuberant price point is deviated from their scarcity- only 36 Ferrari GTO 250's were ever produced, and each buyer was approved by Enzo Ferarri. All these subtle accoutrements makes that $40 million auction price point not seem so bad!
This next car sold at auction is an exclusive, one of a kind..
Mercedes-Benz 300SL Roadster Barn Find
Price: $1 million
Auctioneer: Gullwing Motor Cars – New York City, New York, 2020
This classic looking Mercedes is a two seat sports car with a Gullwing coupe design. The mechanical direct fuel injection boosted power almost 50% on its 3 L, camshaft, straight six engine, which was capable of reaching a top speed of 163 mph making it the fastest production car of its time. The term SL stands for "super light "and was Mercedes first time referring to the design of the race bred car with a tubular frame construction.
What was once thought a lost model coupe in classic black, the Mercedes Benz 300SL Roadster "Barn Find" sole for $1 million, after being found in a legitimate barn.. Later, gaming company Nintendo placed a car in its video game "Mario kart", modeled after the legendary barn find. If you like, also see the 10 most expensive auctioned cars for sale.
Can you say drop top…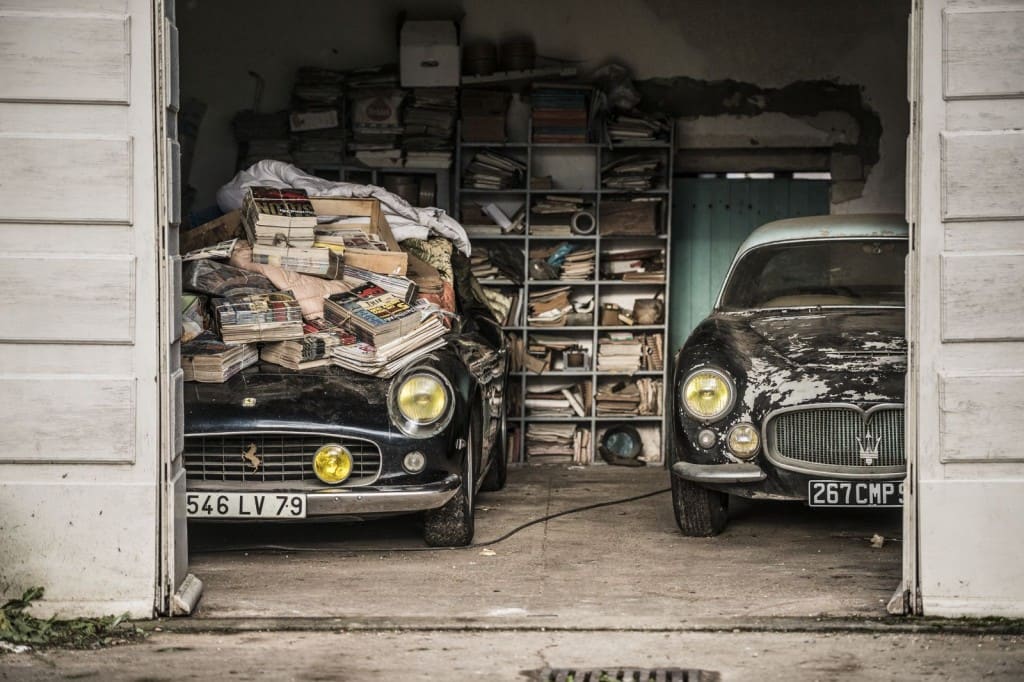 1956 Maserati A6G Gran Sport Frua
Price: $2.5 million
Auctioneer: Artcurial – Paris, France, 2015
This extremely rare car was just one of four produced, recently found in a barn in France. It's exceptional history notes that it has remained in the same family for more than 55 years existing in its incredible condition, following its appearance at the 1956 Paris Motor Show. The man behind the car was named Jacques Fildier, who was a connoisseur of British and Italian sports cars, however was an architect by trade. The man amassed a ravishing array of Aston Martin's throughout his collecting career and purchasing this Maserati was one deviant moment to his collection. Lucky for us, he was a perfectionist and preferred his cars to be in outstanding conditions at all times. A
fter retrieving it from his barn in France, the 1956 Maserati A6G Gran Sport Frua sold for $2.5 million at an Artcurial auction.
Come on over and hop in the ole Benz..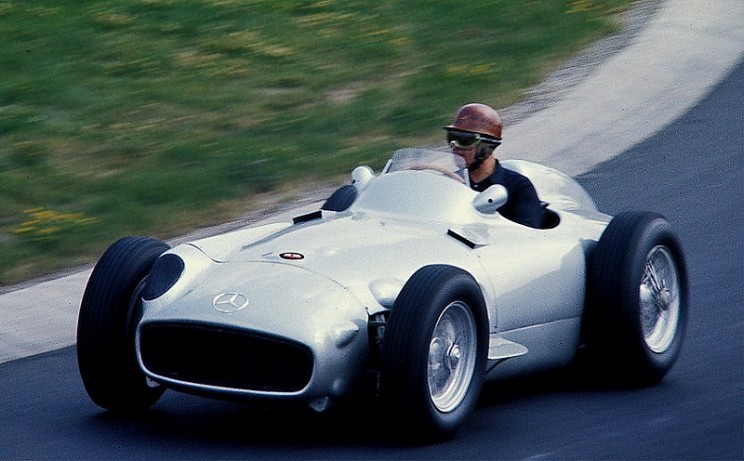 1954 Mercedes-Benz W196
Price: $29.6 million
Auctioneer: Bonhams – Goodwood, West Sussex, United Kingdom, 2013
In 2013 the world record for most expensive car ever auctioned was set by seller Juan Manuel Fangio he sold his Mercedes-Benz W196 for $29.6 million.
The legendary vehicle was a formula 1 racing car and captured two racing championships in 1954 and 1955. After its crash in the 1955 Le Mans, it retired from racing for nearly 3 decades, held away in storage by a private collector. It's racing victories against a Maserati 250 S and several other fuel injected Mercedes Benz, added to its notoriety among the racing community. The $29.6 million price tag for the 1954 Mercedes Benz W196 is fitting for its immense history.
Speaking of immense history…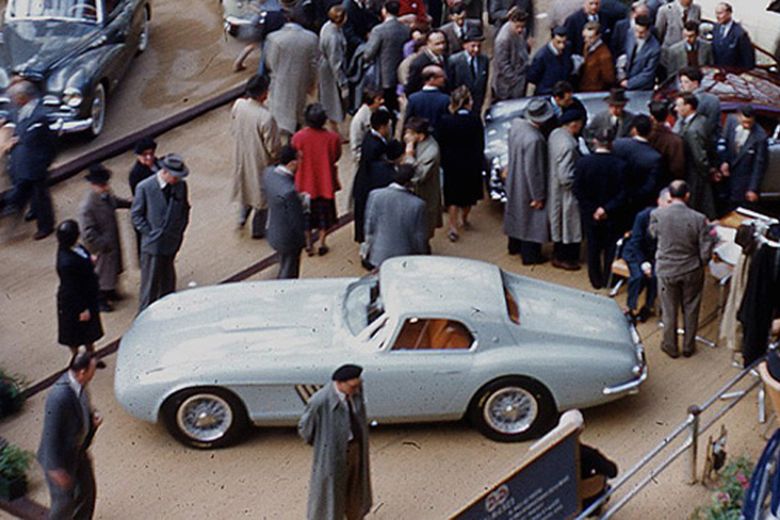 1954 Ferrari 250 Europa Coupe
Price: $1.017 million
Auctioneer: RM Sotheby's – Scottsdale, Arizona, 2013
Pinin Farina is One of the most legendary names in auto design. He built a 1954 Ferrari 250 Europa GT Coop that sold for $1.017 million, making it one of the most expensive Europa Gt whips to ever hit the auction block. The incredible vehicle provides iconic Pinin Farina coach work,one of only 43 total cars built. It's early sponsor was John De Vroom who completed it with a two tone combination and maintained its original engine throughout its life. The introduction of the Ferrari Europa was a major milestone in the Ferrari evolution of design equipping it with a larger V 12 engine which was taken from the American models of the vehicle.
This next good looking car might have been more famous on the screen than for it's performance!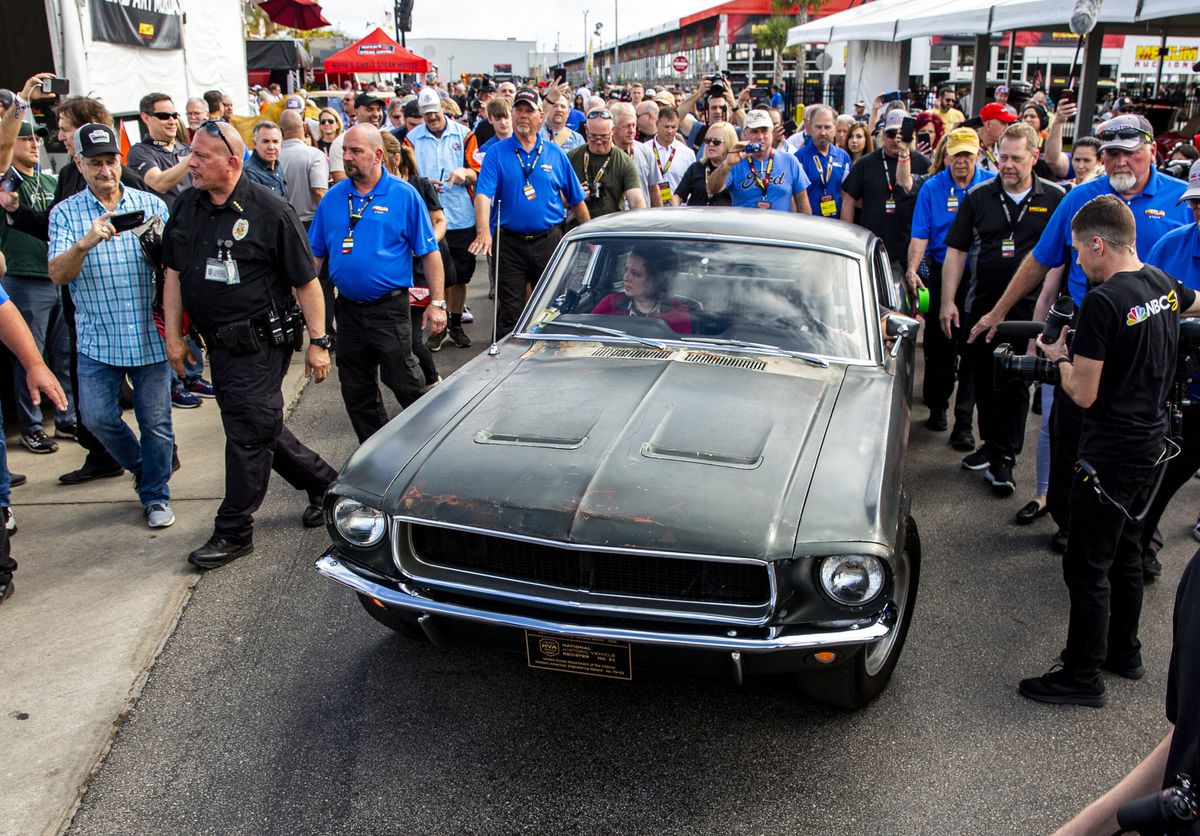 1968 Ford Mustang GT "Bullitt"
Price: $3.74 million
Auctioneer: Mecum Auctions – Kissimmee, Florida, 2020
Orlando Florida is typically known for Disney World, however not today when the 1968 Ford Mustang GT "Bullitt" sold for $3.74 million!
The original model driven by Steve McQueen, and all of its Highland Green glory, was announced that it was found alongside the re- release of the 2018 Ford Bullitt. What is it to help sales, possibly- but hey, that's capitalism! Deviate engines Rohr as it hammers down a freeway is no unfamiliar sound to movie buffs who enjoyed the cult classic "Bullitt". Though analysts speculate the high end car market is softening, the likelihood of this rare gem retaining its value is promising.
This next ride was a bit ahead of its time…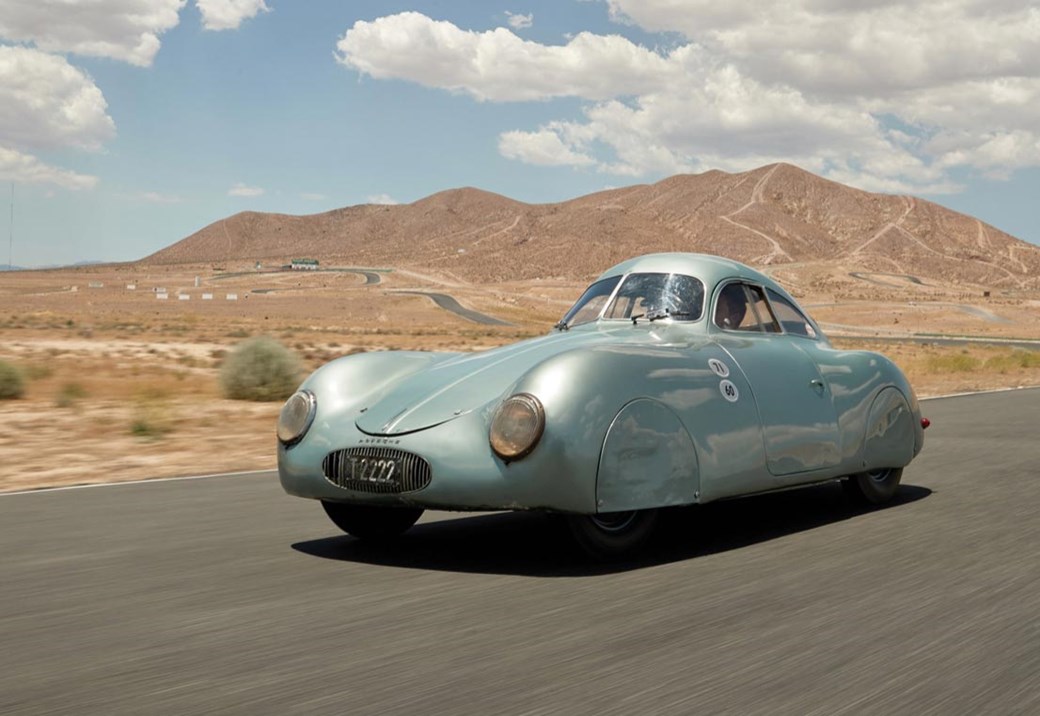 1939 Porsche Type 64
Price: $17 million before technical glitch
Auctioneer: RM Sotheby's – Monterey, California, 2019
Among the standing room only crowd inside the Sotheby's auction house, one eager collector believed he would take this rare find home. The opening bid was posted at $30 million and the room erupted with laughter. Rapid bids boosted the price up to $70 million, before the correction was announced that the actual starting price would be at $17 million. The auctioneer's Dutch accent was mistaken by the technical team. Instead of 17 they thought he said 70…
Unfortunately for the auction house it had lost all credibility with the Porsche Type 64- originally driven by Ferdinand Porsche and members of the Nazi party. The car ended up selling for its opening price of $17 million after the auction house butchered the sale.
This next car is on the list of the most expensive autos in the world though!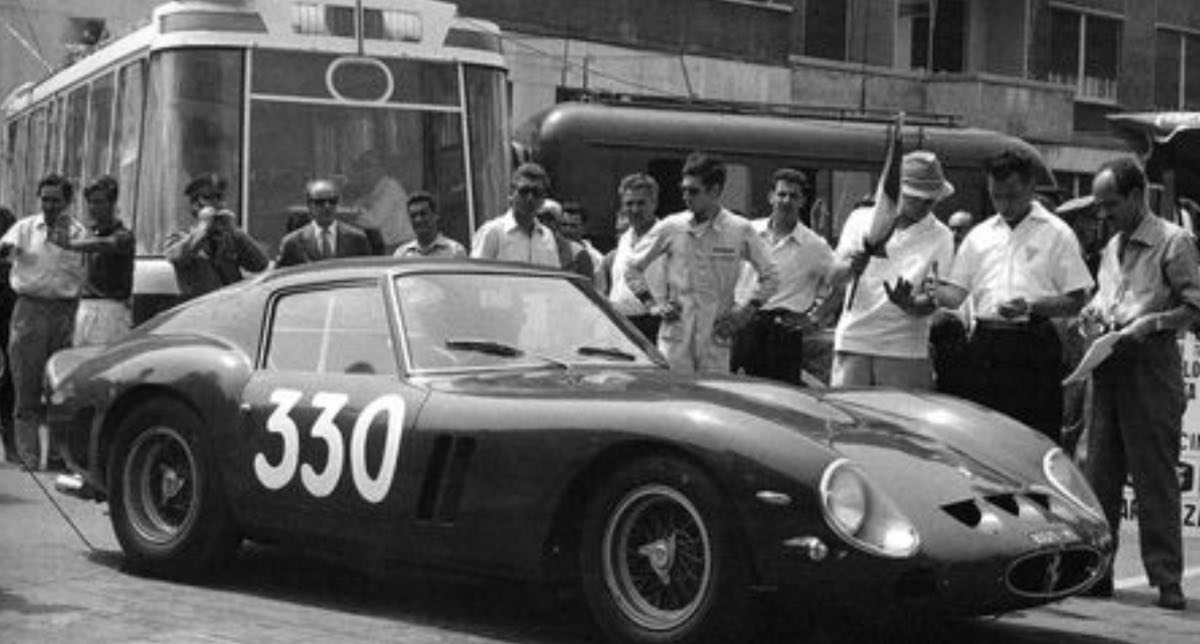 Ferrari 250 GTO Berlinetta
Price: $38.15 million
Auctioneer: Bonhoms – Carmel, California, 2014
Collectors and analysts alike are continuously astonished by auction prices for Ferrari 's. This 1962 Ferrari 250 GTO Berlinetta sold for an unearthly $38 million.
The history of the car is even more rich than its price having deep extended roots in Europe by a family owned company. Nuccio Bertone was a car manufacturer himself and was enamored with Ferrari automobiles. He took it upon himself, as a rookie designer, to commission Enzo Ferrari to build him a car – and the result was this exquisite Ferrari 250 GT Berlinetta Speciale. Though just a luxury auto coach maker, Nuccio Bertone commissioned one of the most expensive cars to ever sell at a Barrett-Jackson auction.
Let's keep the Ferrari train rolling, check out the next car!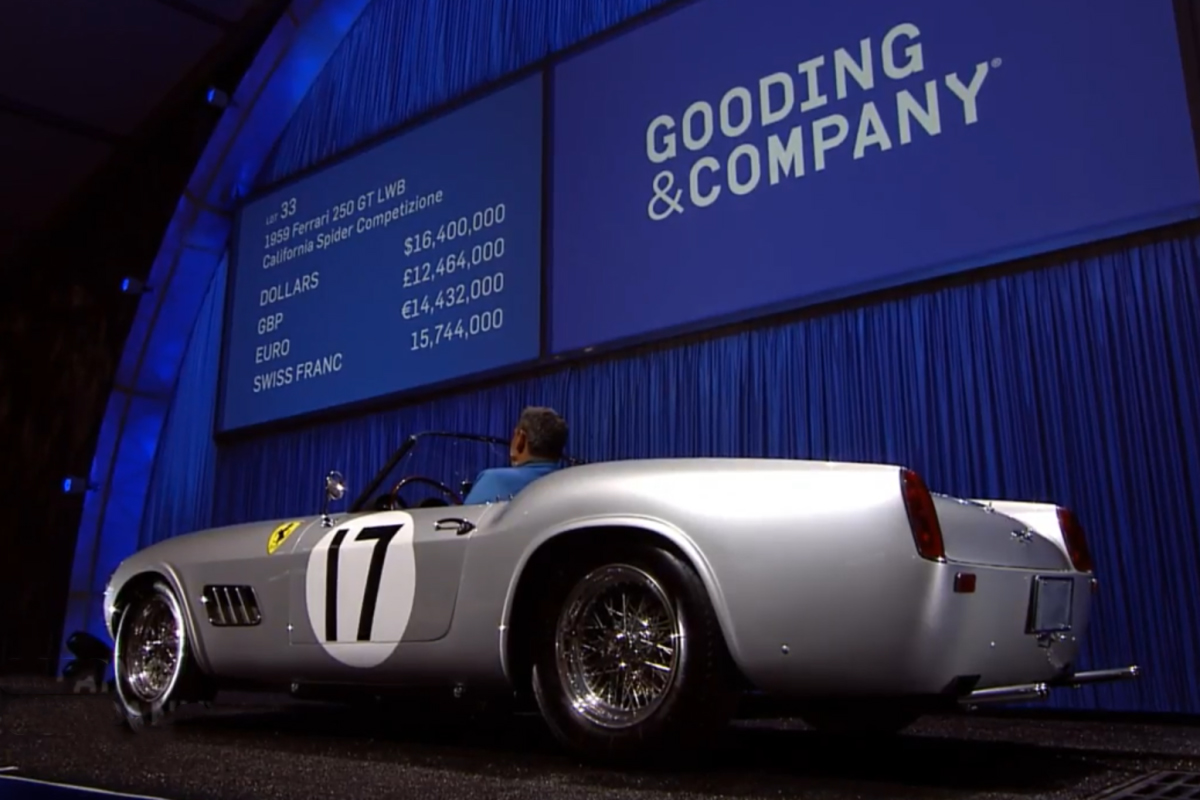 1959 Ferrari 250 GT LWB California Spider Competizione
Price:$18.15 million
Auctioneer: Gooding & Co. – Pebble Beach, California, 2016
Scaglietti is at it again with another legendary car the 1959 Ferrari 250 GTLWB California spider competizione sold for a staggering $17,990,000 at auction. It is one of eight aluminum bodied California Spiders built, as a competition car with numerous competition features ensuring its advantage among the group during races.
It's value is compounded by its international eligibility for Concourse and Vintage racing events, including the Le Mans classic! Among the limitless possibilities for this car is that of many more races to come- adding onto it's already impressive list of 15 world-class races. It's rich history awaits the next owner, guaranteed to revel in its lavish accoutrements.
Speaking of absurd bells and whistles, check out the next vehicle..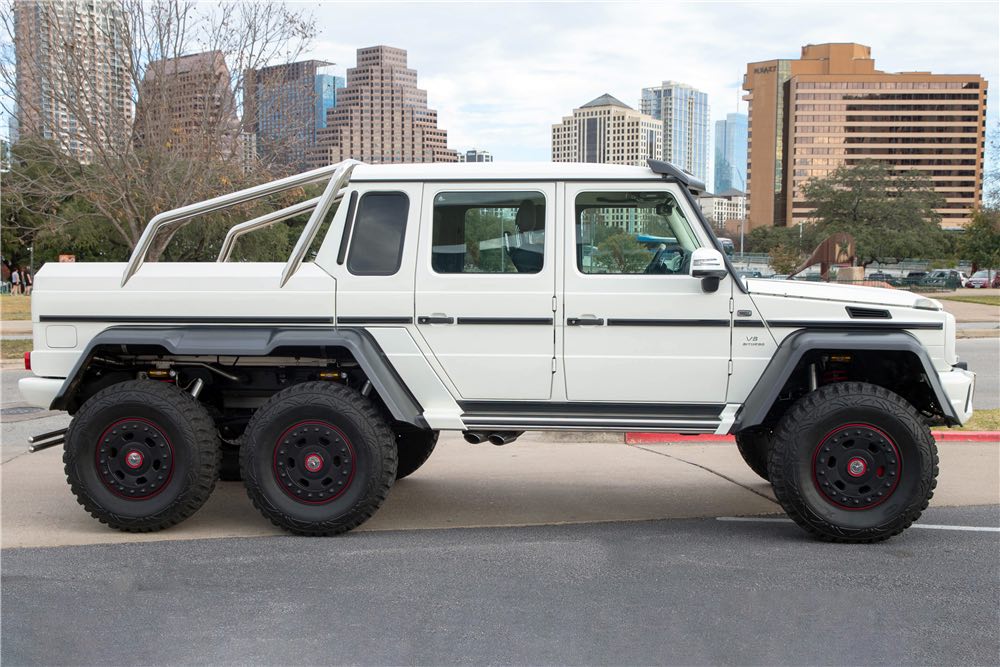 2014 Mercedes-Benz G63 6X6
Price: $1.2 million
Auctioneer: Barrett-Jackson, Scottsdale, Arizona, 2014
Axel Harry's, also known as the master of the G wagon, gave the green light to this beast for production cranking out close to 60 units.
The 5.5 L, TwinTurbo V8, seven speed transmission, with quilted diamond stitched leather interior, straight from the hide of a buffalo traversing the great yonder, is one of the many amenities this rig has to offer. It tips the scales At nearly 9000 pounds, busting 18 inch wheels wrapped in 37 inch tires, literally crushing pavement. These tires can be automatically inflated and deflated using an onboard compressor to help grip any terrain it may encounter – this process takes an astonishing 20 seconds to complete. The lovely 2014 Mercedes Benz G36 6×6 will set you back a cool $1.2 million- unless you can score one at auction! Let's wrap up this segment with a popular car among the ultra expensive.. can you guess what it is?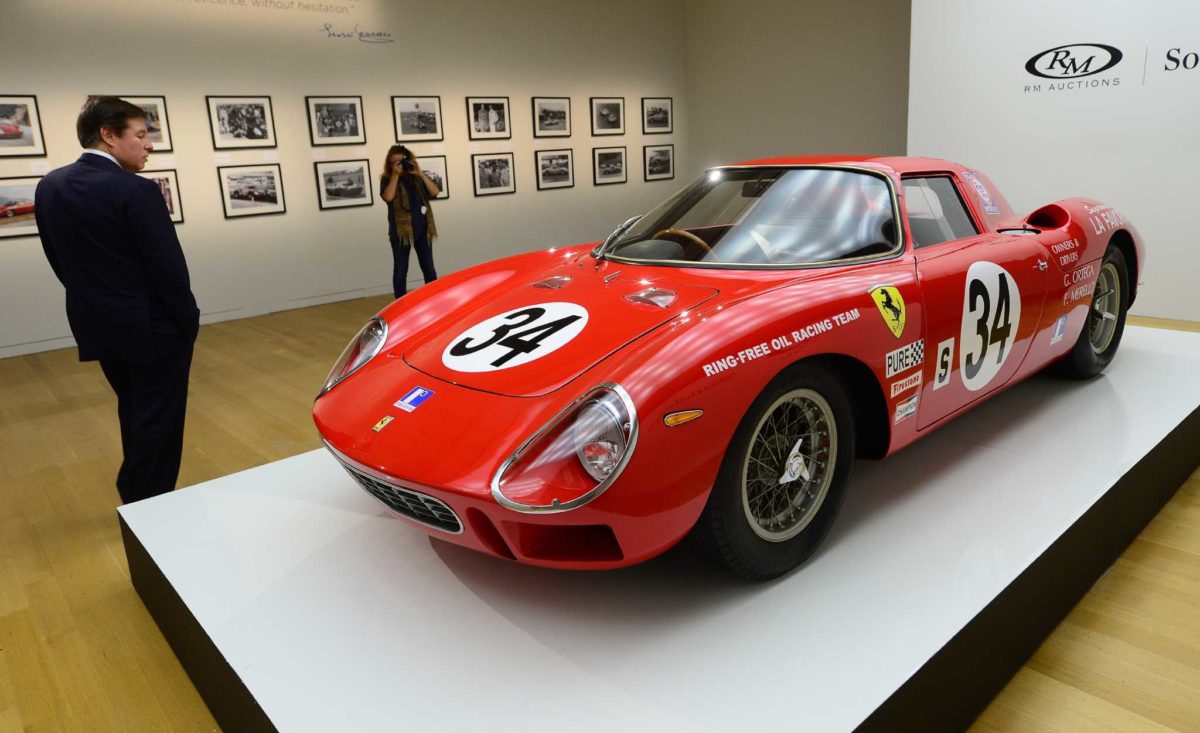 Ferrari 250 LM
Price: $14,477,729
Auctioneer: RM Auctions – New York City, New York, 2013
Specifically designed for the Le Mans, the Ferrari 250 LM hammered the auction house with a sale price of $14,477,729. Following it sale to a private collector, the Ferrari 250 LM went on tour to display for the public to see. It's two are included mini automobile Museum's along the East Coast including city stops in Atlanta, Nashville, Charlotte, Chicago, Daytona and Manhattan. Among many of Ralph Lauren's cars this astonishing vehicle was owned by the legendary fashion designer and posted in his private collection for a number of years. We hope you enjoyed reading about some of the most expensive cars in the world – it's not something like this you get to see every day.
Maybe if you're lucky enough you'll get to see one of these bad boys cruising around on the open road!